Friday 12 August
from 14:00 CEST until 12:00 noon on Saturday 13 August
Shortwave Collective
Grounded Listening: Site-specific Reception
Shortwave Collective practices feminist approaches in our creative experiments with radio — valuing collaborative work, process over outcome, and learning with and from each other using DIY methods. Our recent work constructing 'Open Wave-Receivers' (self-powered radio receivers made from readily available and found materials) brings into focus the site-and-time specificity of radio reception.
We experiment with designs that incorporate the physicalities of an immediate space into the circuit - such as coils wrapped around roof tiles, ground wires connected to garden taps, and antennas attached to fences - all of which set the circuit within a specific location. By listening over time, we notice the atmospheric and environmental influences on radio reception. We think of these and other radio devices in situ as part of a larger constellation of bodies and materiality, experienced through listening.
Over the course of 22 hours during Radio Art Zone, we will share our processes of making and listening. Listeners will be able to tune into Shortwave Collective engaged in collective and solitary listening experiences as we search for radio reception through Open Wave-Receivers and other devices such as VHF and VLF receivers, software-defined radio, walkie-talkies, and electromagnetic detectors from the locations in which we live and work.
At various times, and especially during 'grey-line' times of dusk and dawn, we will gather to transmit live from our listening posts in Graz, Austria; Mount Alaric, France; Crete, Greece; Berlin, Germany; London and Brighton, United Kingdom and Northern California, United States. The broadcast will be situated within the height of the 2022 Perseids meteor shower, as a way to reference the fleeting nature of radio phenomena and atmospheric conditions.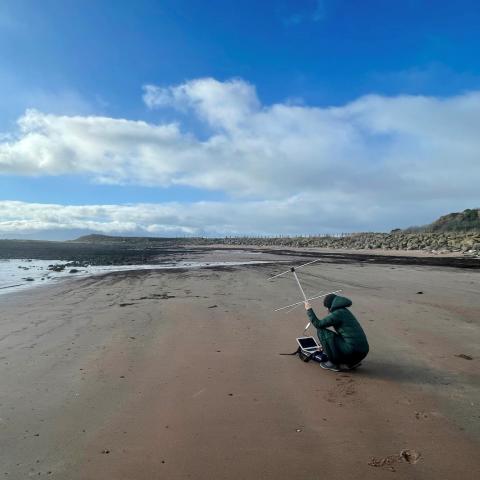 Shortwave Collective is an international, feminist artist group established in May 2020, interested in creative uses of radio. We meet regularly to discuss feminist approaches to amateur radio and the radio spectrum as artistic material, share resources and consider DIY approaches and inclusive structures. ​Alongside broadcasts for Movement Radio (Athens), Radiophrenia (Glasgow), and Resonance FM (London), Shortwave Collective has participated in commissions and residencies with Soundcamp (UK) and Buinho Creative Hub (Portugal). Their designs for 'Open Wave-Receivers' were recently published in MAKE Magazine (Vol 80).
shortwavecollective.net
twitter.com/SWaveCollective
instagram.com/shortwavecollective
Members:
Alyssa Moxley is a sound artist currently based in France. She accesses narratives of identity, place, space, and embodied experience through sound. She utilizes microphone techniques, field recording, interviews, composition, digital and analog sound design, speaker placement, and sculpture to create detailed sonic interventions and environments that relate memory, emotion, and landscape.
alyssa-moxley.com
Brigitte Hart is an Australian sound artist currently based in London who works across performance and installation. Her practice explores relationships between voice, objects, histories, and ecologies, and often engages text, environmental recordings, remnants, and archives. Brigitte has developed installations, performances, and workshops for Supernormal Festival, Wysing Polyphonic x Somerset House Festival, Resonance FM, Soundcamp/Reveil, David Roberts Art Foundation, Tate Britain, and Museo Nacional Centro de Arte Reina Sofía, Madrid. In 2022, Brigitte is developing a series of experiments around the river Thames, sound, and listening as a recipient of Develop Your Creative Practice funding (ACE) and is also a member of the London Bulgarian Choir.
brigittehart.com
Georgia Muenster is a New York-born and London-based independent contemporary art curator with a focus on urbanism, sound, video, and collectivity. She has programmed work at museums, commercial galleries, pop-ups, and DIY exhibition spaces, including the Palais de Tokyo, Royal College of Art, Copenhagen's Dome of Visions, Hackney Picturehouse, Elsewhere, and ARoS. From 2008-2013, she was Press Writer & Curatorial Fellow of the artists' residency and collective Flux Factory in New York. She completed an MA in Curating Contemporary Art from the RCA in 2015, in addition to a BA in Art History from Bard College from 2008.
georgia-muenster.com
Kate Donovan is a Berlin-based artist and researcher working with radio, listening, and the more-than-human. She means radio as an elemental, collective, and artistic medium. She is part of CoLaboRadio (Free Radios Berlin Brandenburg) where she helps coordinate and produces a regular show called 'elements'; the Datscha Radio Berlin team; the international feminist group Shortwave Collective; and together with Monaí de Paula Antunes she founded the ongoing artistic research project Radio Otherwise (Berlin). She is currently working on a PhD project within the research group SENSING: the knowledge of sensitive media (Potsdam).
mattersoftransmission.net
Lisa Hall is a UK-based sound artist exploring urban environments through sound installations and participatory works. These works explore the connections we have within our sonic environments and aim to make space for something new. Collaborative and solo works have included air pollution sonification on sonic bikes, curation of urban sound performances, sonic wilding installations, DIY radio making, and reenactments of sonic trends. Lisa works with the Bicrophonic Research Institute, CRiSAP, and Shortwave Collective developing sound-based research and arts practice. Projects have been shared at Furtherfield Gallery, V&A, Tate Modern galleries, on BBC radio, and in various academic journals and conferences. Lisa is currently in receipt of an Arts Council Developing your Creative Practice award.
lisa--hall.co.uk
Maria Papadomanolaki is a transmission artist and composer based in Greece. Papadomanolaki has studied linguistics and literature at the Aristoteleion University of Thessaloniki before moving on to sound art and sound studies, having completed a PhD on the topic 'Sonic Perceptual Ecologies' at CRISAP, LCC, UAL. Her work and research focus on the role of sound in the way we engage with our environments, with memory, placemaking, and perception. Special importance is placed on the synergy of electroacoustic and electronic music, transmission art, and creative ecological practices.
voicesoundtext.com
Sally A. Applin, Ph.D. is a Silicon Valley-based anthropologist, artist, and Sr. Researcher, who explores the domains of human agency, algorithms, AI, and automation in the context of social systems/sociability, and the outcomes of network complexities as modeled by PolySocial Reality (PoSR). Sally holds degrees in Conceptual Art, Interactive Telecommunications (NYU/ITP), and Anthropology. Her large-scale analog Xerography artwork has been shown at Xerox Palo Alto Research Center (PARC), Peninsula Open Studios, and others. As, "S.A. Applin," Sally has written articles on the impact of technology on society for various magazines including Motherboard/Vice, Fast Company, Make, and the MIT Technology Review.
sally.com
Sasha Engelmann is a London-based geographer exploring interdisciplinary, feminist, and creative approaches to environmental knowledge-making. She is an active member of the Aerocene Community and a co-founder (with Sophie Dyer) of the feminist satellite imaging project open-weather. She is Lecturer in GeoHumanities at Royal Holloway University of London where she teaches at the intersection of geography and the arts and humanities.
sashaengelmann.com
Hannah Kemp-Welch is a sound artist with a socially-engaged practice. She produces audio works with community groups for installation and broadcast, using voices, field recordings, and found sounds. She also delivers workshops, makes zines, and builds radio antennas, aiming to open out sonic practices and technologies for all. Hannah is currently conducting PhD research into collective listening and socially-engaged art, based at Creative Research into Sound Arts Practice (CRiSAP), University of the Arts London.
sound-art-hannah.com