Friday 15 July
from 14:00 CEST until 12:00 noon on Saturday 16 July
Frauke Berg & Oliver Gather
Eternal Slide Show
22 Stunden im Erinnerungsarchiv
Opa J hat ein Archiv von einigen tausend Dias in seinen Regalen auf dem Speicher. Zwischen 1956 und 2002 fotografierte er gemeinsame Erlebnisse mit seiner Ehefrau, Reiseerinnerungen, das Heranwachsen der Kinder – das ganz normale, besondere Leben einer Familie. Wie geht man nun mit diesem riesigen Archiv um? Alles ist so normal, so denkt Opa J, dass es niemanden mehr interessieren wird. Wird es im Müll landen oder bewahrt? Und was wird bewahrt, wenn es nicht im Müll landet? In 22 Etappen begleiten wir auditiv OJ bei einer erneuten, vielleicht letzten, umfassenden Diashow. Zunächst chronologisch gesichtet und erzählt, verformt sich das akustische Material nach und nach in einen endlosen Loop.
22 hours in the memory archive
Grandpa J has an archive of several thousand slides on his shelves in the attic. Between 1956 and 2002, he photographed shared experiences with his wife, travel memories, the children's growing up - the very normal, special life of a family. So how does one deal with this huge archive? Everything is so normal, Grandpa J thinks, that no one will be interested in it any more. Will it end up in the rubbish or be preserved? And what will be preserved if it doesn't end up in the rubbish? In 22 stages, we auditorily accompany OJ on another, perhaps final, comprehensive slide show. Initially sifted and narrated chronologically, the acoustic material gradually deforms into an endless loop.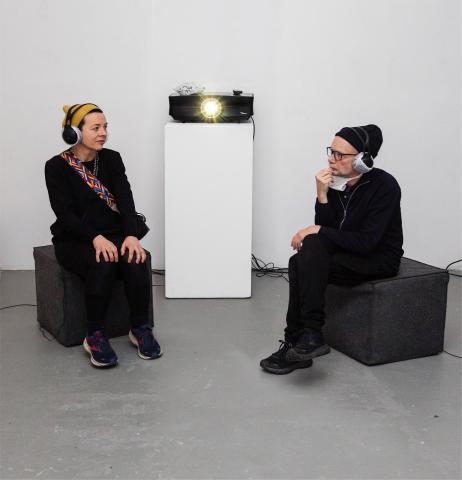 Frauke Berg lebt in Düsseldorf und ist bildendende Künstlerin, Illustratorin, Grafikerin und experimentelle Musikerin (Elektro/akustisch). Zahlreiche Zeichnungen, Radioarbeiten, digitale Animationen, Installationen und Performances sind in unterschiedlichen Kooperationen und Kontexten entstanden. Ihr Hauptinteresse gilt dabei der Arbeit In-Situ und der Kommunikation. Zeichnungen kommen dabei ebenso zum Einsatz wie Animationen, Geräusche, Sounds und Installationen. Als Initiatorin des "Hallraum Projektes", das ein Teil des von Oliver Gather und Andrea Knobloch gegründeten Kunstprojektes "Gasthof Worringer Platz" war, lud sie Positionen zwischen Klang und bildender Kunst in den öffentlichen Raum ein. Hier wurden immer wieder Fragen nach dem "Miteinander" im Raum verhandelt und sichtbar gemacht.
Oliver Gathers Arbeiten sind meist temporär und ereignen sich auf der Umgehungsstraße eines Dorfs (Hühner in der Kurve), in einem Vape-Shop (Dampf und Dunst), im Wirtschaftswald (Hoch Sitzen) oder auf einer urbanen Restfläche in Bahnhofsnähe (Gasthof Worringer Platz). Oder im Schilf (Die kleine Bucht, vom Ufer aus kaum wahrzuehmen). Im Gespräch mit den Menschen hinterfragt er deren normales Lebensumfeld und bringt das Fremde und Unbekannte akustisch, skulptural, performativ oder filmisch zum Vorschein.
Frauke Berg lives in Düsseldorf and is a visual artist, illustrator, graphic designer and experimental musician (electro/acoustic). Numerous drawings, radio works, digital animations, installations and performances have been created in various collaborations and contexts. Her main interests are in-situ work and communication. Drawings are used as well as animations, noises, sounds and installations.As the initiator of the "Hallraum Projekt", which was part of the art project "Gasthof Worringer Platz" founded by Oliver Gather and Andrea Knobloch, she invited positions between sound and visual art into public space. Here, questions about "togetherness" in space were repeatedly negotiated and made visible.
Oliver Gather's works are mostly temporary and take place on the bypass of a village (Chickens in the Bend), in a vape shop (Steam and Haze), in a commercial forest (Highly Pearched) or on an urban remnant near a main station (Gasthof Worringer Platz). Or in the reeds (The Little Bay, hardly noticeable from the shore). In conversation with people, he questions their normal living environment and brings out the strange and unknown acoustically, sculpturally, performatively or cinematically.