Friday 16 September
from 14:00 CEST until 12:00 noon on Saturday 17 September
Ricardo iamuuri Robinson
SPF 22
SPF 22, is an experimental 22-hour radio composition created by interdisciplinary conceptual sound artist Ricardo iamuuri Robinson. This recording integrates a variety of sonic landscapes to convey the journey of black skin. Robinson used tarpaulins made of various raw materials such as aluminum foil, durable plastic and waterproof canvas to depict the skin. Each tarp recording brings together site-specific atmospheres and radical movements made by one's own black body. There are also audio excerpts from archives ranging from political interviews, weather bulletins and sunscreen warnings, contributing to this overall sound marathon. This radio art transmits voices and sounds that articulate the interplay between black skin and the fight against the forces determined to control where it shines. The resulting 22-hour broadcast is a meditation articulating a historical conflict, allowing the listener to embody a space inspired by a man's quest for a new solar narrative. 
The concept is inspired by Ricardo iamuuri Robinson's most recent works of art: Blackbody, White Noise and La'Vender Freddy's Sunscreen Conspiracy project.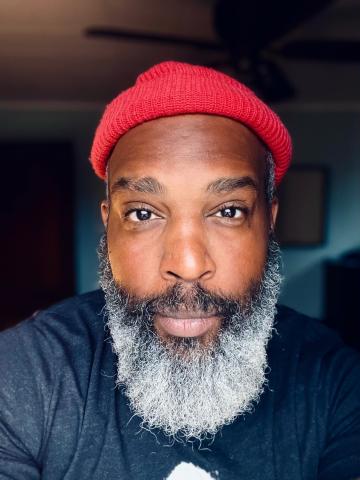 Ricardo iamuuri Robinson is an interdisciplinary conceptual sound recordist, composer, and visual artist whose work explores acoustic ecologies: a discipline studying the relationship between human beings and their environment, mediated through sound. His work activates and responds to his own personal mantra, "The listener is always the composer." Packed in this statement is an expansive truth – humans, across time and space, encounter sound through bias filtrations. Humans navigate the world and its multifaceted harmonics as who they are; through their experiences and their positionalities. Sound is site-specific, yet world-trekking; it is planetary – if not experienced through the ear, then through the hum and resonance in the body.
Robinson's work utilizes his unique knowledge of the medium in order to (re)tell the story of sound. His work affects our sense of time and place. The exposure to sound is mediated through our environmental relations – cities sound different from suburbs, affluent neighborhoods sound different than working-class communities, North sounds different than South, mountain ranges sound different than urban pavement, and yesterday sounds different than today. Each pocket of Earth holds its own soundscape, which exists in an entangled relationship with authoritarian systems that be.
Employing research, field recordings, archiving, media archeology, filmmaking, performance art, and creative listening engagements, Robinson invites listeners to cultivate a deeper understanding of the ways in which we inform our sense of place and awareness while exposing the listener to the sociopolitical dimensions of sound to encourage a heightened engagement with systems of power.