Friday 19 August
from 14:00 CEST until 12:00 noon on Saturday 20 August
Nina Guo & Augustė Vickunaitė
Nina and Augustė Radio
---
LIVE PERFORMANCE
You are invited to visit the Apdikt, behind the Bridderhaus, 1 Rue Léon Metz, 4238 Esch-sur-Alzette, to experience three live performances between 18:30 - 19:30 and 21:00 - 22:00 on Friday evening, and from 10:00 - noon on Saturday morning. Free entry.
---
We made these radio programs while going through the archives of our recordings from 2017 to 2022. Since winter of 2017 when we started playing together, we have recorded a huge amount of our duo material, which so far we have used mainly to learn from, to understand what worlds, characters, stories, and situations our duo can build. These recordings were never intended for public consumption, but we are happy to share them now on the radio. For our day of radio, we made a Golden Hour, Blue Hour, Witching Hour, Behavior, and Outsiders Hour to capture and share the different moods we found in our archive. Additionally, we have included recordings from previous live sets and will perform 3 live sets on the radio during our 22 hours. Since the material that we play separately looks very different to our eyes from what we play together, on this radio day you will also hear 3 solo hours from each of us. This may contain our solo works, other collaborations or anything we feel is interesting and important to share.
Our duo setup is simple – reel-to-reel tape recorders and voice. The basic principle is that Augustė uses her tape recorders to capture live loops of Nina's voice. Simultaneously, Nina is imitating and 'getting caught' in the loops that Auguste captures. We become a live human-machine feedback loop. There are sounds of analogue electronics, often with broken functions that create distortions, hisses, audible mechanical glitches, feedback, amplified mechanical sounds. The voice imitates these non-human sounds with vocal clicks, feedback harmonization, stutters, language glitches. All of this gets caught into audio tape loops, which expands the possibility to layer more sounds or respond with another gesture to the ongoing loop.
Each of us has certain limitations. Augustė's tape recorders often malfunction and create unpredictable sonic elements. Similarly, Nina's narratives are not pre-determined; the text comes from events in the day, imaginary situations, and memories and sometimes comments on the actual moment of playing. Because of the rich restrictions of unpredictability our duo can not follow a defined composition - the life and breath of our performances stand on the ground of improvisation. Whether we play in our studio, concert venue or parking lot, every set is different. When listening back, we hear snapshots of our lives, dreams, memories, things that are only remembered because we happened to play and record that day.
We enjoy creating and hearing this language between voice, its distorted recorded replica, and the tape machines. Somehow, this combination creates a hybrid mind which is unknown to Nina Guo and Augustė Vickunaitė individually but is known to Nina&Augustė.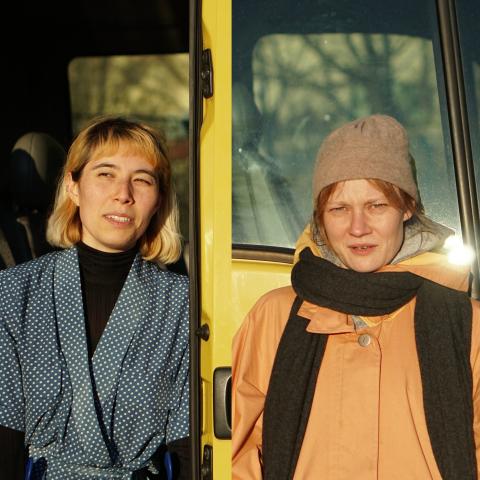 Since 2017, Nina Guo and Augustė Vickunaitė improvise together; Nina sings and Auguste plays reel-to-reel tape recorders. Their music frequently has loops and noise, but not exclusively. All sounds are live and analogue. Performances often include humour, physical theatre, feedback, improvised text, and electro-acoustic interplay. Each player gets caught in the loops that the other creates; human-machine feedback ensues. They are based in Berlin and have performed at various experimental music festivals, venues, and radios in Europe.
Nina Guo is a high soprano currently based in Berlin and Boston. She sings notated and improvised music and frequently uses theater. Radio and humor tend to prevail in her work. When she isn't experimenting with her instrument and learning music, she reads essays, listens in parks, and eats bread.
Augustė Vickunaitė is Lithuanian Berlin based sound performer with a background in physics science. She mainly uses reel-to-reel tape recorders to play, record, and create sounds that contain diverse field recordings, malfunctions of the old technology itself and intentional sounds/instruments recorded in natural environments. She is interested in errors of old technology, randomness of nature, aesthetics of boredom and slow art. Additionally she collaborates with other musicians and dancers in which often her works become audiovisual.