Friday 22 July
from 14:00 CEST until 12:00 noon on Saturday 23 July
RESONANT SOUTH
SUR RESONANTE
SUR RESONANTE is a collective sound piece curated by Fabiano Kueva, at the invitation of Sarah Washington and Knut Aufermann, mounted especially for RADIO ART ZONE - ESCH 2022 European Capital of Culture, based on sound, radio, musical or social memory works by artists and collectives from Chile: Valentina Villarroel Ambiado; Ecuador: Mayra Estévez Trujillo and Iris Disse (Oído Salvaje), also Taller Sapara; Argentina: Colectivo Casa Río; Mexico: Francisco "Tito" Rivas; and Colombia: Colectivo Nois Radio. All of them work at the frontier of creation, research, and activism. A sum of fragments to generate a 22- hour sound body based on environmental political listening, radical soundscaping, pre/during/post pandemic tones, the archive of voices, oral memory, and traditional music, proposing a diverse sound palette in aesthetics and reflections. The artists and collectives brought together works produced in recent years and grouped as SOUNDSCAPES, WORDS and INTERVENTIONS.
Download the program in English (pdf).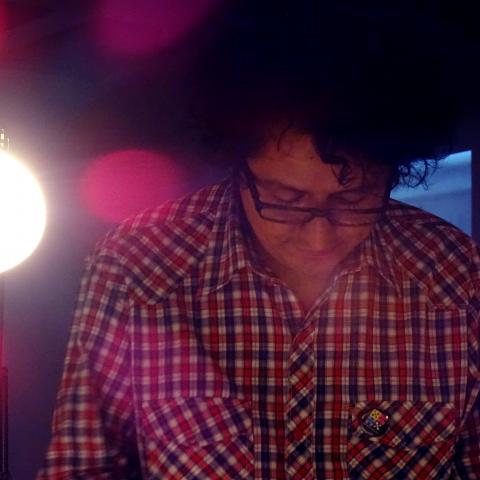 Fabiano Kueva. Artist and curator. Member of several art collectives in the 90's. He has worked in projects with museums, public spaces and community contexts; experimental transmissions by air, satellite and web. He has published many albums, books and articles. Lives and works in Ecuador.
Mayra Estévez Trujillo. Researcher, teacher and artist. Her work oscillates between theoretical reflection, creation and production. Member of the Experimental Center Oído Salvaje. Following her research she coins the categories: Sound Studies (2004-2008); Colonial Regime of Sonority (2009-2016); and Biocoloniality of Sonority (2017-2020). His publications are: Uio-Bog Estudios Sonoros desde la Región Andina (2004-2008); and forthcoming: Latin American Sound Studies: Situated Sonorities. He teaches Critical Theories of Culture and the Arts at the Graduate School of the Universidad de las Artes del Ecuador.
antenas-intervenciones.blogspot.com
Nois Radio. Art collective interested in the exploration of everyday sound universes, radio and alternative communication. Born in Cali, Colombia, in 2009, and since then its work has focused on creating radio experiences and generating spaces for listening and conversation, radio schools and communication strategies that contribute to strengthening the social fabric. The sound is at the center of its practice, since it allows a set of sensory possibilities to connect memories, impressions, dreams and concerns about the environment and daily events. It´s members are: Natalia Santa R., César Torres R., Nathaly Espitia D., Stephanie López B. and María Juliana Soto N.
Valentina Villarroel Ambiado. Sound artist and experimental musician. She is co-founder of Aoir Laboratorio Sonoro, a project for the manufacture of sound devices and microphones under the name of Bowerbankii and teacher in artistic workshops for various educational spaces based in interdisciplinary proposals to rescue the sound as a fundamental mark. She produces and manages the execution and programming of the Day of Listening meeting in Biobío (Concepción) and is the director of AOIR Cartografía Sonora, a collaborative platform that gathers and preserves the sounds of the Biobío region - Chile and the world.
valentinavillarroel.tumblr.com
Tito Rivas. Sound artist, musician, cultural manager and researcher. As a creator he has ventured into radio art, sound poetry, site-specific installation, sound documentary and multichannel music. His work has an emphasis on phonography as an artistic practice. He has published research articles on phenomenology of sound and archeologies of listening. He was head of sound experimentation and then deputy artistic director of Fonoteca Nacional de México, curator at Espacio Sonoro de Casa del Lago (UNAM) and member of Red de Estudios sobre el Sonido y la Escucha and Red de Ecología Acústica México. He currently directs the museum Ex Teresa Arte Actual of INBAL.
Casa Rio. Located at the mouth of the Rio de la Plata estuary in the final stretch of the immense river basin, Casa Río is a flowing space, a meeting and training place in creative practices with environmental commitment. Our interest is to co-produce research, share experiences and practices that generate capacities to promote joint development and foster new public policies that incorporate the ecosystem dimension of coastal zone use planning incorporated into national and international environmental policy frameworks. from the following transversal axes / art, environment, scientific knowledge, sensitive approach and local knowledge.
Iris Disse. German vocalist, actress, theater director, radio creator, and filmmaker. She has worked for 30 years with indigenous communities in Latin America and has won important awards for her artistic works on social, historical, and fictional themes.
Taller Sapara. Ecuador Node of SONIC MATTER LAB 2021. A listening/recording workshop in Llanchama Cocha, focused on young Sapara leaders with the mediation of Fabiano Kueva. The WORKSHOP activities are linked to the knowledge and experiences of the Sapara Nation on education and interculturality. Its members are: Ipiak Ushigua, Ipiak Montahuano, Yataka Montahuano. With the support of Sonic Matter, Pro Helvetia, and Swiss Embassy in Ecuador.