Friday 24 June
from 14:00 CEST until 12:00 noon on Saturday 25 June
Community Radio Tbilisi Collective
The Insider
This is a 22 hours non stop field recording of places and people in Tbilisi in Georgia. The recording has been made by 9 sound or visual artists based in Tbilisi. The first recording started at 7.00 in the morning in a local Samgori market. The last one finished at 5 in the morning the other day near the railway station. You will be able to listen to the outdoor environments of Tbilisi as well as very particular and intimate spaces of peoples houses.
All participants had about two hours to capture the mood and characteristics of the environment that they have chosen. The recorder has never been stopped, so all the transitions, when participants are passing the recorder to each other, their everyday talks and interactions with surroundings are hearable as well.
On the top of the whole recording, following the idea of patching we have placed several stereo sound recordings to create new dynamics and perception of the whole sound piece.
This field recording chain was created to make listeners feel more connected to the actual Tbilisi life and to let them experience the city from the perspective of a real insider.
participants: Anushka Chkheidze, Elene Gabrichidze, Tete Noise, Lado Oniani, Irakli Shonia, Sasha Zalivako, MXDR, Tornike Katsarava, Bara Gallo
produced by: Community Radio Tbilisi
concept : Bara Gallo
technician: Tornike Katsarava
The project is co-financed by the European Union programme Creative Europe.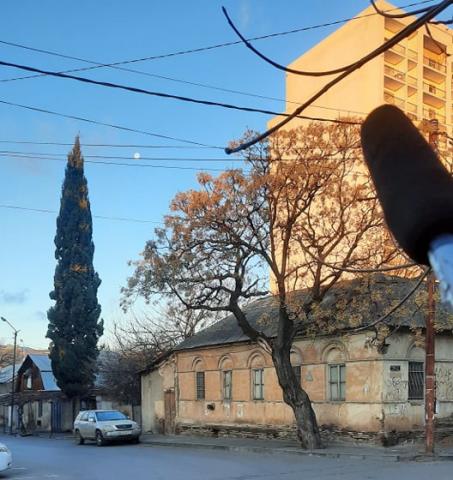 Anushka Chkheidze, an up and rising electronic music producer. Her work includes music for film and theater. She is one of the participants of Sleepers Poets Scientists. Halfie is her debut album where she feels a new, completely different side is born. The second album 'Move 20-21' is a mid journey through space and time without physical activity.
Elene Gabrichidze, co -founder of an annual newspaper Samassamotsdakhuti (365), which includes texts by Georgian artists that sum up the past year. Her Artistic research about the writing in Georgia led to finding bonds to some other ancient places and peoples. She uses geography and ancient history to find personal and communal ways people communicate.
Sandro Chinchaladze aka Tete Noise, a musician and producer, founder of a cassette tape label Hundred Tapes. His work brings together a collage of analogue instruments, tape loops and field recordings into an experimental genre, transcending opportunity for unexpected improvisation and performance.
Lado Oniani, an artist, musician, and inventor. He works in different forms of artistic media including graphic, music/sound, video/animation, sculpture, installations, and writing. He works on research and development in software and mechanical engineering in AI and robotics.
Irakli Shonia, an artist and musician. Co-founder and curator of ''de re'' (record label founded in Tbilisi) and several festivals or happenings for experimental, electronic, and acoustic music / visual arts. He Also involved in activities supporting DIY culture, photography, and some other media.
Sasha Zalivako, Multidisciplinary artist not based in a fixed location. Chooses to work nomadically without the restrictions of a studio or tools, and unbound to a specific medium, keeping herself open to the spur of the environment and circumstances.
mxdr, co-founder and curator of radio.syg.ma, sound-artist, whose live performances are intense acoustic experiments with an immersive narrative and found field recordings.
Tornike Katsarava, a musician, sound designer and a sound engineer. He has done full music production for a few plays in Alytaus theater in Lithuania. One of which was nominated among five best theatrical music works in Lithuania in 2020. Tornike has worked as sound engineer for the last 7 years, on live events as well as recording/mixing music, audio post production and audiobook production.
Ana Gzirishvili is reading poems of 20th century Georgian femiist poetess Marijan, whose auto-fictional voice often regarded as 'too honest for a female', has been severely silenced by the male-dominated institutions of the USSR. A selection pems has been translated from Georgian to English and published in Danarti zine for the first time by poet and artist Ana Gzirishvili.
Danarti Zine is an independent, interdisciplinary series of publications on art and culture based in Tbilisi, Georgia. Each issue gathers commissioned works by artists, cultural workers and workers of various scientific fields around one subject at a time. Danarti is also interested in re-publishing and/or translating some of the classical work. Each issue includes a work by a commissioned artist.
Ana Gzirishvili, a multimedia artist.. Throughout her experimental practice, Ana has made use of mediums ranging from film and lens-based media to music, printed matter, CGI, from drawing to poetry and reading performances. Her projects often examine visual and socio-cultural narratives of a space, object, or event mainly addressing the feeling of displacement in and in-between material/immaterial realms.
Bara Gallo, a multimedia artist, co-founder of Community Radio Tbilisi and member of CENSE / Central European Network for Sonic Ecologies. She has been working for several cultural institutions in Prague, Iceland and Georgia. As an illustrator her works reflect the relationship between architecture and natural inhabitats.