Friday 26 August
from 14:00 CEST until 12:00 noon on Saturday 27 August
Xentos Fray Bentos
Dream Home
Dream Home - Order of Ceremony
14:00 CEST David & Ellie Show A inc The Churchill Holy and Vertically Challenged
15:00 Canto II - direct from the mind of Xentos Fray Bentos
16:00 Die Trip Computer Die - From the encomium archive part one
18:00 David & Ellie Show B inc The Churchill Holy
18:16 Scientists & Fetishists
18:30 DJ Kintel Orloob Bollo Presents part one - 1960s and 1970s Muzak Reconstructed by Google-Web from the Xentos Encomium
19:30 Campfire Tales - a selection of chilling campfire tales featuring K'Nievel K'Night, Suzanna Franklin, Pollyanna Miller and Deke Wif'o'Bat'
21:00 Witchcraft
22:00 Canto I - direct from the mind of Xentos Fray Bentos
23:11 David & Ellie Show C inc The Churchill Holy
23:30 Muzak for Nomrons
24:00 Meditation Alley - your host and guru is Sinjohn Bravermanman
01:00 The Oort Cloud - a cosmic journey out beyond the planets
02:00 Die Trip Computer Die - From the encomium archive part two
04:00 Gaugin's Hut
05:00 Churchill - Closer To Thee Our Lord
06:00 DJ Kintel Orloob Bollo Presents part two - 1960s and 1970s Muzak Reconstructed by Google-Web from the Xentos Encomium
07:00 David & Ellie Show D inc The Churchill Holy
07:25 Trees Remembered
08:00 Canto III - direct from the mind of Xentos Fray Bentos
09:00 Classical Gas Chamber featuring Wendy Bach
10:00 David & Ellie Show E inc The Churchill Holy
10:25 Robio and Julibot - Play of the Month
10:28 David & Ellie Show E continued
11:00 Canto IV - direct from the mind of Xentos Fray Bentos
Pull up a stool. Or a seven-legged chair. You're just in time. The year is 2122 - the year of culture, exactly one hundred years beyond your immediate future. First of all, as an ignorant 21st Centurion, you are going to require some definitions if you wish to navigate through this Dream Home guide.
Chip-Sit - a citizen who has had wetware modifications integrated with their brain stems at birth. These enable them to remain in continuous contact with the Google Web without need for out-moded legacy hardware. Chip-Sits can also communicate thoughts, words, images to other modified citizens without having to engage clumsy vocal and tactile operations.
Nomron - an unmodified individual with no access to the Google Web. Since the unrest of 2081, a mass program of sterilisation has been implemented to ensure that a Nomron population can be retained in a manageable configuration. Useful Nomrons find employ in the waste disposal, catering and service sectors. The less able are recycled and provide a beneficial source of raw materials for the agricultural sector.
Encomium - a deceased citizen whose consciousness has been replicated to digital storage.
It is 2122 and, once again, Esch-sur-Alzette has been bestowed the great honour to act as 'city of culture' for this coming year. Esch has always led a charmed life as evidenced by its having survived the second thermo-nuclear conflict of the mid-2050s. Indeed, unique for Europe, only two thirds of its buildings were incinerated. To commemorate this marvellous event, Esch has decided to look back to the year 2022. Exactly one hundred years have passed since it last hosted the 'year of culture' and, as part of the joyous centennial celebrations, the festivals curators have invited a surviving encomium that, amazing as it may seem, activally participated in the 2022 city of culture event. That encomium - designated Xentos Fray Bentos - was archived in 2037. Unfortunately, due to massive substance abuse and general incipient stupidity, only random fragments of the Xentos consciousness were intact and available for the archiving procedure. The result is a fractious, quirky and often moody encomium that (incredible as it may seem) has been known to disconnect itself from the Google Web for weeks at a time.
After fraught and lengthy negotiations, The Xentos encomium has at last agreed to allow access to its fragmentary memory archive for a 22 hour period and provide concordant texts and imagery to accompany the event. However, The Xentos has instituted an unusually restrictive set of stipulations. All Chip-Sits wishing to experience the Dream Home will be required to download and install a virtual FM receiver. FM (aka Frequency Modulation) was a primitive form of communication network popular in the late 20th Century. Poll Google Web and you will see the basic requirements were a signalling device known as The FM Transmitter and a pick-up device called The Radio Receiver. Signals were modulated onto a broad spectrum of the electromagnetic waveband after treatment with pre-emphasis circuitry, required to reduce noise in the system which appeared with a triangular spectral distribution. Full instructions for constructing the virtual receiver will be included with the download and a comprehensive auto-delete will follow as standard.
Esch 2122 is now proud to present a selection of texts, originally composed for Esch 2022 by The Xentos encomium, while it was still functioning as a flesh-based four limbed being. It is to be regretted that, due to the aforementioned compromised nature of the encomium, we have been unable to access the texts in their entirety. Consequently, the voided passages will be indicated by use of the following ellipsis - '···············'.
Xentos Fray Bentos (From Esch Radio Art Zone Catalogue circa 2022)
Extract 001:
"It is often said that, in this current age of mass surveillance (and what amounts to, for many individuals, efficacious, insidious thought control) the only remaining freedom left to us exists in the form of the future - that unassailable vault of aspirations, that clueless repository of unthinkable terrors or an anodyne index of come-what-may. The presence ···················· ·························································· simple question. How do we negotiate an asset so volatile, so open to unexpected digressions and twisted conflations? Outside of the realms of the more fanciful strands of science fiction, who in their wildest nightmares would have ·························· orange-skinned near-imbecilic ex-reality TV personality to the most ················ on our planet - the ········ of the United States? Or foreseen the day when a crazed Russian autocrat would be so insane as to ················· peaceful neighbouring country?"
Extract 002:
"Despite having no ········ the question, Xentos Fray Bentos' chosen point of engagement with the future has been through what could usefully be called 'the undying art of woefully inaccurate prediction' sometimes referred to as ···········. ········· field of study that examines possible futures through an analysis of present trends. It is a practice that runs parallel to the fairground fortune teller with the oversize earrings, gazing into some revelatory crystal ball or prodding a cup of tea leaves to reveal our fates. But what of ············ in befuddlement. How do we repeatedly get it so ·············. ······· the absence of flying cars, undersea cities, atomic powered lawn mowers. And what of those genetically enhanced super-women with cantilevered exoskeletons, who seek amusement by happy-slapping their attendant retinue of neutered, mildly lobotomised man-servants?"
Extract 003:
"·········· a concept it is eternally cursed with conundrum. The moment it arrives in the lap of the present - like an ill-omened turd dropped from a great height - it loses the very essence that defines its character. Thrust into our miserable, noumenal world, its futurity ············· cares to mourn."
Extract 004:
"In Dream Home, Xentos aims to present a radio show from one hundred years······. ········ year of culture being held in the dignified and vastly cultural city of Luxembourg. Curiously, despite the second thermo-nuclear ············ relatively intact. Although the majority of the planet's remaining population has decamped to live in the undersea cities, the Luxembourgians are happy ·········· their artificial lawns with atomic lawn mowers."
Extract 005:
"Dream Home will transport us into a supposed future, one both hermetic and ········. ········ the human condition will ensure that segments of the program will be comprehensible to our contemporary minds - relatively primitive, pre-chipped and hopelessly ·········. Be careful. Tuning in, you may find yourself unwilling or unable to make the return journey to our divisive, troubled times. You may well find yourself stranded, alone on some bleak futurological island with only a hi-tech digital coconut prepared to be your friend."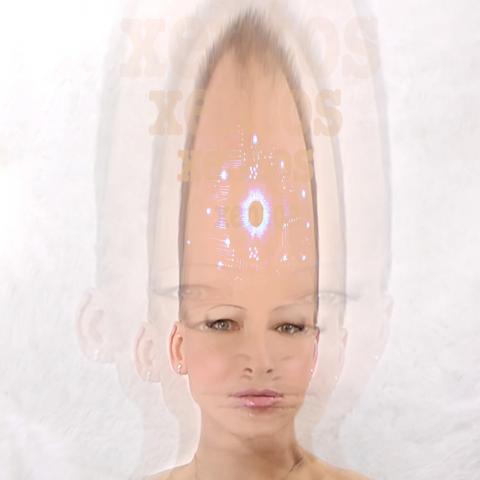 Biographic Insights - toward an appreciation of the many lives and fragmented psyches of Xentos Fray Bentos
"I was born in the Wicklow Hills at a very young age. My father abandoned us soon after my emergence from the womb to join other Irish slave labourers in the construction of the British motorway system. It was left to the mother to smuggle me into England in her pelt. On arrival, she threw herself to the ground and proclaimed a miraculous birth. This was how I came to be in possession of a UK passport."
These few lines, taken from Xentos practically untenable and unerringly scandalous auto-biography, conveys some flavour of the contemptuous/tempestuous times into which he was born. After several failed attempts at an education, he was taken under the Essex wing of the Poor Clares of Perpetual Notion, an obscure branch of the order of Franciscan nuns. Slowly, under a reign of blows and religious brutality that would make a stay in Guantanamo Prison seem akin to a Club 18/60 holiday spa experience, he learned to rein it in (his bad habits) and became devoted to the study of stringed instruments. At first, the piano and electric bass were his chosen weapons. Chancing on an abandoned upright piano in the nearby church hall, he became entranced by the 'out-of-tuneness' of the battered old keyboard and, using a rusty pair of pliers, quickly developed a tuning system of his own based loosely on the noteworthy quarter tone interval.
Unable to make contact with adherents and active practitioners of the quarter tone system, he struck out on his own, and for a while earned his living performing detuned classics and vulgar sea shanties in working man's clubs in the North of England. It was within these clubs that Xentos was first encouraged to explore his many alter egos. Two of the most popular stage characters he occupied in this era included 'Luigi' - a faltering and incompetent Italian motor mechanic and 'Bethsheba (sic)' - an exotic/erotic female dancer. His immediate success with the latter eventually led to a long engagement in the European underground club scene. During this Mid 1980s period, Xentos could be caught performing on stage regularly in Paris, Mariánské Lázně and Athens. He enjoyed a feted life and earned a grand living impersonating female pop stars of the day including Madonna, Toyah and Cyndi Lauper. Such was his skill at eliding the edges of the narrowly gendered perimeters of the time and embracing the liminal, that he was asked to portray a Marilyn Monroe-type figure in a low budget indie movie. Hair, make up and styling were completed and Xentos, now looking the part, found himself fascinated with the mechanics of the film-making process. Unfortunately, he had been duped. The script turned out to be 'une escroquerie' and the intended film a particularly cheap and lurid attempt at pornography. Disgusted, Xentos stormed off the set and decided to hang up his vast collection of wigs, heels and gowns for the time being.
Returning to the UK, having loudly declared cinema to be 'his new god', Xentos was gifted a super 8 camera by one of Derek Jarman's relatives and spent two years making idiosyncratic movies that breezily pre-dated the excesses of the MTV and Vimeo scene. His movie work - and the concomitant need for soundtracks that would complete his vision sparked an interest in electronic music. In particular, like an itinerant zombie, he was drawn toward the field of Schaefferian acousmatics. This practise saw him spend the first of many gruelling tours of duty ensconced inside that airless and artificial sonic tomb - the recording studio. Xentos curiously easy relationship with celebrity and its disciples came in handy. Despite the enduring, almost hermetic anonymity that defines the core of Xentos practice, various well-known names were drawn into his orbit. At first, thanks to the intervention of small label owner Dick O'Dell, he was loaned legacy equipment by Dutch composer Dick Raaijmakkers. Raaijmakkers, a shamefully unacknowledged master was at that time in the wilderness. His all-too-eager embrace of Sino-Marxist politics had resulted in his being eclipsed from the local scene. Next, Gina Birch from the Raincoats stepped up, insisting Xentos make use of her Tascam four track cassette machine while she was off on tour. As if this wasn't enough, actor/comedian Keith Allen of Sheriff of Nottingham fame arrived on Xentos doorstep one morning with a complete 8 track recording studio, a set up he'd somehow scammed out of Chrysalis Records in exchange for a comedy album that never materialised.
Much as he enjoyed exploring the possibilities implicit in a taped environment, Xentos perceived new technologies were on the horizon, developments that would enable him to realise the sounds crystallising inside his skull. Fortuitously, this moment in audio history coincided with the development of the commercial sampling device. Like an untested army sapper who rapidly discovers concourse with the lethally timed explosive through the art of defusing, in short order Xentos became fluent in the possibilities of both the Emulator II and the Akai S900. The timing couldn't have been better. He was in the throes of discovering the bliss of bird lore. Repeated journeys to thickets, marshes, tidal estuaries and densely coated forests, armed only with a second hand Uher tape machine and a hastily borrowed Sennheiser MKH 816 (an unusual mic in that it employs an RF module to carry the capsule signal to the output circuitry) allowed Xentos to build up hours of semi-professionally recorded avian audio. Xentos found that by feeding short snippets of birdsong into his S900, he could reduce the pitch down by three whole octaves. By resampling and reseeding, the three could become six. The corporeal yet animated profligacy of his subsequent 'bird-brained' mixtapes led to a European tour facilitated by Rotterdam guitar virtuoso Lukas Simonis. It was during a residency in Hamburg that he first met up with sonic pioneer and ace bricoleur Lepke Büchwater. After a brief conversation, Xentos decided to place his glitzy g-strings and dazzling high heels in temporary mothballs and the duo returned to the UK to form the conceptual appropriation outfit Die Trip Computer Die. Only now being released in stages on Bandcamp, the Die Trip archive consists of over sixty six hours of recordings. After some algorithmic highs and capriciously low jinx, Xentos started work on his as yet unpublished journals, a unique documentary of an unstable age, which at this current time stretches to thirty four volumes.
During the late 90s, Xentos' fascination in radio was kindled by the first incarnation of Resonance FM curated by Phil England and Ed Baxter. Broadcasting from the roof of the Festival Hall, part of London's brutalist South Bank complex, the station initiated a free-flowing, anything goes philosophy that is still emulated today. In addition to helping practitioners realise their productions for the station, Xentos hosted a Sunday morning religious show that incorporated an ironically perfect mimicry of the more hysterical American TV preachers along with a cascades of found sound and archive recordings of a biblical nature.
No sooner had Resonance FM returned as a permanent gleaming lighthouse on the shores of the radio landscape, than Xentos was ready with a weekly half hour show. Resonance founder Ed Baxter described it as 'a rollicking madcap picaresque conceptual comedy'. The show, which seamlessly mixed scripts, sound collage, intervention and psychic disturbances ran for three years until Xentos, who also moonlighted as a sound designer creating original soundtracks and soundscapes for The Science Museum, Tate Modern, The V&A and others, under the relentless pressure, completely lost his mind. He was picked up on Morecambe Beach, dressed in rags and talking to a shrub. His interlocutors discovered that he was trying to convince the shrub that the world was about to end in a colossal nuclear fist fight.
Recovery was slow if progressive and when Xentos awoke from his fairy flux, he found the world had changed indelibly. For a while he laboured in the field of education, determinedly passing on his skills in both radio and moving image to the next generation of creatives. (It was while lecturing at one college during a major upgrade to the Windows operating system that Xentos cracked his now globally famous Microsoft/Warner Bros. joke: "What's up, Docx?"
Ultimately, small-minded attacks on the heart of education by the snooty toffs of the incoming Tory government (under the aegis of 'austerity') led to him departing the sector in disgust but not before he had inserted a 20,000 line abstract poem outlining has angst and unbridled rage at these disgusting political charlatans into the college's database. By a typical Xentossian coincidence, as he left the building for the last time he found him self pursued by two heads of department clutching pages of printout of said poem. "Xentos? What have you done this time?" demanded one of the heads. "What needed to be done," replied a cool, collected Xentos.
For a short time, Xentos chilled his heels before returning to live performance with the Unhappy Fly collective, clocking up a series of memorable low key shows in Berlin and beyond. His current period has seem him producing spoken word series for Resonance (The Diaries of Xentos Fray Bentos) and individual radio dramas for the likes of Radiophrenia in Scotland. A degree of interest in his archive musical projects has ignited various projects. The Emotional Response label in Arizona is soon to re-issue 'Go Home Soldier' by Amos & Sara, originally released on the It's War Boys label as a 12" single. Emotional will follow this with the first release of a Ted Barrow and Xentos project from 2012 - Two Square Why's (2SQY?) album of unsettlingly nostalgic retrograde songs. The Spanish label Transgenero are also busy on an inspired release that will twin one of Xentos' mid-period collections of short stories 'The Disturbex' (featuring a prologue by Luke Fowler) with three EPs containing unreleased material from the It's War Boys catalogue including Narki Brillans, Amos & Sara and The Harris Bomb (feat. Tweed Klausewitz).
Having recently completed a soundtrack for The Glass Museum in Stourbridge that saw the tip of one of his boom microphones overheating in close proximity to molten glass, Xentos is currently hard at work devising his contribution to Esch. The programme, set in the Year of Culture 2122 - exactly one hundred years hence - should throw up no surprises for those who keep their ears pressed tight to the rails, rafters and railings.