Friday 8 July
from 14:00 CEST until 12:00 noon on Saturday 9 July
"a way a lone a last a loved a long the riverrun, past Eve and Adam's, from swerve of shore to bend of bay, brings us by a commodius vicus of recirculation back to Howth Castle and Environs"         - Finnegan's Wake,  James Joyce
RiverRun interrogates how Rivers are ecological arturaries of human and non-human well-being. In the UK and throughout Europe our rivers are seriously polluted from human waste release, farm run-off of nitrates, phosphates and animal waste, and algae growth.
Among this detritus, RiverRun celebrates just how magical a river can be – inspirational, healing, and imbedded into our own psyches - musically celebrated by so many artists.
For twenty-two hours a soundscape explores the chalk rivers of Dorset – home to salmon runs, eco-diversity, the sound of beauty, creatures, and magic. Through the spoken word,  learned papers, fables, harvested hydroponic creatures, the dawn chorus, and the work of science, RiverRun brings what we have and what we stand to lose.
David Buckland creator and founder of the Cape Farewell project, an artist, filmmaker, and ecological activist has created and directed RiverRun.
A team of sound artists, writers, poets, scientists, anthropologists, narrators, and musicians have contributed in force:
Adrian Newton, professor, and sound artist
David Rogers, electricbackroom Studio
Lynn Davy, Zoologist
Helen Moore, eco poet
Professor Veronica Strang, Writer, and author of Water, Nature and Culture, The Meaning of Water and Water Beings (to be publisher March 2023)
Kenneth Grahame, author, Wind in the Willows
Narrators: David Buckland, Dr. Paul Baird, Mandi Bissett, Dr. Kate MacMonnies.
Music includes: Handel's Water Music, Pink Floyd The Piper at the Gates of Dawn, the Yellow River Cantata, Talking Heads- Take me to the River, Al Green – Take me to the River, Bruce Springsteen-the River, Old Man River, PJ Harvey-Down by the River, Kawa no Nagare no Yo ni, Joni Mitchell-River, Ferry Crossed the River, Billy Joel-River of Dreams, Patti Smith-Pissing in the River ….
To be continued.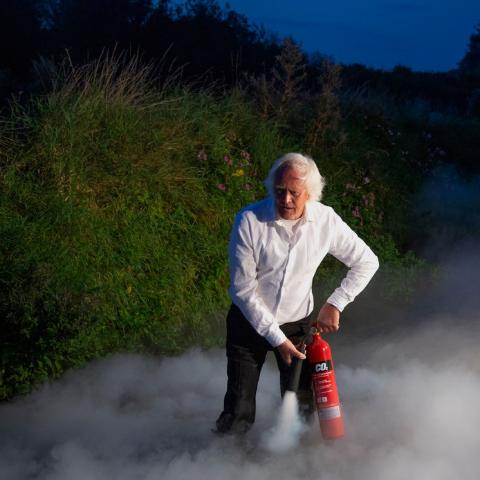 David Buckland is an artist, film-maker, writer and curator. His work is included in the permanent collections of the National Portrait Gallery, London, the Centre Georges Pompidou, Paris, the Michael Wilson Collection, London and the Metropolitan Museum of New York.
Buckland created and now directs the international Cape Farewell project. Bringing artists, visionaries, scientists and educators together, Cape Farewell continues to build an international collective awareness and the cultural response to climate disruption. Over 140 artists have created operas, films, artworks, pop music and novels which address the climate challenge and through the process of making art, vision a sustainable and exciting cultural future.
Buckland curates three new major exhibitions:  the 'CARBON 12' exhibition recently opened in Paris in May 2012. 'CARBON 13' opens in Marfa Texas in September 2012 and 'CARBON 14' is scheduled for the Royal Ontario Museum in Toronto, September 2013. All contain new artworks by international artists and cultural practioners, each addressing climate disruption and the mechanics of a desired cultural shift.
Recent publications include 'Climate is Culture' for Nature, March 2012 and the catalogue Carbon 12, published by Somogy Editions d'Art.