Friday 9 September
from 14:00 CEST until 12:00 noon on Saturday 10 September
Liquid Penguin Ensemble
ERDANZIEHUNG
Bäuchlings auf der Erde liegen. Augen schließen und eintauchen. Hinab in ihren tiefen Schlaf. Hinab ins Beben. Sie wälzt sich und ihre Bettdecke aus Erdkruste wirft Falten, reißt hier und da ein oder auseinander. Die da oben schwimmen auf Schollen über Zähflüssiges. Aber wir sind mit unseren Ohren im großen Mahlwerk der thermischen Konvektion, im flüssigen Basalt, in den Magmakammern, bei den Diamanten. Wir treiben auf seismischen Wellen durchs Gestein. Durchschwimmen die Erde in 22 Stunden.
Wir graben in unseren Archiven. Geräusche, Atmosphären, Stimmen, Musik, Texte und Gespräche über Schwerkraft, Bergbau, Vulkanismus oder Elementarteilchen aus den letzten 25 Jahren fördern wir zu Tage. Wälzen alles um. Mischen und verdichten sie zu 22 neuen dynamischen Klangblöcken.
Lie prone on the earth. Close your eyes and dive in. Down into her deep sleep. Down into the trembling. She rolls and her bedspread of earth's crust wrinkles, tears here and there or apart. Those up there float on floes over viscous things. But we are with our ears in the great grinder of thermal convection, in the liquid basalt, in the magma chambers, with the diamonds. We drift through the rock on seismic waves. Swimming through the earth in 22 hours.
We dig in our archives. Sounds, atmospheres, voices, music, texts, and conversations about gravity, mining, volcanism or elementary particles from the last 25 years are brought to light. We turn everything over. Mix and condense them into 22 new dynamic sound blocks.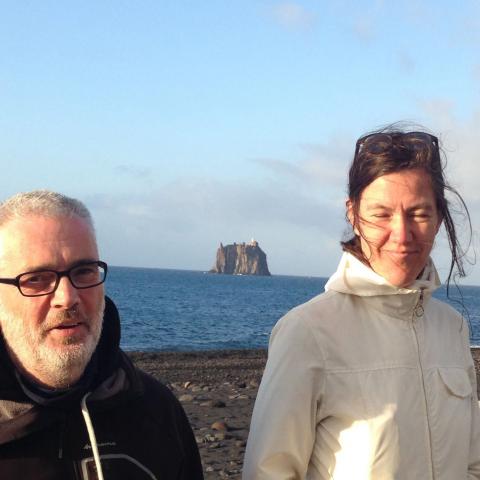 Seit seiner Gründung 1997 experimentiert und spielt das Liquid Penguin Ensemble an und mit den Grenzen künstlerischer Genres. Es entwickelt und realisiert im Duo (Katharina Bihler und Stefan Scheib) oder gemeinsam mit weiteren Akteur*innen Projekte zwischen Performance, Musiktheater, Hörspiel, Klangkunst und Installation.
Zu den Gegenständen ihres künstlerischen Forschungsinteresses gehörten schon die Welt der Zahlen, die Zeit, die Schwerkraft, der Horizont, das Seitenlinienorgan der Fische, die Freiheit unendlich kleiner Teilchen, die Kommunikationsfähigkeit von Pflanzen und Menschen, die Beschaffenheit von Landschaften oder Mundgerüsten, europäische Übersetzertürme, internationale Lieblingsworte und internationale Raumstationen, der Klang des Glücks und der Klang der Stille. Solche Themen verbleiben mitunter für längere Zeit in der künstlerischen Recherche und finden dann im Laufe der Zeit unterschiedliche künstlerische Ausdrucksformen: Live, im Radio oder als Installation.
Die Hörspiele des Liquid Penguin Ensembles wurden mehrmals ausgezeichnet, unter anderem erhielt das Hörspiel "Gras wachsen hören" 2008 den Deutschen Hörspielpreis der ARD und den ARD Online Award. "Bout du monde" und "Ickelsamers Alphabet" wurden 2009 und 2014 ARD Hörspiel des Jahres, "Ickelsamers Alphabet" wurde außerdem mit dem Hörspielpreis der Kriegsblinden 2015 ausgezeichnet. "Einsteins Zunge" von Christoph Buggert, bei dem sie Regie führten und für Musik und Klanggestaltung verantwortlich waren, erhielt 2020 den Deutschen Hörspielpreis der ARD.
Since its foundation in 1997, the Liquid Penguin Ensemble has been experimenting and playing with the boundaries of artistic genres. It develops and realises projects as a duo (Katharina Bihler and Stefan Scheib) or together with other artists between performance, music theatre, radio play, sound art and installation. The subjects of their artistic research interests have already included the world of numbers, time, gravity, the horizon, the lateral line organ of fish, the freedom of infinitely small particles, the ability of plants and humans to communicate, the nature of landscapes or human speech instruments, European translator towers, international favourite words and international space stations, the sound of happiness and the sound of silence. Such topic sometimes remain in artistic research for a long time and then find different artistic forms of expression over time: Live, on the radio or as an installation.
The radio plays of the Liquid Penguin Ensemble have won several awards, including the radio play "Gras wachsen hören" (Listening to Grass Grow), which received the ARD German Radio Play Award and the ARD Online Award in 2008. "Bout du monde" and "Ickelsamers Alphabet" were ARD Radio Play of the Year in 2009 and 2014 respectively, "Ickelsamers Alphabet" was also awarded the "Hörspielpreis der Kriegsblinden" in 2015. "Einsteins Zunge" by Christoph Buggert, which they directed and were responsible for music and sound design, received the ARD German Radio Play Award in 2020.