Monday 1 August
from 14:00 CEST until 12:00 noon on Tuesday 2 August
Zach Poff
Fast Slow Radio
Fast Slow Radio presents 22 sonic impressions from locations around the globe. Each 60 minute section is an "audio time-lapse" combining thousands of chronological audio samples collected during a 24hr period. Fast Slow Radio combines the glacial pacing of Norwegian "Sakte-TV" with the constant change of Luc Ferrari's "Presque rien No. 1".
When long recordings are time-compressed, slow changes become audible, like the hidden movement of plants revealed by a time-lapse film. This way of listening helps me appreciate the more-than-human patterns around me. When listening at this speed, nothing is static: The "constant" hum of the city changes timbre as rush-hour approaches. Underwater recordings reveal the diurnal cycles of insects or the ferry schedules of a metropolis. In the forest, animal voices mark their shifting territories against a backdrop of wind and water that are always present but always in flux.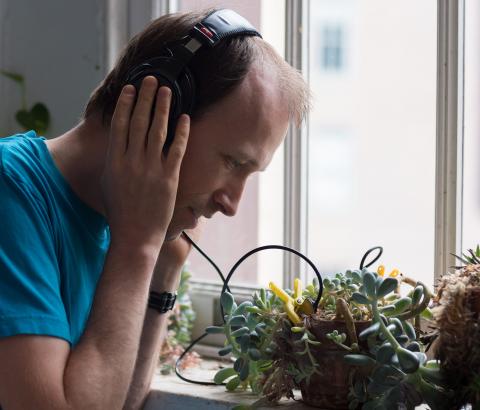 Zach Poff is a New York area media artist, educator, and maker-of-things. His artwork is rooted in open systems that eschew individual authorship in favor of collaborative or generative models. His recent work employs unique sound tools to explore social and ecological relationships (Pond Station, Sferics). His algorithmic remixes of popular media uncover hidden subtexts lurking inside familiar forms (Radio Silence, Video Silence). He considers his art-making, teaching, and software development to be contributions toward a culture of sharing & empathy, in direct opposition to commercial media's cult of the individual.