Monday 20 June
from 14:00 CEST until 12:00 noon on Tuesday 21 June
---
LIVE PERFORMANCE
Meet Ylva and Frida for a joint listening session from 21:30 - 22:30 at the Gaalgebierg in Esch-sur-Alzette (see map below for precise location). Bring you own car for extra radio power if you can.
---
We focus on the same subjects over and over again in our practice: How can we cope? In our sound piece VY we want to create a landscape of partly open fields with a long view of a distant horizon and other parts in hilly terrains with winding roads.
VY is swedish for view, outlook, or panorama. VY means to look out into a far distance. VY is the look of the blue mountains in the background. VY is when you look out over the flat ocean from a high bridge. VY is when you catch a glimpse of your future in the mirror. VY is the beginning of vykort which is a postcard from your travels sent to your friends at home. VY is to see a long winding road stretch out into the distant future. VY is the constant noisy opera of cars on busy highways. VY is the question of how long the oil will last. VY is the history of the steel that built our Volkswagen-art-institution.
VY is Konsthall323 driving from Stockholm to Esch.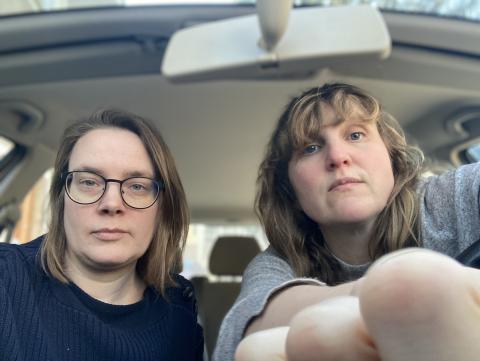 Konsthall323 is an art institution in a car. A collaboration by Frida Krohn and Ylva Trapp. We founded Konsthall323 to get a place to work, sit around and stare but not be alone. We have done collaborations since 2006 and founded Konsthall323 in 2010 from a lack of time and economy when we had moved to Stockholm. We used what we had and we had a car, so we started Konsthall323 - an art institution in a car. From our moveable space we've been thinking, showing and making art. In Konsthall323 we produce our own work and show other artists' work. We invite others to collaborate and we drive to meet the people and art we want to interact with.
Ylva Trapp has a masters degree in Fine Arts from Konstfack Collage of Arts and Frida Krohn has a master of Fine arts from Umeå Art Academy. We both live and work in Stockholm.