Monday 29 August
from 14:00 CEST until 12:00 noon on Tuesday 30 August
Ed Baxter
Forty Four Folk Tales
I've called this day of broadcasts Forty Four Folk Tales because I wanted to suggest types of activity that arrive out of semi-conscious or unconscious thought processes. That seems apposite for a medium where one's attention tends to drift. There are four kinds of broadcast here, presented without a real sense of coherence or purpose in what one might consider a post-expressionist Combine.
First, a series of monologues, sketches of mine which strive towards the creation of a psychological object through radio. In these narrative is secondary to an articulation of how the mind works, locale directs the traffic of mood in a digressive manner, and themes recur the way memory determines. Each voice featured has for me a timeless quality suited to the restlessness of the texts and each provides a still centre for what otherwise threatens to collapse in incoherence. Equally fantastical but formally traditional is, secondly, a long procedural or detective story, Sitzprobe, written by Dave Milton and read by the great Tam Dean Burn. This is characterised by grimly humorous mindless violence and anyone who sits through the whole vicious and absurd thing (an endurance piece certainly) may find in its spiky plot subtle echoes of themes and ideas heard elsewhere today, the subtlety buried beneath a thick layer of archness and an insistent loathing of humanity. Thirdly, a seven part series entitled Music without Precedent or Consequence: this presents unheard performances (never to be heard again) from the archives of Food & Sport, a band which miraculously managed almost entirely to escape the cultural trends of the last fifty years. It's naive art of the highest order and like a buried treasure has somehow survived being worn away by time. No artistic claims are made for it: it simply exists, suspended like the bee in Nabokov's room in Vyra. Thanks to the band for allowing me access to this music. Finally, there are interludes, filler, scraps, ambient matter designed to be ignored and to offer respite from discourse or too insistent a continuous tone. A creature of my time and possessed of sadly limited skills, I must apologise for the fact that all this, as will soon become evident, is predominantly male in character, arising as it does from a late flowering of inexcusable self-indulgence tempered only by the influence of my kind-hearted collaborators. Repeats feature as this is discontinuous and I don't expect you to stay up all night and day. A little will go a long way and the listener is advised to dip in and out rather than wallow in the tub.
Photos by Daniela Gargiulo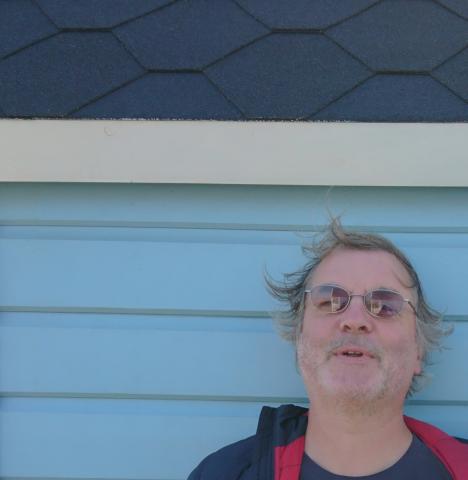 Born in 1960, Ed Baxter is creative director of Resonance FM in London, England, the radio station he co-founded in 2002. Artist, producer, lecturer, author, curator, researcher, critic, composer, performer, instigator, broadcaster, script-writer, and formerly promoter, record label boss, publisher, editor, typographer, book-seller and installation artist; Sony Award and PRSF New Music Award runner-up, and featured improbably in The Independent on Sunday's Happiness List as one of "100 people who have made Britain a better, happier place". Ed is also an Associate Lecturer at London College of Communication, University of the Arts London. He shared a BASCA Composer of the Year (Sonic Arts) award with Chris Weaver for their work No Such Object, realised as part of NVA's son et lumiere project Speed of Light at Edinburgh International Festival in 2012.