Monday 4 July
from 14:00 CEST until 12:00 noon on Tuesday 5 July
Angel Nevarez & Valerie Tevere
The War of the Worlds Extended Wavelength
Time in the form of History has an interesting way of folding back on itself. In October of 1938, world democracies were at stake and the peril brought upon nation-states by authoritarian regimes and dictators was on the move. It was also in October of 1938 that a radio theater group in New York City, led by Orson Welles, generated 'panic' across the country with its unique experiment into radio realism when they broadcast their version of H.G. Wells, The War of the Worlds.
Fast forward to our current moment in the year 2022 when autocracies are once again gaining momentum and imposing their might on sovereign countries. It is in this year that we revisit The War of the Worlds as an echo or a boomerang where the radio frequencies of the iconic radio play come back to us yet as an altered sound form. It takes approximately eight minutes for radio waves to journey from the Earth to the Sun. As radio waves travel, they separate and their strength is transformed by their division. The War of the Worlds 1938 broadcast is now approximately 80.0 light-years from our Earth. We wonder how the iconic broadcast would sound if it returned to our radio sets.
The War of the Worlds Extended Wavelength is a sound work for radio that absorbs, Orson Welles', 1938 radio broadcast and stretches its duration over the course of a 22-hour period. This abstracted form of the original considers the reflexive aspects of radio and its history as material. We imagine radio waves moving across our atmosphere and into the universe, carrying with them the messages of their radio birth.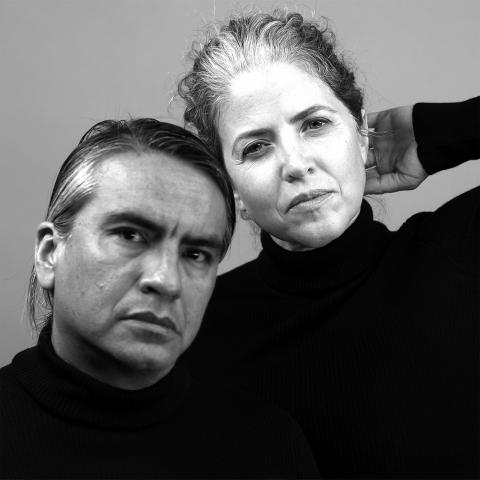 Angel Nevarez and Valerie Tevere are interdisciplinary artists whose practice spans over twenty years of projects that actuate music and sound, radio, dissent, and the cultural complexities of the public sphere. The artists have produced works in video installation, lyric writing, and performance. Their research interests lie in the intersection between music, civic action, and historical moments that resonate through distinct musical instrumentation and sonorous traditions.
Nevarez and Tevere have exhibited and screened their work at The Museum of Modern Art, The Guggenheim Museum, Creative Time, New Museum, and Paul Kasmin Gallery in New York; Manifesta 8/Spain; Museo Raúl Anguiano, Guadalajara, Mexico; Casino Luxembourg, LU; Henie Onstad Art Centre, Høvikodden, Norway; Taxispalais, Innsbruck, Austria, and elsewhere. The first US survey of their work was exhibited at Institute of Contemporary Art at the University of Pennsylvania, Philadelphia in 2016.
Their fellowships and grants include a 2020 Guggenheim Fellowship, a Creative Capital fellowship, an Art Matters grant, a National Endowment for the Arts project grant, and a Franklin Furnace Performance Art fellowship. Both Nevarez and Tevere were Studio Fellows at The Whitney Museum's Independent Study Program, artists-in-residence at the International Artists Studio Program in Sweden; Pioneer Works, Brooklyn; and Grand Central Art Center, Santa Ana, CA. Recent residencies include Artpace, San Antonio, TX; Antenna Spillways Residency, New Orleans, LA; and Marble House Project, Dorset, VT.
Nevarez (b. Mexico City, Mexico) is a musician and part-time faculty at The New School/Parsons School of Design, New York; Tevere (b. Chicago, IL, USA) received an MFA in photography from California Institute of the Arts and is Professor of Media Culture at the College of Staten Island / City University of New York.