Monday 5 September
from 14:00 CEST until 12:00 noon on Tuesday 6 September
DinahBird & Jean-Philippe Renoult
Birth of a Signal
Au milieu des champs de colza vallonnés de Saint-Aoustrille dans le centre de la France, les pylônes radio sont partout. D'immenses antennes sont rassemblées en grappe. Certaines ont des noms de grands fleuves : Danube, Mékong, Tigre, Oural, Mississippi, Nil, Gange, et aussi, Amour… Elles ressemblent à de gigantesques robots transformers à proximité de l'historique Bâtiment B, station émettrice qui donna naissances aux Grandes Ondes en France en 1950. Ce bâtiment mémorable est toujours utilisé comme station d'émission. Il abrite l'Association du Centre Historique de la Diffusion Radiophonique (ACHDR) et son musée de la radio-télédiffusion animé par un groupe d'anciens techniciens et ingénieurs radio.
Pour Radio Art Zone, DinahBird et Jean-Philippe Renoult utilisent les fréquences de résonances du Bâtiment B et les antennes environnantes comme arc narratif de leur émission de 22 heures. Entremêlé à ces fréquences : des archives personnelles, des field recordings, des murmures mécaniques, des drones électromagnétiques, des bribes de journaux techniques, des scanners d'ondes courtes, des sons génératifs et des propos. Avec eux, nous explorerons la naissance d'un Signal, du microphone au récepteur.
Ce programme a été réalisé lors d'une résidence au Musée Hôpital St Roch à Issoudun, soutenue par la DRAC et la Région Centre-Val de Loire, ainsi que par la communauté de communes du Pays d'Issoudun.
In amongst the hilly fields of rapeseed surrounding St Aoustrille radio towers are everywhere. Some of these antennas have names : Danube, Mekong, Tiger, Ural, Mississippi, Nile, Ganges, and our particular favourite.. Love. Seen from a distance they look like gigantic robot transformers adjoined to the historic central transmitting station Batiment B, who first brought to life to the grandes ondes in 1950. This block is still partly used as a transmitting station and also home to ACHDR, a Radio Museum run by a group of former radio technicians and engineers.
For Radio Art Zone DinahBird and Jean-Philippe Renoult will use the building's resonant frequencies and the surrounding antennas as a point of departure for their part live, part-pre-recorded, 22 hour broadcast. Incorporating personal archives, field recordings, mechanical murmurings, electro-magnetics, technical logs, short wave scans, generative sounds and interviews we shall follow the Birth of a Signal, from microphone to receiver.
This programme was produced during a residency at the Musée Hôpital St Roch, and is supported by the DRAC, the Région Centre-Val de Loire, and the communauté de communes du Pays d'Issoudun.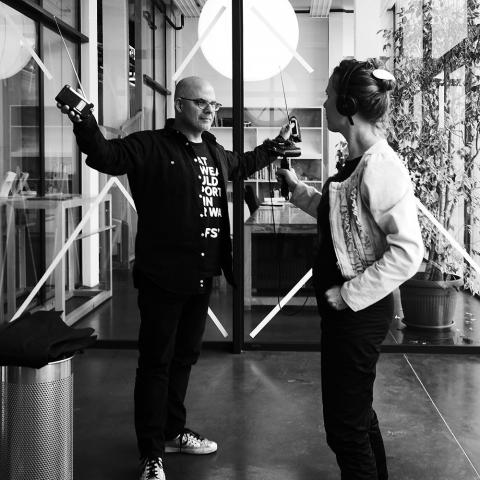 Les réalisations de DinahBird et Jean-Philippe Renoult mettent en mouvement des relations esthétiques, mémorielles et sociales à travers le maniement orthodoxe ou détourné de technologies historiques de transmission : gramophone, onde radio, magnétophone, antenne, transistor, ghetto blaster, câble sous-marin... Dinah et Jean-Philippe mettent en abîme leurs usages, leurs mythes. En 2016 ils initient le projet composite Antenna Gods en matérialisant le spectre hertzien inaudible et secret en usage dans le High Frequency Trading. Leur production comprend des oeuvres électroacoustiques, des installations sonores, des créations radiophoniques, des instantanés photographiques et des performances qui actionnent différents protocoles de communications.
DinahBird and Jean-Philippe Renoult are sound and radio artists based in Paris. Both their solo and joint practices question the notion of diffusion, transmission and memory and are highly responsive to place. Their work includes sound pieces, installations, broadcasts, performances and publications, and is often inspired by early transmission technologies and archives. Their current interests include the shruti-box, shellac, and high frequency trading.