Radio Art Zone Newsletter No. 1
Dear Listeners!
Thank you for subscribing to the Radio Art Zone Newsletter, of which you find here the very first edition. For the coming year these newsletters will at first arrive sporadically, and then become regular during the broadcast period of Radio Art Zone between the 18th of June and the 25th of September 2022.
Last February we began a series of live radio shows in the lead-up to Radio Art Zone. The first show happened exactly 500 days before the start of the project and featured remote yet collective pancake-making from three separate kitchens. You can find it here in the Radio ARA archive.
Tomorrow, Friday 14th May 2021, is the next occasion to mark another milestone on the way to the start of our 100-day broadcast in 2022. Two titans of sound and radio art, Limpe Fuchs and Hartmut Geerken, meet for the very first time live on air. Hosted by Radio Art Zone's Sarah, Knut, Sandra and Guy at the Lake Starnberg artist residency Villa Waldberta in Bavaria, this broadcast signals 400 days before the start of Radio Art Zone.
Tune in from 8-9pm CEST on Radio ARA.
You will also find that our website has had an update which includes the addition of spoken information in several languages, available on the radio dial. The electronic music snippets that frame these recordings come courtesy of the UK composer John Wall. We hope you enjoy playing them.
If you would like to send any feedback please email us at info@radioart.zone.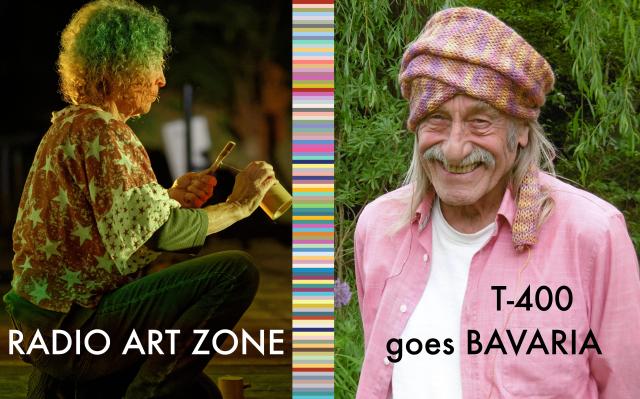 Radio Art Zone is a joint project by the artist duo Mobile Radio (Sarah Washington and Knut Aufermann) and the Luxembourg community station Radio ARA, broadcasting for 100 days from 18th June to 25th September 2022 as part of the European Capital of Culture Esch2022. The schedule consists of two daily programmes: a 22-hour radio art production, and a 2-hour lunchtime live radio show from a local kitchen. It also features two month-long artist residencies and a programme of public events.
Each day the radio sounds different from the next: 100 international and local artists and groups have been invited to produce a durational programme, requiring them to fully immerse themselves in topics and production techniques of their choice. Taking form through performances, compositions, installations and interventions in public space, from the point of view of the listeners Radio Art Zone is a kind of audible lucky dip. Every day a distinctive concept is offered, a new experience of sound, a novel idea of radio.
The lunchtime shows bring a domestic scenario to the radio: people cook and talk, relax with guests and laugh. This framework makes space for spontaneous discussions about the radio art works between artists, invited guests and passers-by, all involved in cooking together on air, without agenda or formal interviews. Some live lunches will be hosted in Radio Art Zone's publicly accessible studio, others broadcast from private and workplace kitchens in and around Esch, anchoring the project in the everyday life of the audience.
For 100 days Radio Art Zone will be broadcast within the Esch2022 Capital of Culture area on FM radio. It will also be available online and via simultaneous broadcast on a host of international partner stations which enable the programme to be widely accessed across the globe.
Follow the project at: radioart.zone.
---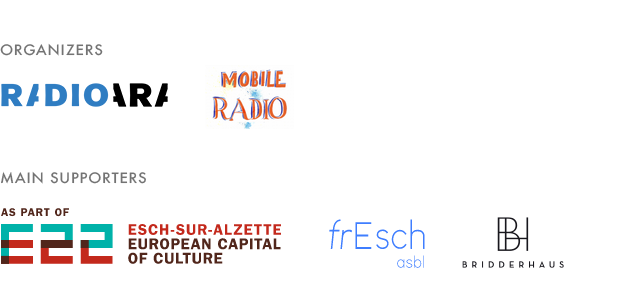 ---