Radio Art Zone Newsletter No. 6
Dear Listeners!
This is the last newsletter before the start of Radio Art Zone on 18th June 2022. We are honoured to announce all the artists that will fill our 100-day radio art programme, listed here in chronological order:
Jörg Köppl — Andy Armstrong — Manja Ristić — Konsthall323 — Darius Čiuta — Society for Non-Trivial Pursuits — People Like Us — Community Radio Tbilisi Collective — The WORM Merchants — Handa Gote — Bruno Hiss — Gabi Schaffner — Udo Noll — martiensgohome — Mariola Brillowska — Richtung22 — Paulo Raposo — Angel Nevarez & Valerie Tevere — Absolute Value of Noise — Billy Roisz & dieb13 — Haco & Tarnovski — David Buckland — Rodrigo Ríos Zunino — Mark Vernon — Karim Aït-Gacem — Chris Cutler — Anne-Laure Sotin & Izabela Matoš — Anna Friz — Frauke Berg & Oliver Gather — Jean-Daniel Lafontant (Temple Na-Ri-VéH) — Leandro Nerefuh & Caetano & Libidiunga — Günter Reznicek — Knut Aufermann — Cheuk Wing Nam — Claire Serres — RESONANT SOUTH — Luxembourg Amateur Radio Union — Echo Roe — Renata Roman — Maia Urstad — Chris Weaver & Adam Bohman — Saša Spačal — Élodie Brochier — Irina Gheorghe — AGF — Zach Poff — Ralf Wendt — Milo Thesiger-Meacham — Marcus Maeder — Jasmina Al-Qaisi — Mega Mingiedi & Jaguar Ntumi — Otomo Yoshihide — ( nula·cc ) — Edyta Jarząb — Olivia Bradley-Skill — zvukac — Shortwave Collective — Pipa Musical — Jogi Hofmüller — Therapeutische Hörgruppe Köln — Felix Kubin — Reni Hofmüller — 60 Secondes Radio — Nina Guo & Augustė Vickunaitė — Modulation — Erwin Stache — Nichola Scrutton — Lepke B — RURAL DEVELOPMENT — Ayọ̀ Akínwándé — Xentos Fray Bentos — Oda Projesi — Mélia Roger & Eric Larrieux — Ed Baxter — Claire Thill & Catherine Kontz & S.L. Grange — Christina Ertl-Shirley — Marie Gavois & Michel Klöfkorn — Buttress O'Kneel — Echo Ho — Martha Regueiro — DinahBird & Jean-Philippe Renoult — Heidi Neilson — Elaine W. Ho — Ralf Schreiber & Christian Faubel — Liquid Penguin Ensemble — Caroline Kraabel & John Edwards — LokaalRaadio — Hans Kristen Hyrve — Meira Asher — D'Kréiennascht — Barbara Kaiser — Ricardo iamuuri Robinson — bauhaus·fm-Rundfunkorchester — Lucinda Guy — Marold Langer-Philippsen — Julia Lee Barclay-Morton & Viv Corringham — Florencia Curci & Investigaciones del Futuro — Michal Kindernay & Magdaléna Manderlová — Шшш — Julia Drouhin
To discover their shows in detail please go to radioart.zone/artists.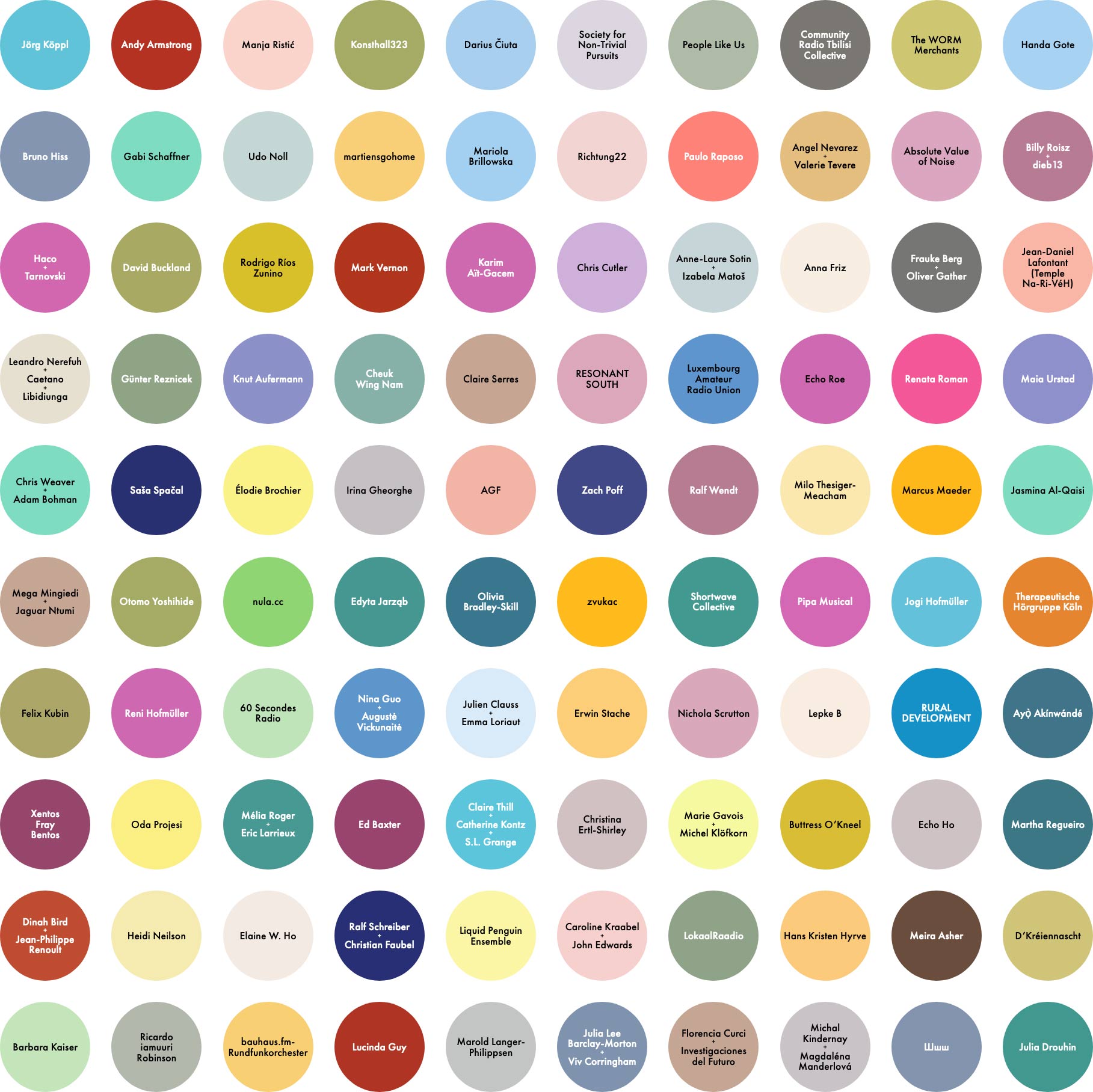 Radio Art Zone is a joint project by the artist duo Mobile Radio (Sarah Washington and Knut Aufermann) and the Luxembourg community station Radio ARA, broadcasting for 100 days from 18th June to 25th September 2022 as part of the European Capital of Culture Esch2022. The schedule consists of two daily programmes: a 22-hour radio art production, and a 2-hour lunchtime live radio show from a local kitchen. It also features two month-long artist residencies and a programme of public events.
Each day the radio sounds different from the next: 100 international and local artists and groups have been invited to produce a durational programme, requiring them to fully immerse themselves in topics and production techniques of their choice. Taking form through performances, compositions, installations and interventions in public space, from the point of view of the listeners Radio Art Zone is a kind of audible lucky dip. Every day a distinctive concept is offered, a new experience of sound, a novel idea of radio.
The lunchtime shows bring a domestic scenario to the radio: people cook and talk, relax with guests and laugh. This framework makes space for spontaneous discussions about the radio art works between artists, invited guests and passers-by, all involved in cooking together on air, without agenda or formal interviews. Some live lunches will be hosted in Radio Art Zone's publicly accessible studio, others broadcast from private and workplace kitchens in and around Esch, anchoring the project in the everyday life of the audience.
For 100 days Radio Art Zone will be broadcast within the Esch2022 Capital of Culture area on FM radio. It will also be available online and via simultaneous broadcast on a host of international partner stations which enable the programme to be widely accessed across the globe.
Follow the project at: radioart.zone.
---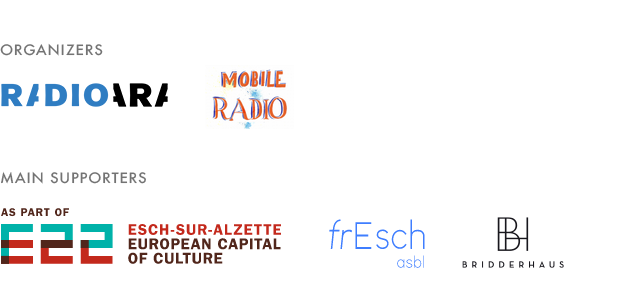 ---