Saturday 10 September
from 14:00 CEST until 12:00 noon on Sunday 11 September
Caroline Kraabel & John Edwards
Improvisers and Improvisations
A blend of music, life-stories, effects, played examples, sections of recorded improvisations and the words of different improvisers, including many whose roots are outside Europe/the USA. Featuring improvised acoustic music, electronic music and atmospheres, interviews with improvisers, conversations between improvisers, pre-existing recordings of improvised musics… and segments of live improvisation by John Edwards and Caroline Kraabel.
Exploring improvisation and identity: even the world of improvised music can be experienced as an enclave that excludes, despite the perceived association of improvisation with limitlessness and freedom.
How do people who improvise feel and think DIFFERENTLY from each other on the subject? How do we avoid – or alter – any dominance of particular groups over the theory or practice of improvisation?
Does the experimental nature of improvisation make it easier for members of élites to shine in the field, because they have more pre-existing socio-cultural capital that validates their experiments?
Or is improvisation easier for outsiders who are already primed to find alternative paths?
How are improvisers affected by their musical and cultural histories?
For improvisers who have experienced forms of oppression in music making and/or life, is the aim when making music merely to recapitulate existing power structures, but try to place themselves at the top, or to create new and fairer structures?
Musicians:
Susanna Ferrar
Pascal Marzan
Neil Metcalfe
References:
Gittin' To Know Y'all: Improvised Music, Interculturalism, and the Racial Imagination, by George E. Lewis, Columbia University.
Naked Intimacy: Eroticism, Improvisation and Gender, by Ellen Waterman, University of Guelph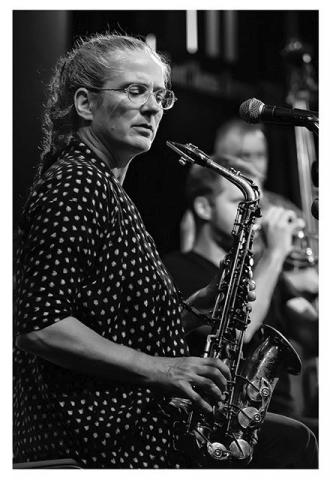 Caroline Kraabel is a London-based improviser, saxophonist, artist and composer. She has been conducting and playing with the London Improvisers Orchestra (LIO) since 1998. Sometimes she improvises on solo saxophone while walking in London and elsewhere (broadcast weekly over several years on Resonance 104.4 FM as Taking a Life for a Walk and Going Outside). Other radio work includes a series of interviews with improvisers in many media (music, dance, visual art, politics, activism), Why is Improvising Important.
Kraabel compositions include Performances for Large Saxophone Ensemble 1, 2, 3 and 4, for 21-piece spatial saxophone ensemble; Get Used To Balancing, a suite of pieces for alto sax, percussion and two flutes; Now We Are One Two, a 45-minute solo, Recording The Other, for soprano, cello, flute, piano and four recording devices; LAST 1, 2 and 3 for pre-recorded voice and ensemble; many songs; numerous pieces for large improvising ensembles in London and around the world.
Kraabel has performed and recorded with many other excellent improvisers, including Robert Wyatt, Maggie Nicols, John Edwards, Louis Moholo, Cleveland Watkiss, Hyelim Kim, Pat Thomas, Susan Alcorn, Sarah Washington, Veryan Weston, Rowland Sutherland, Sofia Vaisman-Maturana, Maria Portugal, Chris Corsano and Charlotte Hug.
During 2020-22 Kraabel performed live off- and on-line, and while walking through London; made and shared many recordings of duo and solo live improvisation; made a piece of performance art (Depletion) for APT Gallery, London; created a number of socially distanced large-group pieces for the LIO; was artist-in-residence at UNCOOL in Poschiavo, Switzerland; and worked on her 40-minute soundfilm about lockdown London (London 26 and 28 March 2020: imitation: inversion), which received its avant-première at London's Café Oto on 25 February 2021, is available on the Jazzed app, and won the 2021 Ivor Award for Sound Art Composer.
In 2022 Kraabel has brought together a large improvising group made up of women, non-binary, and transgender improvisers: Orchestra New (ONe).
She releases ephemeral solo pieces as part of Lonely Impulse Collective.
Photo by Giuseppe Tamponi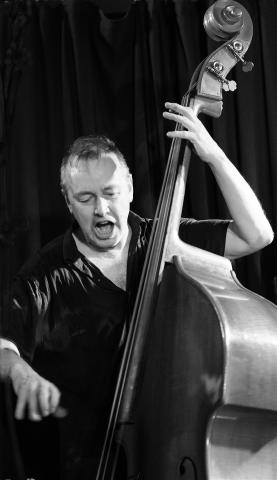 John Edwards is a true virtuoso whose staggering range of techniques and boundless musical imagination have redefined the possibility of the double bass and dramatically expanded its role, whether playing solo or with others.
 Perpetually in demand, he has played with Evan Parker, Caroline Kraabel, Roscoe Mitchell, Sunny Murray, Derek Bailey, Joe McPhee, Lol Coxhill, Maggie Nicols, Louis Moholo, Peter Brötzmann, Mulatu Astatke and countless others.
"I think John Edwards is absolutely remarkable: there's never been anything like him before, anywhere in jazz." - Richard Williams, The Blue Moment