Saturday 10 September
from 14:00 CEST until 12:00 noon on Sunday 11 September
Caroline Kraabel & John Edwards
Improvisers and Improvisations
---
LIVE PERFORMANCES
You are invited to witness two live musical improvisations as part of this show:
16:00 - 16:45 Caroline Kraabel & John Edwards in the Cueva exhibition at Metzeschmelz
19:00 - 19:45 Caroline Kraabel & John Edwards & Sarah Washington & Knut Aufermann at the Apdikt, behind the Bridderhaus, 1 Rue Léon Metz, 4238 Esch-sur-Alzette
Free entry.
---
A blend of music, life-stories, effects, played examples, sections of recorded improvisations and the words of different improvisers, including many whose roots are outside Europe/the USA. Featuring improvised acoustic music, electronic music and atmospheres, interviews with improvisers, conversations between improvisers, pre-existing recordings of improvised musics… and segments of live improvisation by John Edwards and Caroline Kraabel.
Exploring improvisation and identity: even the world of improvised music can be experienced as an enclave that excludes, despite the perceived association of improvisation with limitlessness and freedom.
How do people who improvise feel and think DIFFERENTLY from each other on the subject? How do we avoid – or alter – any dominance of particular groups over the theory or practice of improvisation?
Does the experimental nature of improvisation make it easier for members of élites to shine in the field, because they have more pre-existing socio-cultural capital that validates their experiments?
Or is improvisation easier for outsiders who are already primed to find alternative paths?
How are improvisers affected by their musical and cultural histories?
For improvisers who have experienced forms of oppression in music making and/or life, is the aim when making music merely to recapitulate existing power structures, but try to place themselves at the top, or to create new and fairer structures?
Musicians:
Susanna Ferrar
Pascal Marzan
Neil Metcalfe
References:
Gittin' To Know Y'all: Improvised Music, Interculturalism, and the Racial Imagination, by George E. Lewis, Columbia University.
Naked Intimacy: Eroticism, Improvisation and Gender, by Ellen Waterman, University of Guelph
Caroline Kraabel and John Edwards
Improvisers and Improvisations
22 hours of radio from 14h00 (Central European Summer Time [CEST]; GMT+ 2 hours) on 10 September 2022
As well as interviews with improvisers gathered over the space of two years, this piece features live improvisation and sounds specific to the person/people speaking, as well as two types of short segment, included here and there throughout its 22 hours. Some of these segments are Bute Sangs – improvised songs made by Ivor Kallin in Bute. Others are fragments of sound from a wide range of sources, invented, treated and created by John Edwards.
Most of the speakers use English, two speak in French.
---
Interviewees, credits, and references:
00:00:00 - 02:00:00
Interview with Aldridge Hansberry
Aldridge Hansberry Youtube Channel & writing
George Lewis, Gittin' To Know Y'all: Improvised Music, Interculturalism, and the Racial Imagination
Concert at "Z'AVANT GARDE"
Aldridge HANSBERRY - drums
Alan SILVA - synthesizer
Itaru OKI - trumpet & flugelhorn
Abdelhaï BENNANI -tenor saxophone
Aldridge Hansberry composition for large improvising group and speaker, Chronic of Remembrance.
Ferricia Fatia Tucker, recitante
Kristin Norderval, soprano
Michèle Véronique, violin
Sébastien Buchholz, clarinet, contralto clarinet
Thomas Kpade, cello
Jobic Le Masson, piano
Aldridge Hansberry, percussion, flute, composition, direction
Oliver Nelson, Teenie's Blues, from The Blues and the Abstract Truth
Aaron Neville (of the Neville Brothers, childhood friends of Aldridge)
Le Code Noir
The Code noir was passed by Louis XIV of France in 1685. It defined the conditions of slavery in the French colonial empire: restricting the activities of free people of colour, mandating the conversion to Catholicism of all enslaved people throughout the empire, defining the punishments meted out to slaves, and ordering the expulsion of all Jews from France's colonies.
The code's effects on the enslaved population of the French colonial empire were complex and multifaceted. It outlawed the worst punishments inflicted upon slaves by their 'owners', and led to an increase in the free population. Despite this, enslaved persons were still subject to harsh treatment; the expulsion of Jews was an extension of antisemitic trends in France.
Free people of color were placed under restrictions via the Code noir, but were otherwise free to pursue their own careers. A free person of color in the French colonial empire was much more likely to be literate than in other New World colonies, and had a high chance of owning businesses, properties and even slaves. The code has been described as 'one of the most extensive official documents on race, slavery, and freedom ever drawn up in Europe'.
---
02:00:00 - 02:45:00
Live improvisation from Caroline Kraabel (alto sax, voice) and John Edwards (double bass)
---
02:45:00 - 05:00:00
Interview with Shima Kobayashi, followed by Jason Yarde
Bute Song 0123, Ivor Kallin
Teacher, Tommy Reilly
Japanese sho music
Orchestra New sub-group, live at Ukraine Benefit, Café Oto, 1 April 2022
An improvisation by the Orchestra New players of (mostly) wooden instruments: Shima Kobayashi (chromatic harmonica – an honorary wooden instrument); Emi Watanabe (bamboo flutes); Isidora Edwards, Sofia Vaisman Maturana and Khabat Abas (cellos); Shama Rahman (sitar)
---
Interview with Jason Yarde
MAPA at Middlesex Polytechnic; lecturers:
Stuart Hall
Paul Clarvis
Chris Batchelor
Alan Barnes
Jazz Warriors, Chameleon
Courtney Pine
Rowland Sutherland
Orphy Robinson
Ray Carless
Steve Williamson
Claude Deppa
National Youth Jazz Orchestra (NYJO)
Organelle (electronic instrument)
Louis Moholo, Viva La Black
(cat purring)
Val Wilmer, As Serious As Your Life
Voice of Louis Moholo
LOUIS MOHOLO OCTET, Ithi Gqi (Appear), from Spirits Rejoice album
---
05:00:00 - 05:45:00
Live improvisation from Caroline Kraabel (alto sax, voice) and John Edwards (double bass), with special guests Sarah Washington and Knut Aufermann!
---
05:45:00 - 09:20:00
Interview with Han Earl Park, followed by discussions featuring Sue Lynch, Rosa Theodora, Charlotte Keeffe, Dee Byrne, Khabat Abas; interview with Pascal Marzan; interview with Jacken Elswyth
ONe_Orchestra New discussions
Sue Lynch, Rosa Theodora, Caroline Kraabel trio improvisation at Café Oto Project Space: two people play only when one other person is not playing.
Khabat Abas and Caroline Kraabel duo at Lume, 100 Years Gallery, 20 May 2022
short film, Skin to Skin
"In memory of migrants lost at sea, fleeing war, persecution, climate change and hunger"
Différentes Constellations, for solo microtonal guitar
Jacken Elswyth
Six Static Scenes, album released by Takuroku (review)
Hobart Smith, Arkansas Traveler
Margaret Barry, Her Mantle So Green
11 minutes of Scrapes, by John Edwards
---
09:20:00 - 10:40:00
Discussion featuring Crystabel Riley and Seymour Wright
Ivor Kallin, Butesong 0125
Trio: Crystabel Riley, drums; Seymour Wright, alto sax; Caroline Kraabel, alto sax. Café Oto Project Space. (Note: Crystabel Riley was playing Steve Noble's drumkit)
The discussion moved from Café Oto Project Space to Café Oto Main Space halfway through!
Saadet Turkoz, Crystabel Riley, Sue Lynch, John Edwards live at Horse Improvised Music Club
Eddie Prévost Friday Improvisation Workshops, Welsh Chapel, Borough, London
---
10:40:00 - 11:30:00
Interview with Emily Shapiro
Performance by Emily Shapiro, Isidora Edwards, Keisuke Matsui, Caroline Kraabel.
Live at 100 Years Gallery, London, October 2021 (immediately after interview)
---
11:30:00 - 12:40:00
Interview with Pat Thomas
Mentions: LP by John Stevens and Evan Parker, The Longest Night;
the music of Barry Guy, ISKRA, Art Blakey, Oscar Peterson, Tony Oxley, Peter Brötzmann, Paul Lovens, Paul Rutherford, John Russell, Keith Rowe, Fred Frith, Howard Riley, Lol Coxhill, Alexis Taylor, Charles Hayward, Nigel Morris, Alan Wakeman, Duke Ellington, Herbie Hancock, Prime Time (Ornette Coleman), Marilyn Crispell, Sun Ra, John Coltrane, Hamid Drake, William Parker, Eddie Prévost, Freedom of the City Festival
Derek Bailey, Solo Guitar, Improvisation 6
Freeness, BBC Radio 3, presented by Corey Mwamba
Derogatory terms used about improvised music (!): a fire in a pet shop
Paul Dunmall, Solo Tenor sax, Soliloquy Revisited
Kraabel/Thomas duo from forthcoming CD on Shrike label. Recorded at The Vortex, London, 2022
---
12:40:00 - 14:00:00
Discussion featuring Susanna Ferrar, Neil Metcalfe, Pascal Marzan; interview with Massimo Miola
Susanna Ferrar solo violin, live at 100 Years Gallery (London), 16 March 2022
Chamber Pot, Sparks Of Desire Magneto Are Being Inseminated Into Different Vessels
Barry Summer School (for jazz and improvised music, until 1982)
John Stevens, Search and Reflect
Eddie Prévost Friday improvisation workshops
Women Live Festival, May 1982: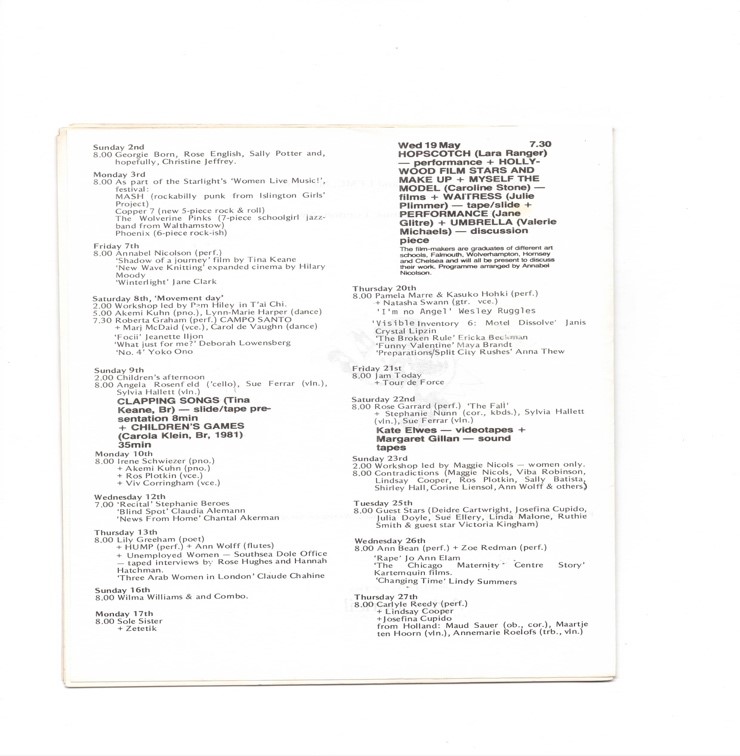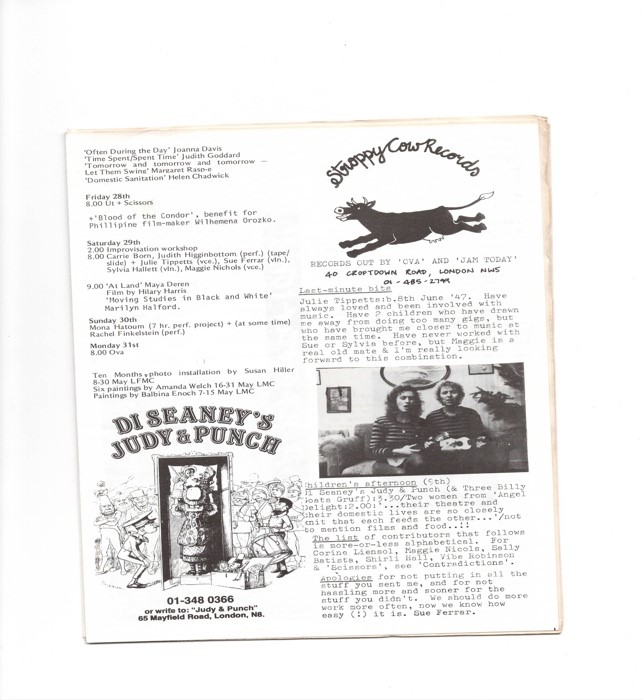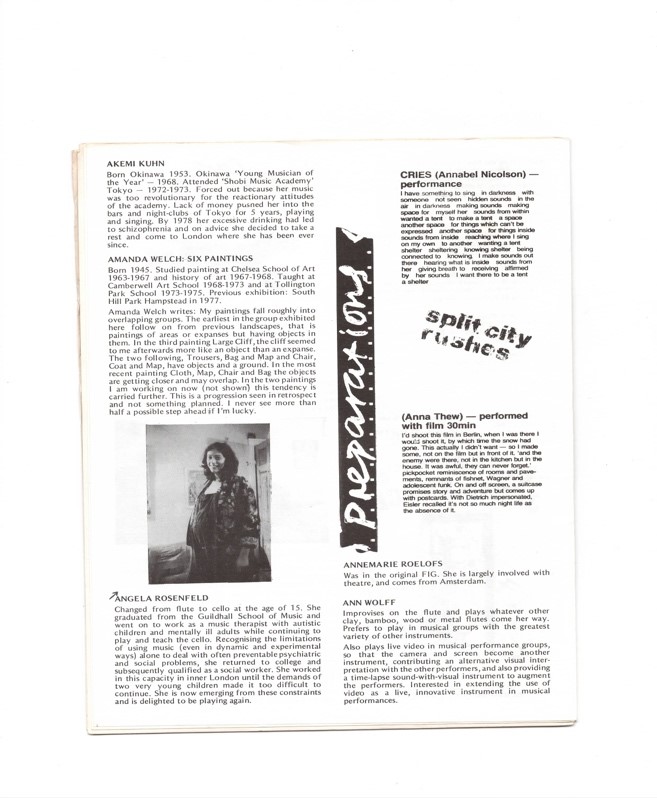 Phil Wachsmann Improvisation Workshops at West Square
Pascal Marzan on learning from Keith Rowe
Susanna Ferrar (violin), Neil Metcalfe (flute), Pascal Marzan (microtonal guitar), Caroline Kraabel (alto sax) improvising in a London kitchen
Interview with Massimo Miola
Massimo Miola (acoustic guitar), Caroline Kraabel (alto sax), improvising in a Paris kitchen
---
14:00:00 - 15:40:00
Interview with Ivor Kallin
Ambrosia Rasputin Show on London's art radio station, Resonance 104.4 FM
Can, Mother Sky
Piobaireachd: Lament For The Laird of Annapool
Derek Bailey, Improvisation 4 from Solo Guitar, 1971
3rd Eye TV; Derek Bailey live in Glasgow 1973
---
15:40:00 - 17:00:00
Interview with Rowland Sutherland
Bute Song 09, Ivor Kallin
John Edwards, Bass Electronics
Duo, Rowland Sutherland (flute), Caroline Kraabel (alto sax)
Ernest Bloch, Schelomo – Hebrew Rhapsody
Orchestre National de France, Rostropovich/Bernstein
Jazz Warriors, Live at the Astoria 1990. Minor Groove, by Fayaz Virji
---
17:00:00 - 17:40:00
John Edwards, Scrapes and voices
---
17:40:00 - 18:25:00
Interview with Mark Sanders
Louis Moholo Octet, Spirits Rejoice, track 1, Khanya Apho Ukhona (Shine Wherever You Are)
Collective X, Take a Moment
The Slits, Typical Girls
Percussion solo supplied by Mark Sanders
---
18:25:00 - 20:00:00
Interview with Sofia Vaisman Maturana
Violeta Parra, Gracias a la Vida
Quilapayún, El Pueblo Unido Jamás será Vencido
Sofia Vaisman Maturana poem, Traces of Bicarbonate (LIO conducted by Caroline Kraabel [also speaking] on 3 November 2019)
---
20:00:00 - 20:50:00
Interview with Damsel Elysium
Oliver Coates
Kelsey Lu Live performance at Omotesando
ONe_Orchestra New at Café Oto, 1 April 2022
Improvisation with conducting from Dee Byrne
Caroline Kraabel, The Wolf From Broken Bone
From Now We Are One Two, solo CD
---
20:50:00 - 22:00:00
Interview with Angèle Weltmeyer
Angèle Weltemijer piece composed for Gay's the Word disco
Kathy Stobart Quintet in Nice, 1979
Ivy Benson Big Band
I'm Getting Sentimental Over You
Feminist Improvising Group (Maggie Nicols, Angèle Weltmeijer, Irène Schweizer, Lindsay Cooper, Corinne Liensol) live in Copenhagen, 1979
Thanks to: All the musicians! Knut Aufermann, Sarah Washington and the whole team at Radio Art Zone. Café Oto, The Vortex. All the great improvisers who inspire us and our interviewees.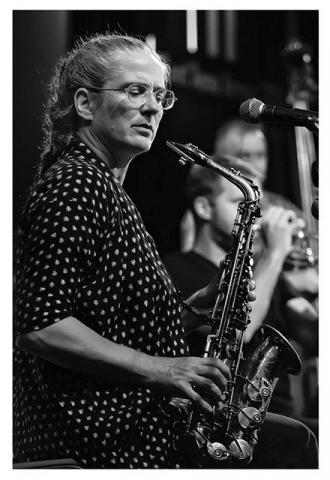 Caroline Kraabel is a London-based improviser, saxophonist, artist and composer. She has been conducting and playing with the London Improvisers Orchestra (LIO) since 1998. Sometimes she improvises on solo saxophone while walking in London and elsewhere (broadcast weekly over several years on Resonance 104.4 FM as Taking a Life for a Walk and Going Outside). Other radio work includes a series of interviews with improvisers in many media (music, dance, visual art, politics, activism), Why is Improvising Important.
Kraabel compositions include Performances for Large Saxophone Ensemble 1, 2, 3 and 4, for 21-piece spatial saxophone ensemble; Get Used To Balancing, a suite of pieces for alto sax, percussion and two flutes; Now We Are One Two, a 45-minute solo, Recording The Other, for soprano, cello, flute, piano and four recording devices; LAST 1, 2 and 3 for pre-recorded voice and ensemble; many songs; numerous pieces for large improvising ensembles in London and around the world.
Kraabel has performed and recorded with many other excellent improvisers, including Robert Wyatt, Maggie Nicols, John Edwards, Louis Moholo, Cleveland Watkiss, Hyelim Kim, Pat Thomas, Susan Alcorn, Sarah Washington, Veryan Weston, Rowland Sutherland, Sofia Vaisman-Maturana, Maria Portugal, Chris Corsano and Charlotte Hug.
During 2020-22 Kraabel performed live off- and on-line, and while walking through London; made and shared many recordings of duo and solo live improvisation; made a piece of performance art (Depletion) for APT Gallery, London; created a number of socially distanced large-group pieces for the LIO; was artist-in-residence at UNCOOL in Poschiavo, Switzerland; and worked on her 40-minute soundfilm about lockdown London (London 26 and 28 March 2020: imitation: inversion), which received its avant-première at London's Café Oto on 25 February 2021, is available on the Jazzed app, and won the 2021 Ivor Award for Sound Art Composer.
In 2022 Kraabel has brought together a large improvising group made up of women, non-binary, and transgender improvisers: Orchestra New (ONe).
She releases ephemeral solo pieces as part of Lonely Impulse Collective.
Photo by Giuseppe Tamponi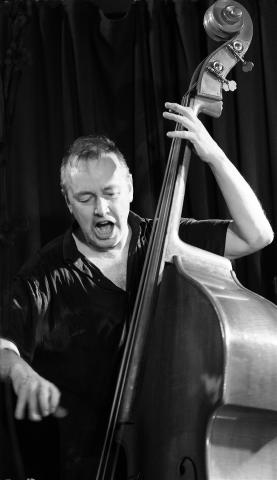 John Edwards is a true virtuoso whose staggering range of techniques and boundless musical imagination have redefined the possibility of the double bass and dramatically expanded its role, whether playing solo or with others.
 Perpetually in demand, he has played with Evan Parker, Caroline Kraabel, Roscoe Mitchell, Sunny Murray, Derek Bailey, Joe McPhee, Lol Coxhill, Maggie Nicols, Louis Moholo, Peter Brötzmann, Mulatu Astatke and countless others.
"I think John Edwards is absolutely remarkable: there's never been anything like him before, anywhere in jazz." - Richard Williams, The Blue Moment