Saturday 13 August
from 14:00 CEST until 12:00 noon on Sunday 14 August
Pipa Musical
Sound-pleasant ramblings in terra brasilis
For this program we have the great honour to bring to you:
14:00 CEST Intro
14:33 Jovem Palerosi is a musician, music producer and multimedia director. He has three solo albums: Mouseen (2014), Ziyou (2017) and Layer 53 (2020), as well as numerous collaborations, remixes and live sets. His work explores textures electronic and organic, fusing different musical genres, both in their authorial projects and in soundtracks, installations and performances. A member of the band Meneio, the duo Contra-Relevo and the Coletivo Ruínas, he is also a contributor to Roda de Sample and has partnered with numerous artists over the past ten years.
15:44 Ariane Stolfi has been producing electronic music since 2005. Architect, programmer and teacher, with a PhD in Sonology from the University of São Paulo, she moves between the experimental and the popular. In the track presented in this project, she mixes recent and old pieces, developed in pure data, jeskola buzz and in the software developed by her: playsound.space, mixed with songs by Arraiane, a singer who has been producing since she moved to Bahia.
16:49 Natacha Maurer is a multimedia artist, sound technician and cultural producer. Graduated in Audiovisual Production and Literature, she is currently a Psychoanalysis student, where she explores the relationship between psychoanalytic listening and free improvisation. Her artistic production permeates multimedia experimentation, improvisation, noise and the investigation of sound possibilities with non-conventional instruments. She researches, alongside other artists, possibilities of improvisation between audio and video and participates in theater and performance projects, developing soundtracks for online shows. The name of the work presented here is "Olímpia Unheimliche".
17:51 Caleb Luporini was born in São Carlos and has a solid interdisciplinary background. He has been a visual and music artist for over 25 years, with exhibitions and works all over the world. He also works as an educator taking his Processing, Arduino and electronics workshops to various non-formal education institutes. Currently, he has used his energy in the projects Zydron (his alter-ego which is his own artificial intelligence that works in the visual arts and in the meta-universe) and Dr. Crazy One Mad Band, his side of One-man-band that has songs in a critical and protest tone across multiple platforms.
18:41 André Damião, artist and researcher, works transversally between the fields of music and electronic art. He graduated in Electroacoustic Composition at the State University of São paulo (UNESP), and has a PhD in Sonology from the University of São Paulo (USP), where he wrote a thesis which proposes a reflection on Computer Music history in Brazil . His work has focus on critique of technology, interface aesthetics, live coding and mobility. Damião teaches composition and free improvisation at the School of Music of the state of São Paulo (EMESP). He has been awarded scholarships to develop his research, including the Giga-Hertz Award, from ZKM, and the Radio Art Residency program, in Halle, held by Radio Corax and Goethe Institut. Some of his pieces have been presented in concert rooms and galleries in 20 countries, including festivals such as MATA in New York, Sonorities in Belfast, Novas Frequencias in Rio de Janeiro, Gaudeamus Musikweek in Utrecht, Latitude in Berlin, WhiteNoise in Mexico City, LiveCodeFestival in Karlsruhe, 9th Media Art Biennale WRO in Wroclaw and Piksel Festival in Bergen.
20:45 Juliana R. is a sound editor and produces soundtracks for films and shows. Her work is based on research that brings live performance as a creative process, experimenting with formats that use synthesizers, k7 tapes and her own voice. She also hosts a program on Rádio Raio and is co-founder of the label A Onda Errada.
21:41 Cadós Sanchez, was born in São Paulo, Brazil, in 1982. Post-graduated from the Arts Institute of Unesp-SP. Since 1995 he has been developing works related to visual poetry for public spaces. Researchs on sound/musical instruments in the fields of luteria/experimental music and sound art. During the pandemic, he started the production of stop motion animations that put his instruments and objects in his surroundings as actors, he also started the project A conquista do Inútil in partnership with Marcelo Muniz and released the album Ferrugem by the Seminal Records label, in partnership with singer Ines Terra. He is the creator of the Panorama da Luteria Experimental de SP and collaborates with the initiatives of the Circuito de Improvisação Livre de SP with courses, curatorship and performances in several festivals, exhibitions and cultural institutions nationally and abroad. Before the pandemic, he developed projects that aimed to deepen the understanding of the relationships between visual, sound and body art, thinking about possibilities of uniting them in the exhibition and performance environment. He has participated in residencies in spaces such as: Vyrsodepseio, Athens, Greece; SPAM! rete per le arti contemporanee, Porcari, Italy and Sesc Santos - SP, Brazil.
23:03 Rádio Antena Zero was founded in 2012 by Flávio Chiclé and is still very active today. With a studio located on Avenida da Consolação, in São Paulo, the radio has a wide variety of radio programs on different themes that encourage the production and documentation of independent artists, always going against the aesthetics and form of commercial radios.
00:51 Paloma Klisys is a writer, poet, sound and transmedia artist. An INTERdependent creator, over the last two decades she has traveled through a series of artistic collectives with different characteristics and develops translingual creative processes in which she explores possible intersections between urban performance / interference, audio-visual and the spoken and written word.
01:58 Gustavo Torrezan (1984, Piracicaba-SP. Lives and works between Piracicaba-SP, São Paulo-SP and Careiro Castanho - AM). He is an artist, researcher, educator. In his artistic practice, he returns to reflect on the power structures that historically configure collective organizations, as well as their cultural and identity constitutions. He carries out hybrid works in which he uses different materials and disciplines to discuss domain relations, from which society's processes of subjectivation are modulated. Thus, he has been interested in observing the role of the State, its administrative regimes, its authorities and institutions. In this process, he evokes the fields of sociology, geopolitics and ecology in his conceptual research, often making use of official symbols of the nation to stress their connotations. In addition to experimenting with synthesis and with procedures of symbolic revision, he also proposes a debate on the mechanisms of power in devices of the arts system, approaching issues of archive, memory, space, place and territory. Sometimes, his works arise from specific community circumstances and approach the social processes linked to a particular locality. In this sense, the notions of collaboration and dialogue have also been exercised in its production.
05:05 Space Jam is presented by me, Bassino Treblinsky, head of Suco De Juice studios. We are a collective of friends in São Paulo, Brazil, gathered around the love for electronic music and live improvisation. We meet monthly at Studios Suco de Juice facilities with the main objective of playing live and having fun without usually worrying about structure or harvard. For that reason we rarely record our sessions and we are not concerned about releasing these musics. For this session we had 7 participants: me, Bassino Treblinsky playing the Moog Sub 37 that went thru a Space Echo Unit, and also a Roland Jupiter 8. Besides we had Daniel Costa playing drumms on the Roland TRAS and the Korg Wavestate. Eventually, our friend Fernão, from Embolex, another VJ and Music Collective from São Paulo join them playing the TRAS. Also, Oswaldo Santana, would join them playing the Sub 37 with me. We also we have Victor Arruda, A.K.A. Albion playing the Arturia Microfreak. VJ Spetto, founder of the Brazillian Bass United VJs playing the Korg Electribe EM1. Lastly but not least, our mentor Agnaldo Mori. Mori played a Korg Triton and a Night Pad 3 processed by a Korg Kaossilator Pro, a Korg Kaospad3 and a Korg Mini Kaospad2, a Boss Loopstation RC20 and a Boss Giga Delay DD20.
08:35 Bruno Mendonça is an artist, researcher and educator. Through performances, sound pieces, publications and projects – often collaborative – he discusses and problematizes not only gender and sexuality, but also cultural, political and economic issues. Using various devices, the text is the guiding language of his works. The artist creates a kind of narrative, discursive and dialogic network, complicating the relationship between performance and performativity. His works have already been presented in several exhibitions, festivals and events in Brazil and abroad.
09:22 The Espaço Cultural Walden - Abrigo no Bosque Pé na Estrada was a space that gave the opportunity to present artists of music, visual arts and theater. Located in Praça da República - downtown São Paulo, it was conceived and managed by Cesar Zanin and Mariana Cetra and existed between 2011 and 2014. In this place more than 200 artists performed and important festivals of experimental music took place.
10:25 Karen Keppe is an artist, cultural producer and educator. She investigates the relationship between art, performance and technology and has been producing installations and activities related to the theme since 2007. She has worked with musical performances, dance, theater, exhibitions and currently develops her works and projects related to art and technology. His research within experimental music is based on the sounds of objects and organic sounds (not manipulable) creating sound textures.
10:43 Marcelo Muniz (1972) holds a degree in Physics, a PhD in Neurosciences from the University of São Paulo with research focused on psychoacoustics and musical cognition. His trajectory includes works as a guitarist and luthier. He currently develops works in sound art and experimental music involving performances, design and construction of sound objects and installation environments.
11:45 Outro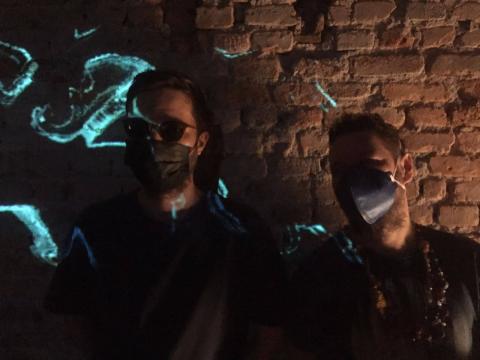 Pipa Musical is a Radio Art collective established in São Paulo, Brazil, formed by Rodolpho Bertolini Junior (XTO) and Rogério Ortiz Camargo Krepski. Since 2007 acting as an internet radio, it brings to light the sound of experimental music artists, forgotten popular artists - found on vinyl records in São Paulo's second-hand bookstores - and undervalued products. Thus, they use the language of radio with humor and with a critical tone to commercial radios and to any established order. XTO and Krepski's work also takes place in research, in stimulating and valuing artistic work, in their own production of sound experiments and in the documentation of initiatives to encourage independent sound production. All program editing and vignettes production was done with free software. We use Audacity and LMMS.