Saturday 16 July
from 14:00 CEST until 12:00 noon on Sunday 17 July
Jean-Daniel Lafontant (Temple Na-Ri-VéH)
For more than 20 years, the Sacred Temple Na-Ri-VéH 777 has contributed to the preservation of Vodou's religious and cultural heritage. Badji members from diverse backgrounds contribute to its enrichment by actively participating in the various Vodou rites and practices. To continue to preserve this eclectic heritage and in a context of increased health crisis, we propose to highlight the traditions of the temple by offering 22 hours of audio recording, and transcribing different events. Among these events:
A funeral ceremony called "Bowoum" for an initiate of the temple, Manbo Saturne Dominique, who passed on March 23.
"In Vodou, the funeral ritual Bohoum, Bowoun or Kase Kannari allows a deceased Vodouvi to rest his souls in AlladaH. Indeed, the souls of the dead when they are not sent to their place of origin, wander everywhere. They haunt people, household, and other spaces. The Bohoun ritual consists of sending one's souls back under the waters. In the course of that lond ritual Vodouvi wear white and shout the sacred words Hounkou Bolokou Djavohoun Bohoun. This ceremony is crucial to relieve the souls of the Vodouvi who crossed. Thus, the deceased can return to this earthly dimension at least 16 times. And as every human was born in the water, at death the various components of the souls will be found with the dominant Lwa of the waters, Mèt Agwe. This will allow our human energies to return to an earthly dimension after 366 days."
The traditional visit of the musical band: rara Foula – Vodoule at the temple is part of its ritual journey in the streets of a Port-au-Prince. The Sacred Temple Na-Ri-VeH 777 serves as a resting place for the members of the band and some of their fans. Over 200 people will be fed according to tradition. The Rara before departing will play and swirl around the Potomitan to take away the negative energies of the temple and dissipate it at the next crossroad.
"The Rara tradition is practiced in the form of a musical procession over tens of kilometers, sometimes for days. The rara is a legacy of the indigenous Taino who inhabited the island of Ayiti before colonization. The rara is linked to the spring equinox, a day consecrated by the Maya to welcome the renewal of nature. The Rara was adopted by Africans from diverse kingdoms who were kidnapped by European colons to serve as slaves. Coinciding with the Christian calendar, the tradition would then have been grafted to the Catholic practice of Easter."
https://www.dailymotion.com/video/xsq0kn
The ceremony of the month of May for the Lwa Kouzen and Kouzin Zaka, respectively considered as the ministers of agriculture and finance in the Haitian peasantry and among the Vodouvi in general.
"The Lwa Kouzen and Kouzin Zaka or Azaka who is colloquially called cousin are peasant Lwa. They are in charge of protecting the fields and their workers and promote harvesting and breeding. Dressed as peasant, all the Lwa of the Zaka family are connected to nature, the land, agriculture and the economy."
Finally, various sounds of the temple will be recorded to complete the program.
We are proud to make public in part, the cultural heritage of the Badji. The Sacred Temple Na-Ri-VeH 777 was officially founded on January 6, 1999. We are pleased to make Vodou and Afro-centric traditions accessible to Radio Art Zone's audience.
We are also proud to announce that as part of this initiative, four young people from the community will be trained to manipulate audio and audio-visual equipment. We thank Knut Aufermann for his magnificent tutorial, not to mention Leandro Nerefuh spiritual son of NRV, and the whole team of Radio Art Zone.
Depuis plus de 20 ans, le Temple Sacré Na-Ri-VéH 777 contribue à la préservation du patrimoine cultuel et culturel Vodou. Les membres du Badji venant d'horizon divers contribuent à son enrichissement en participant activement aux différents rites et pratiques a résonnance Vodou. Pour continuer à préserver cet héritage éclectique dans un contexte de crise sanitaire accrue, nous proposons de mettre en valeur les traditions du temple en proposant 22 heures d'enregistrement audio, transcrivant différents évènements. Parmi ces évènements :
Un cérémoniel funéraires appelé « Bowoum » pour une initiée du temple, Manbo Saturne Dominique, décédée le 23 mars dernier.
« Dans le Vodou, le rituel funéraire Bohoum, Bowoun ou Kase Kannari permet le repos du Vodouvi a AlladaH. En effet, les âmes des morts quand elles ne sont pas expédiées dans leur lieu de provenance, errent partout. Elles hantent les gens, les habitations et même les foyers. Le rituels Bohoun consiste à renvoyer ses âmes sous les eaux.
Hommes et femmes portent le blanc et crient les mots sacrés Hounkou Bolokou Djavohoun Bohoun. Il est important d'organiser cette cérémonie pour soulager les âmes des Vodouvi disparus. Chacun aura alors la possibilité de revenir à cette dimension terrestre au moins 16 fois. Et comme chaque humain a pris naissance dans l'eau, à la mort les diverses composantes de l'âme se retrouveront avec le Lwa dominant des eaux, Mèt Agwe. Ainsi nos énergies humaines pourront revenir sur cette dimension terrestre après 366. »
Le passage au temple de la bande musicale : rara Foula – Vodoule fait parti de son parcours rituel dans les rues d'un Port-au-Prince ravagé par l'insécurité. Le Temple Sacré Na-Ri-VéH 777 sert de lieu de repos aux membres de ce Rara traditionnel, qui selon la tradition tournoieront autour du Potomitan pour emporter les énergies négatives du temple et les dissiper au prochain carrefour.
« La tradition Rara se pratique sous la forme d'une procession musicale et/ou sonore sur des dizaines de kilomètres, parfois durant des jours. Le rara est un héritage des indigène Taïnos qui habitèrent l'île d'Ayiti avant la colonisation. Le rara est lié à l'équinoxe de printemps, jour consacré par les Mayas et plusieurs royaume Africains pour célébrer le renouveau de la nature. Le Rara aura été adopté par les premier africains kidnappés par les colons européens pour servir d'esclave. Coïncidant avec le calendrier chrétien, cette tradition Taino-Africaine se serait ensuite greffée à la pratique catholique des fêtes de Paques. »
https://www.dailymotion.com/video/xsq0kn
La cérémonie du mois de mai pour les Lwa Kouzen et Kouzin Zaka, respectivement considéré comme les ministres de l'agriculture et des Finances dans la paysannerie Haïtienne et chez les Vodouvi en général.
« Les Lwa Kouzen et Kouzin Zaka ou Azaka que l'on nomme familièrement cousin et cousine est un Lwa paysan. Il a la charge de protéger les champs et les travaux qui s'y déroulent et de favoriser les récoltes et l'élevage. Vêtu comme un paysan, tous les Lwa de la famille Zaka sont en liaison avec la terre et l'agriculture et l'économie. »
Finalement, d'autres sons du badgi seront enregistrés pour compléter ce documentaire audio.
Nous sommes heureux de partager en partie, le patrimoine artistique, immatériel et culturel du Badji. Le Temple Sacré Na-Ri-VéH 777 a été fondé officiellement le 6 janvier 1999 et mettra à la portée du public de Radio Art Zone sa tradition Vodou.
Dans le cadre de cette initiative, quatre jeunes de la communauté seront formés au maniement d'équipements audio et audio-visuel. Nous remercions Knut Aufermann pour se magnifique tutorial, sans oublier Leandro Nerefuh fils spirituel de NRV et toute l'équipe de Radio Art Zone.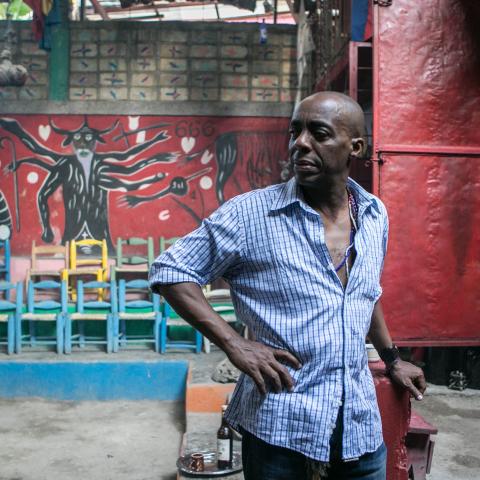 Born in 1962 with the gift of clairvoyance, Jean-Daniel Lafontant was first initiated by members of his paternal grandfather based in the city of Léogane. Later, he was introduced to the tradition of his maternal ancestors as a Hounsi of Lakou Jisou located in the greater North of Haiti. He became a Sèvitè and Houngan in 1997. A year later in December, he co-founded the sacred temple Na-Ri-VéH 777. Subsequently, seven years later, he co-founded "Le Temple des 7 Vierges" in Mariani, run by members of his spiritual alma-mater. Lafontant is a Vodouvi, a healer, and an aficionado of Haitian art and culture. He is the guardian of Temple Na-Ri-VéH located in the hilly center of Port-au-Prince and rooted in the tradition of Lakou Jisou. Beyond its everyday Vodou practice, Lafontant strives for an understanding of the tradition in its spiritual, philosophical, and cultural dimensions.
In 1997 Lafontant moved from New York to Haiti and worked as a marketing executive while remaining active in the Haitian art world. For 25 years, Lafontant was engaged as a professional marketing executive. A turning point in his career was the two years spent as head of communications for the Haitian Ministry of Foreign Affairs. The experience broadened his knowledge in diplomacy and global politics.
He returned to the financial sector in 2006, focusing again on the remittance business. In 2010, a few months after Haiti's devastating earthquake, Lafontant joined the humanitarian NGO Catholic Relief Services, a welcome and necessary shift from a long career in the financial sector.
"As a Vodouvi, working for CRS was transformative in unimaginable ways. But mostly, I grew to understand the oneness in humankind. The principle of Catholic Social Teaching resonated well with my own tradition. Small world! Working for this colossal organization, managed by the US Episcopal Conference and the Catholic church, helped me bridge gaps that seem unsurmountable."
He later transitioned to UTE, a decentralized unit of the Ministry of Finance of Haiti, where he elaborated marketing and communication strategies while formulating recommendations to senior staffs and top officials.
Lafontant's area of expertise includes Haitian art and culture. It started in 1988 when he created the New York-based group ANAE, an association for the promotion of Haitian art influenced by Vodou.  Since 2003, he has intermittently worked as a consultant for various media, museums, universities, and diverse art institutions. Among the most successful of these productions are the award-winning documentary "In the Eye of the Spiral"; "Believers" with Reza Aslan on CNN; and more recently for ITV UK, the documentary "Hidden Caribbean" with Joanna Lumley. Lafontant produced and helped shape a dozen documentary films, art exhibits, articles, research, conferences, and other production and events related to the culture of Haiti. Since March 2015, 7 days after Lafontant's participation at the Duke's university event "Zombies are Real", he was diagnosed with a traumatic life threatening illness. Since, Lafontant has dedicated all his energy on his health, Vodou, and the promotion of Haitian culture.
"Vodou and art have been in my life from the day I was born. I am a Vodouvi, a healer, a Houngan, a proud Haitian with a deep respect for my country's art, culture, and traditional spirituality. I am a founding member of the Vodou Temple Na-Ri-VéH, which is rooted in the tradition of Lakou Jisou and Bwakayiman. As a Vodouvi, I have a universal understanding of our world and understand its spiritual and cultural dimensions. I am a Sèvitè: my purpose in life is to serve the energies of our dimension, the Lwa, my communities and the ancestral divinities in Mankind."