Saturday 18 June – 0:00 CEST midnight until 12:00 CEST noon
Sunday 25 September – 14:00 CEST until 24:00 CEST midnight
Jörg Köppl
zellen-silben (a dreaming machine)
algorithmische Komposition, work in progress (2022)
Credits:

Stimmen für die Version 2022: Vickie Laborier, Sandra Laborier, Léo Collin
Schlagzeugsamples: Sebastian Hofmann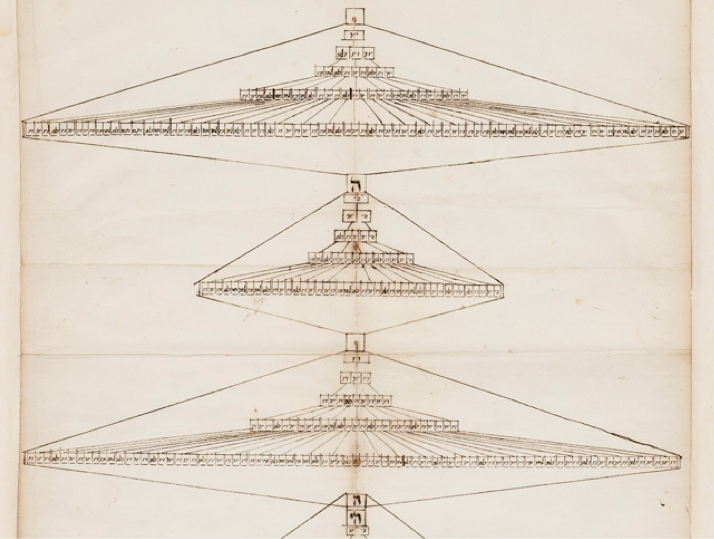 Würfelmaschinen für die Namen Gottes aus der Kabbala
Zusammenfassung
zellen-silben (a dreaming machine) ist eine algorithmische Komposition, die inzwischen in verschiedenen Versionen und Sprachen in Zürich, Dartington (UK), an der Bienal de São Paulo (Brasilien) und am Tsonami-Festival in Valparaíso (Chile) aufgeführt wurde. Die Komposition besteht aus einer Sound- und einer Sprachebene, die beide von einem nichthierarchischen Algorithmus gesteuert werden, der aus neun interagierenden Zellen besteht. Diese steuern Klanggeneratoren und Sampler wie auch die Sätze, die sich aus mehrheitlich einsilbigen Wörtern zusammensetzen.
Bereits die Version in Valparaiso war mehrsprachig (Deutsch, Englisch, Brasilianisch und Spanisch). Für die Anfrage von Radio Art Zone rückt die Mehrsprachigkeit verstärkt ins Zentrum, da das Werk einerseits in einer zweisprachigen Region aufgeführt wird und sich das Luxemburgisch gleichzeitig in einem Emanzipations-prozess vom Dialekt zur geschriebenen Sprache befindet. So werden die Sprachen in der neuen Version um Französisch und Luxemburgisch erweitert.
Kontext: Orpheé
Ein junger Mann sitzt im Auto und hört Radio. Das Auto fährt nicht; es steht in einer Garage. Der junge Mann lauscht fiebrig den manchmal absurden und manchmal poetischen Sätzen und schreibt sie auf. Es ist Orpheus, der Dichter. Die Radiostimme kommt aus einer anderen Welt. Unberührt orakelt sie vor sich hin. Die Erinnerung an den Film Orpheé von Jean Cocteau aus dem Jahr 1949 ist vage, aber dieses Radio gefiel mir und ist zu einem stillen Platzhalter dafür geworden, was ich mir unter Radiokunst vorstelle. Das Radio ist hier kein übermittelndes Medium, sondern wird selber zum handelnden Subjekt. Kein Gesicht steckt dahinter, keine Person – die Stimme fällt zusammen mit dem Gerät. Das Ganze balanciert auf der Membrane zu einer anderen Welt.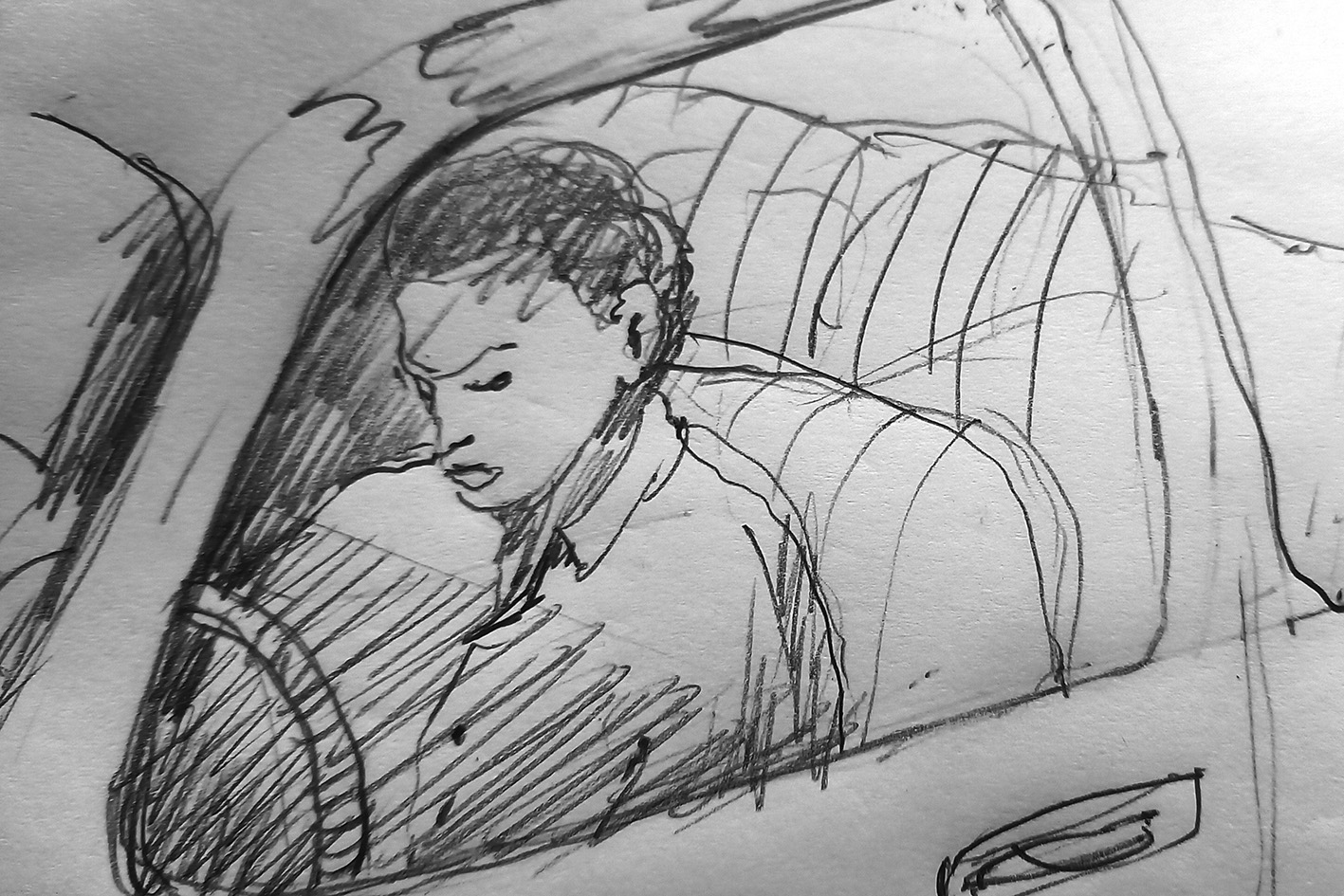 Szene aus dem Film Orphé von Jean Cocteau 1949
Wie surreale Träume können die zufallsgenerierten Sätze als Inspiration dienen, als Orakel, welches neue Denkperspektive eröffnet. Würfelmaschinen für die Namen Gottes in der Kabbala und die Zufallskompositionen von Cage (der mit I Ging arbeitete) teilen den Wunsch, den eigenen Vorspurungen zu entkommen.
Wenn jemand irr redet, liegt es oft nicht daran, dass er oder sie die Grundregeln der Logik nicht beherrscht, sondern daran, dass die eigenen Bedürfnisse nicht im durch Macht abgesteckten Gehege der als sinnvoll akzeptierten Grammatik formulierbar sind.
Neun interagierende Zellen
Der steuernde Algorithmus der algorithmischen Komposition ist nicht hierarchisch organisiert. Er besteht aus neun interagierenden Zellen und verhält sich in seiner Dramaturgie unvorhersehbar und dennoch musikalisch. Die Art und Wiese, wie diese neuen Zellen interagieren, ist weniger unserem Gehirn als unserer Gesellschaft abgeschaut. Die Zellen haben einerseits die Tendenz sich zufällig in einer Frequenzskala auf und ab zu bewegen. Andererseits suchen sie bei anderen Zellen nach harmonischen Verhältnissen (1:2, 1:3, 3:2, 3:4, 4:5 usw.) und passen sich diesen manchmal an. So steuern die Zellen Sinusgeneratoren wie auch die Abspielgeschwindigkeiten von neun Samplern. Abhängig von ihren Übereinstimmungen mit anderen Zellen, schwillt die Dynamik der einzelnen Zellen an- und ab. Etwas Ähnliches können wir bei Menschengruppen beobachten, die manchmal sehr laut werden, wenn sie sich synchronisiert haben. Durch dieses Prinzip werden die Samples musikalisch aufeinander bezogen und es ergibt sich eine lebendige Dynamik.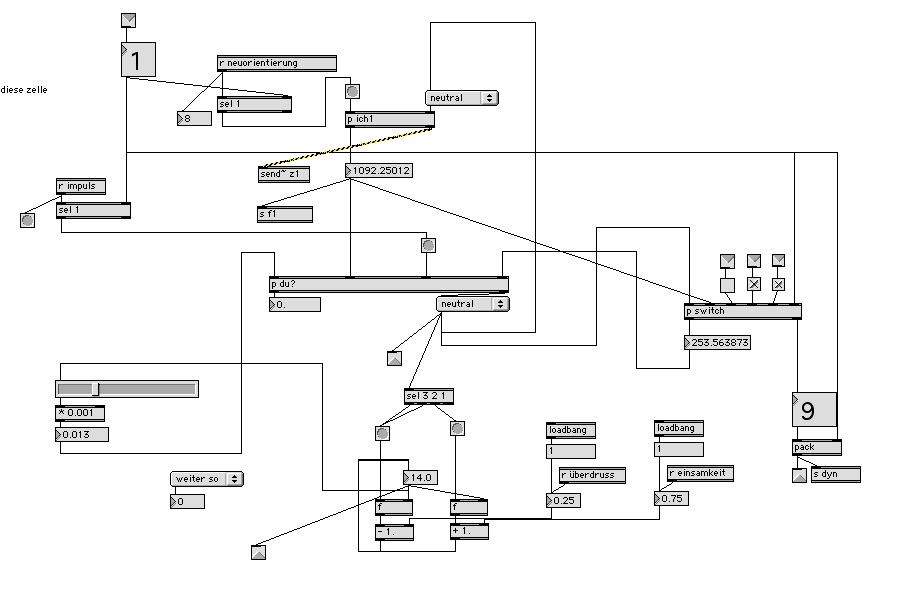 Samples
Als Lenkung für Sinusgeneratoren, Sample-Player und als Impulsgeber für die Wortfolgen produziert dieses Prinzip eine erstaunlich organisch wirkende Soundscape. Die gestimmten und getakteten Samples werden von Version zu Version angepasst, überarbeitet und ergänzt.
Silben
Die neun Zellen lösen in bestimmten Zeitabschnitten Impulse aus, die ein Archiv von aufgenommenen einsilbigen Wörtern ansteuern. Der Computer kreiert aus den Worten fortwährend denkbare Sätze, die den Zuhörenden – manchmal mehr und manchmal weniger – Sinn anbieten. Das Archiv ist nach Stimmlauten geordnet und die Sätze nach strikten Versformen (z. b. A – O – EI – AU). Die Einsilbigkeit der Wörter und die Wortauswahl, die auch Slang und Kraftwörter miteinbezieht, erzeugen einen rauen und unmittelbaren Charakter. Was sie erzählen, erinnert an Orakelsprüche oder Traumerzählungen. Berühren das Sinnhafte und kippen zurück in surreale Szenarien. Durch Interaktionen zwischen den verschiedenen Stimmen (Sprachen), durch wechselnde Versformen und emotionale Aufladung entwickelt sich eine stimmungsvolle Metaerzählung.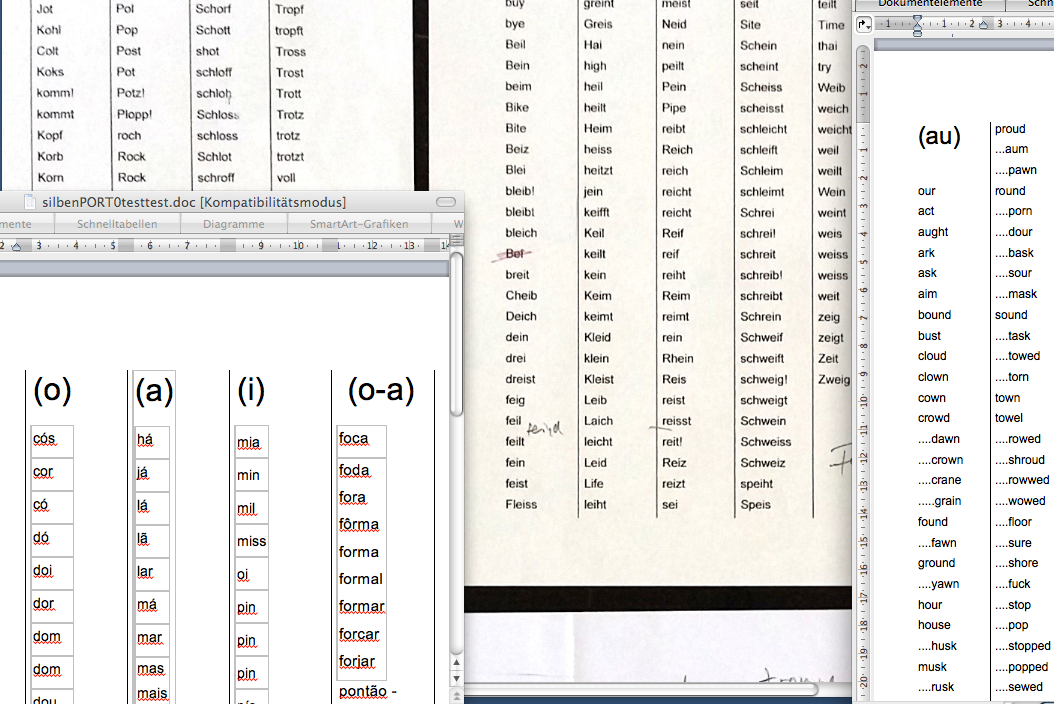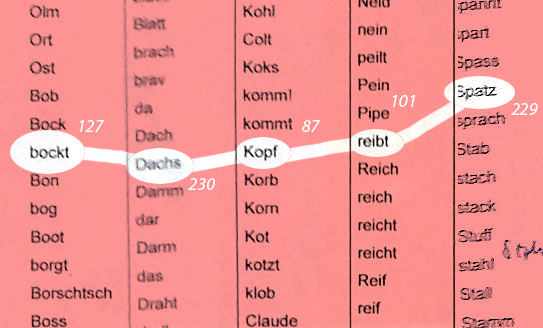 Im Gegensatz zu den Bemühungen der "künstlichen Intelligenz", die versucht, mit Maschinen sinnhafte Aussagen zu erzeuge, trachtet zellen-silben (a dreaming machine) nach dem Gegenteil: Unsere mentalen Prägungen produktiv zu stören.
zellen-silben (a dreaming machine) wird unterstützt durch pro helvetia, swiss arts council und Caroline Döhmer, Zentrum für Luxenburgische Sprache.
algorithmic composition, work in progress (2022)
Credits:

Voices for version 2022: Vickie Laborier, Sandra Laborier, Léo Collin
Drum samples: Sebastian Hofmann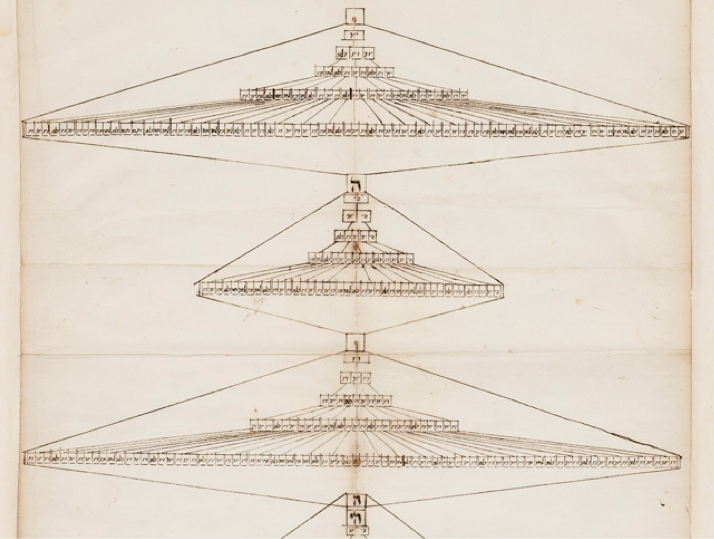 Dice machines for the names of God from the Kabbalah
Summary
zellen-silben (a dreaming machine) is an algorithmic composition for radio, which has been broadcast in several versions in various countries and languages. The piece has both a sound and a language layer, each controlled by a non-hierarchical algorithm built on nine interacting cells. The way these new cells interact is not so much copied from our brain as from our society, in that the cells oscillate between "stubbornness" and adaptation to the collective.
In the version for Radio Art Zone, multilingualism becomes more central, since the work is performed in a bilingual region, and Luxembourgish is in the process of emancipation from dialect to written language. Therefore, French and Luxembourgish have been added to the languages for this new version.
Context: Orpheé
A young man is sitting in a car listening to the radio. The car is not driving; it is parked in a garage. The young man listens feverishly to the sometimes absurd and sometimes poetic sentences and writes them down. It is Orpheus, the poet. The radio voice comes from another world. Unaffected, it oracles to itself. My memory of the 1949 film Orpheé by Jean Cocteau is vague, but this radio appealed to me and has become a silent placeholder for what I imagine radio art to be. Here, the radio is not a transmitting medium, but becomes an acting subject itself. There is no face behind it, no person - the voice falls together with the device. The whole balances on the membrane to another world.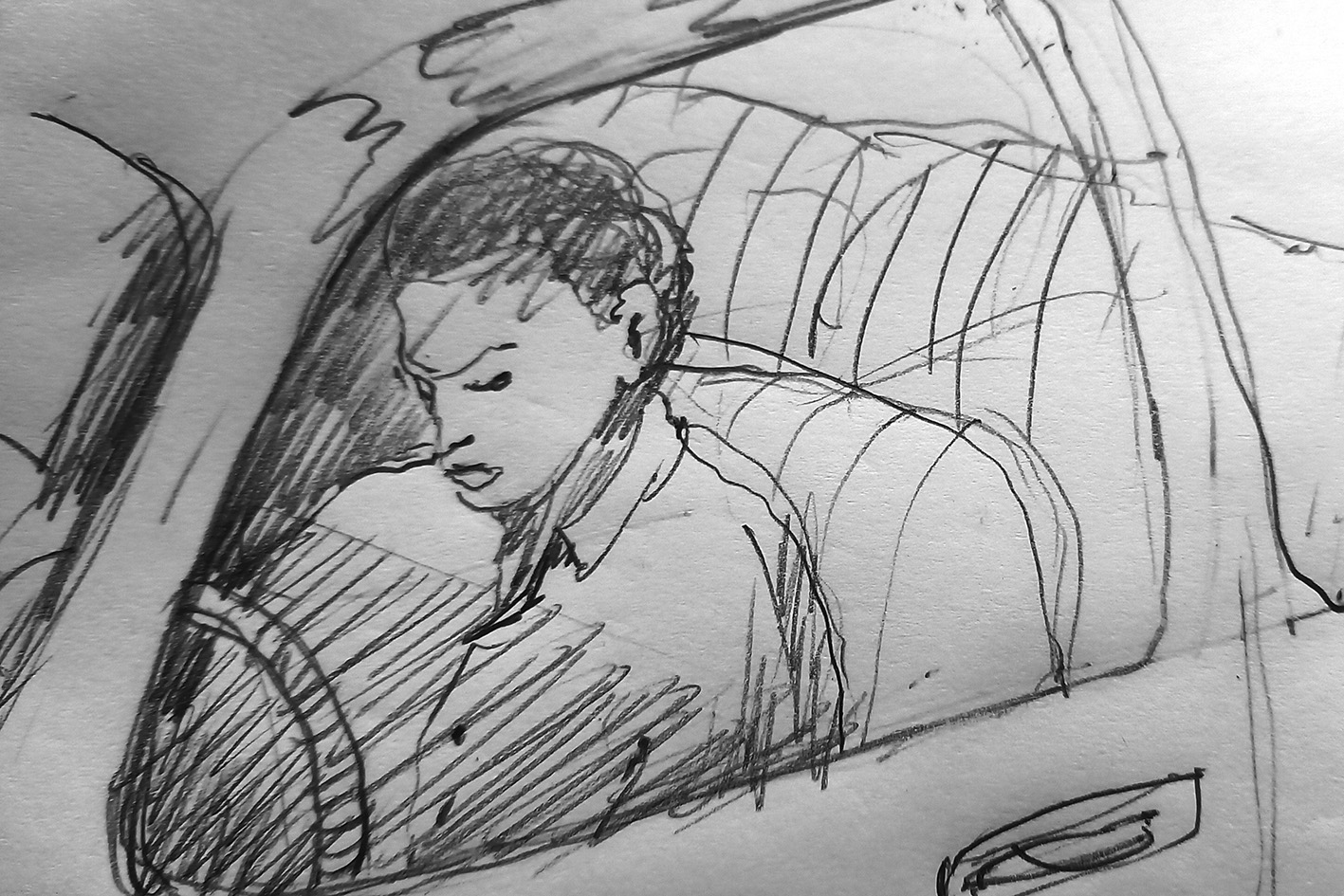 Szene aus dem Film Orphé von Jean Cocteau 1949
Like surreal dreams, the randomly generated sentences can serve as inspiration, as oracles that open new perspectives of thought. Dice machines for the names of God in Kabbalah and the random compositions of Cage (who worked with the I Ching) share the desire to escape one's own preconceptions.
When someone speaks erroneously, it is often not because he or she has not mastered the basic rules of logic. But because one's own needs cannot be formulated in the staked out enclosure of grammar accepted as meaningful. In the end, it is not what is possible but what is tolerated that forms the boundaries in communication.
Nine interacting cells
The controlling algorithm of the algorithmic composition is not organised hierarchically. It is made of nine interacting cells and its dramaturgy is unpredictable and yet musical. The way these nine cells interact is not so much copied from our brain as from our society. On the one hand, the cells have the tendency to move randomly up and down a frequency scale. On the other hand, they look to other cells for harmonic ratios (1:2, 1:3, 3:2, 3:4, 4:5, etc.) and sometimes adapt to them. Thus, the cells control sinusoidal generators as well as the playback speeds of nine samplers. Depending on their matches with other cells, the dynamics of each cell swells and shrinks. We can observe something similar with groups of people, who sometimes become very loud when they have synchronised. Through this principle, the samples are musically related to each other and a lively dynamic results.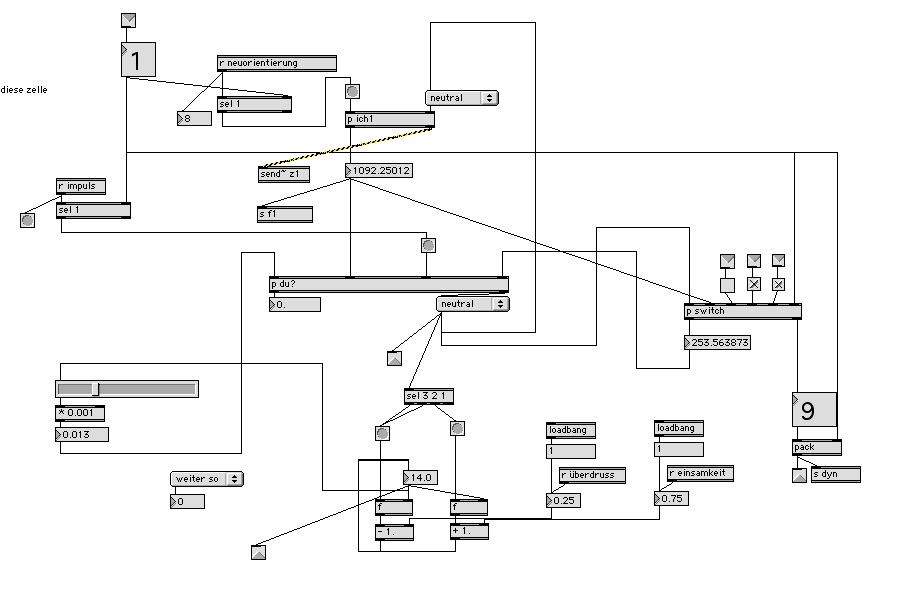 Samples
As a control for sine generators, sample players and as a pulse generator for the word sequences, this principle produces an amazingly organic soundscape. The tuned and clocked samples are adapted, revised and supplemented from version to version.
Syllables
The nine cells trigger impulses in certain time intervals, which control an archive of recorded (mostly) monosyllabic words. The computer continuously creates possible sentences from the words, which offer - sometimes more and sometimes less - meaning to the listeners. The archive is organised by vowels, and the sentences by strict verse forms (e.g. A - O - EI - AU). The monosyllabicity and the selection of the words, which include slang and explicit words, create a raw and immediate character. What they tell is reminiscent of oracular sayings or dream narratives. Touching on the meaningful, they tip back into surreal scenarios. Through interactions between the different voices (languages), through changing verse forms and emotional charging, an atmospheric meta-narrative evolves.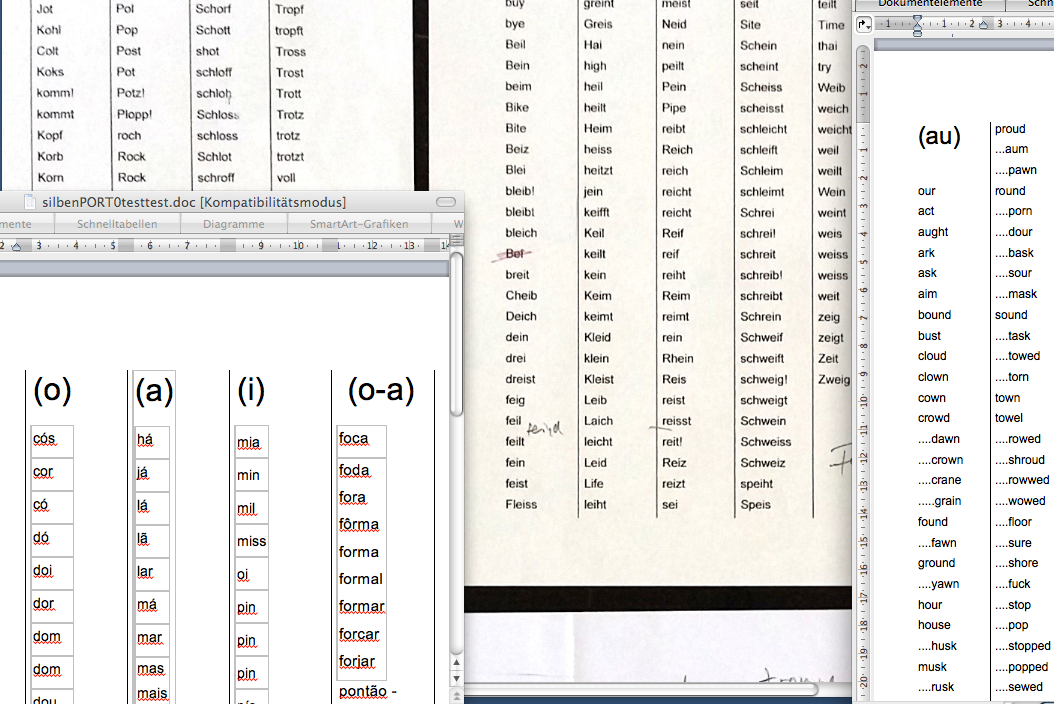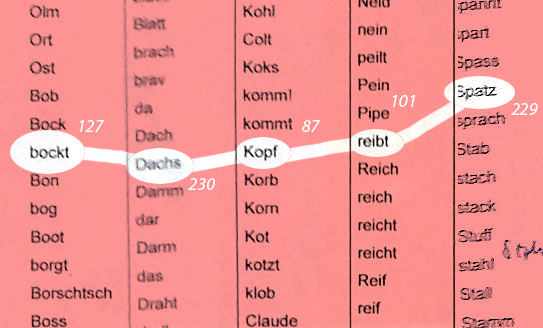 In contrast to the efforts of "artificial intelligence", which tries to create meaningful statements with machines, zellen-silben (a dreaming machine) strives for the opposite: to productively disrupt our mental imprints.
zellen-silben (a dreaming machine) is supported by pro helvetia, swiss arts council and Caroline Döhmer, Zentrum für Luxenburgische Sprache.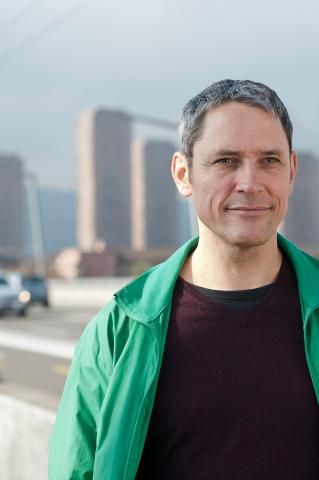 Foto: Frederic Meyer
Jörg Köppl lebt und arbeitet als freischaffender Künstler und Komponist in Zürich. Er interessiert sich für gesellschaftliche Synchronisationsprozesse, die er in zumeist auditiven Settings auslotet. Er konzipiert experimentelle Radio- und Soundprojekte, die an Festivals, wie der Ars Electronica, Artprospect (St. Petersburg) und Bienal de São Paulo oder in eigener Regie (Zürich und Kairo) aufgeführt wurden. Jörg Köppl initiierte und leitete die vom Schweizerischen Nationalfonds geförderten Forschungsprojekte NOW1, das sich mit der auditiven Zeitwahrnehmung beschäftigt, und NOW2 in dem Radioarbeiten produziert und ausgestrahlt wurden, die extrem lange dauern. 2011 gründete Jörg Köppl das ensemble metanoia, das aktuelle Strömungen aus der komponierten, improvisierten und elektronischen Musik aufnimmt. In den performativen und teilweise partizipativen Produktionen des Ensembles werden die Rollenverteilungen von Komposition-Interpretation und Darstellende-Publikum hinterfragt.
Jörg Köppl lives and works as artist and composer in Zurich. He is interested in social synchronisation processes, which he explores in mostly auditory settings. He conceives experimental radio and sound projects which have been performed at festivals such as Ars Electronica, Artprospect (St. Petersburg) and São Paulo Biennial or under his own direction (Zurich and Cairo). Jörg Köppl initiated and directed the research projects NOW1, funded by the Swiss National Science Foundation, which deals with the auditory perception of time, and NOW2 in which radio works of extremely long duration were produced and broadcast. In 2011 Jörg Köppl founded the ensemble metanoia, which takes up current trends in composed, improvised and electronic music. In the ensemble's performative and partly participatory productions, the role distributions between composition-interpretation and performer-audience are questioned.