Saturday 20 August
from 14:00 CEST until 12:00 noon on Sunday 21 August
Julien Clauss & Emma Loriaut
Modulation
Modulation is a participative micro-radio project, initiated in 2010 during "Laisser le passage libre", a multidisciplinary artistic meeting that took place for three consecutive years in the Drôme.A micro radio station (microphone, mixer, 0.5 W transmitter) is installed in the mountains, in the open air, on a site with a dominant and remarkable view. During 24 hours, participants take turns on the air to produce live experimental music, sound poetry, radio art and anything else that can decently fit into a mixer or a microphone. The radio broadcasts continuously during these 24 hours to a public located in the vicinity of the transmitter, on a maximum of 1 or 2 km2. The public is invited to bivouac on the narrowcasting site and to bring a portable radio to form a composite and moving sound-system, made up of all the portable radios.

Modulation proposes a singular experience of radio, in the spirit of the micro radios developed by Tetsuo Kogawa in Japan in the 1980s. The idea is to work with the radio medium on a reduced scale to include the studio in the environment and create a continuum between production and listening.
The important thing is no longer the range of the broadcast and the number of listeners, but what is played out in the "studio", which has become both a place of production and a space for listening. With no walls around the studio, radio is made at a glance and the sound environment is a permanent guest. The atmosphere of the radio follows the variations of light and temperature that animate the surrounding landscape during 24 hours. A call for participation is sent by email to various mailing lists 3 months before the event. A blank timetable is posted on site. To participate, you just have to register on this schedule once on site.

The content of the radio is produced live, on site, by the participants who choose the time of the narrowcast. Each proposal lasts between 20 minutes and 1 hour.

Modulation stops when all the participants have spoken and have nothing more to say.
Modulation est un projet de micro-radio participative, initié en 2010 lors de « Laisser le passage libre », rencontres artistiques pluridisciplinaires ayant eu lieu 3 années consécutives dans la Drôme.Une micro-station de radio (micro, mixette, émetteur 1 W) est installée en montagne, en plein air, sur un site avec une vue dominante et remarquable. Durant 24 heures, les participants se relaient à l'antenne pour produire en direct de la musique expérimentale, de la poésie sonore, de l'art radiophonique et tout ce qui peut décemment entrer dans une table de mixage ou un microphone.
La radio émet continûment durant ces 24h à destination d'un public situé à proximité de l'émetteur, sur au maximum 1 ou 2 km2. Le public est invité à bivouaquer sur le site d'émission, et à emmener une radio portable pour former un système de diffusion composite et mouvant, constitué par l'ensemble des radios portables.
Modulation propose une expérience singulière de la radio, dans l'esprit des micro radios développées par Tetsuo Kogawa dans le Japon des années '80. L'idée est de travailler le médium radiophonique à échelle réduite pour inclure le studio dans l'environnement et créer un continuum entre production et écoute.L'important n'est plus la portée d'émission et le nombre d'auditeurs, mais ce qui se joue dans le « studio », devenu à la fois lieu de production et espace d'écoute. Sans murs autour du studio, la fabrication de la radio se fait à vue d'œil et l'environnement sonore est un invité permanent. L'ambiance de la radio suit alors subrepticement les variations de lumière et de température qui animent le paysage environnant durant 24h.
Un appel à participation est envoyé par mail à différentes listes de diffusion 3 mois avant l'événement. Une grille horaire vierge est affichée sur site. Pour participer, il suffit de s'inscrire sur cette grille horaire une fois sur place.
Le contenu de la radio est produit en direct, sur place, par les participants qui choisissent leur horaire d'émission. Chaque proposition dure entre 20 minutes et 1 heure. Modulation s'arrête quand tous les participants se sont exprimés et n'ont plus rien à faire entendre.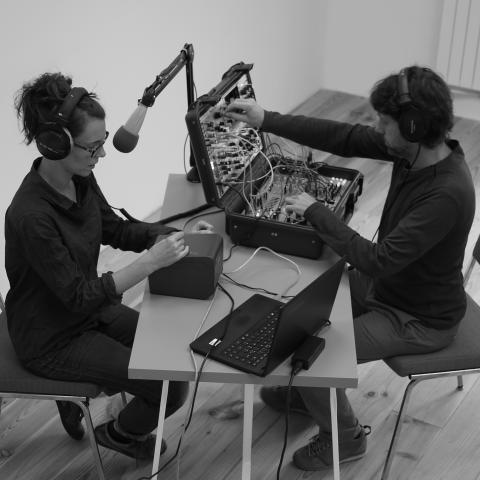 Julien Clauss & Emma Loriaut have been collaborating since 2012 on performance projects, radio readings and installations. Their work focuses on the notions of reality and derealization as well as on the notions of situation, conviviality, displacement and inscription in landscapes or architectures.
Julien Clauss & Emma Loriaut collaborent depuis 2012 pour des projets de performances, de lectures radiophoniques et d'installations. Leurs démarches se rencontrent sur les notions de réel et de déréalisation ainsi que sur les notions de situation, de convivialité, de déplacement et d'inscription dans des paysages ou des architectures.