Saturday 24 September
from 14:00 CEST until 12:00 noon on Sunday 25 September
Julia Drouhin
Radio Apothecary
Radio Apothecary explore la radioactivité féministe d'éléments naturels en friction avec les ondes fluides, soniques et sociales d'un lieu commun et donné.
Radio Apothecary explores the feminist nature of electromagnetic activities through ritualistic research of fluid, sonic and social waves.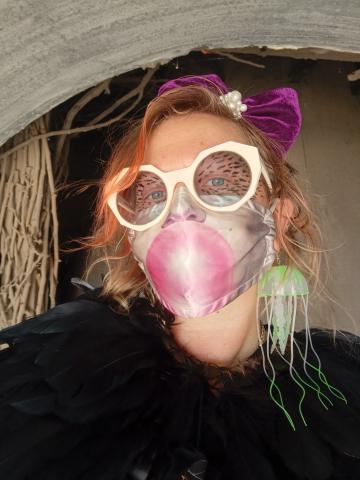 Dr Julia Drouhin est une artiste sonore française basée à lutruwita/tasmanie en australie. Elle s'intéresse aux ondes sonores, fluides et sociales en lieux spécifiques, souvent explorées de manière collaborative. Son travail tissant performance, dessin, fréquence électromagnétique, nourriture, shibari, instrument à eau ou léchage de pierres a été présenté en europe, Hong Kong, brésil, afrique du sud, australie, ondes radio et en ligne. Elle a terminé son doctorat en 2011 à Paris 8, France à propos de l'art de la marche et de l'impact radiophonique dans l'espace publique. Elle développe ses projets lors de résidences comme récemment à Visual Bulk et All That We Are pour une exposition avec Camille Antoine à la galerie Penny Contemporary à nipaluna/hobart. Elle a bénéficié de la Cité Internationale des Arts de Paris par l'Australia Council for the Arts avec les Structures Sonores et Cristal Baschet (2019), Spring Bay Mill (2021), FLOAT residency (2022), Australia Art Orchestra residency creative music intensive (2019), Tone List Sounding Together (2020), Tankwa Artscape residency (2019), Contemporary Art Tasmania studio (2019), Claudio Al Corso (2016), Situate Art Lab (2016) et Musique, Architecture et Environnement en Suisse où elle a gagné le prix Giuseppe Englert en 2014.
Elle fait partie des Sisters Akousmatica qui a reçu le CBAA Excellence in Music Programming award avec la radio communautaire 3CR en 2017 et des Instrument Builders Project Tasmania (IBP5) présenté à Mona Foma en 2021.
Julia Drouhin (she/her, VK7HAG) amplifies invisible soundstreams that reveal friction in sociality via radioscape, installation or collaborative performance. You can find her jumping with broken plates on a mini trampoline or licking some rocks at the beach. She was part of the Instrument Builder Project (IBP5) engaging artists from Australia and the Asia-Pacific curated by Contemporary Art Tasmania, Volcanic Winds and Liquid Architecture for Mona Foma 2021. She undertook a mentorship at the Structures Sonores et Cristal Baschet supported by the Australia Council for the Arts at the Cité Internationale des Arts in Paris, France in 2019 to study water based instruments made primarily for autistic children. She was one recipient of 2019 Australia Art Orchestra residency creative music intensive and Situate Art Lab 2016 that supported a street walk commission by Vrystaat Festival (South Africa) in 2018: Altitude Immersive Radio.
Her project Sisters Akousmatica with Phillipa Stafford shifts usual modes of transmission since 2016. They support socio-cultural and gender minorities in the field of radio arts and were awarded the Excellence in Music Programming award at the 2017 Community Broadcasting Association of Australia Conference with 3CR.
Julia completed her Ph.D about the art of walking and broadcast impact in public space in Paris 8 France in 2011 before living in lutruwita/Tasmania (Australia), where she currently works with artists with disabilities and youth in local communities.