Saturday 25 June
from 14:00 CEST until 12:00 noon on Sunday 26 June
The WORM Merchants
Radio Worm
---
LIVE PERFORMANCE
You are invited to visit the Kulturfabrik Kinosch, 116, rue de Luxembourg, 4221 Esch-sur-Alzette, to experience this live radio broadcast at any time throughout 22 hours from 14:00 until noon the next day. Free entry.
---
Radio Worm is a concept that has been used since the start of this century. First, as a monthly show that was distributed on CDr and send to several independent radio broadcasts around the world.
Then, since 2005 as a producer of radio art, first broadcasted by VPRO, Cafe Sonore, on national radio, later with our own show, Dr Klangendum, on Concertzender. And last, as an independent radio station on internet radio and , for a small amount of Rotterdam people on AM from the Worm base in the centre of town. We started our station in january 2021 and the idea was to have a sort of community radio station with a slight emphasis on the 'art'side of things. The people involved are also doing stuff at Worm, (Worm is an alternative cultural place & community since 1999) is it working at the bar, making art or organising it, or anyhting else (baking cakes, having a barbershop).
The idea of the Worm Merchant's show is to implement some of our daily chaos in Radio Art Zone's program, so all members of the crew will have their special moments that relate to the shows they make in RadioWorm, but there will be a whole bunch of crossovers, some live concerts that will be announced, and a Psychogeographical walk through Esch that will be followed live and commented on.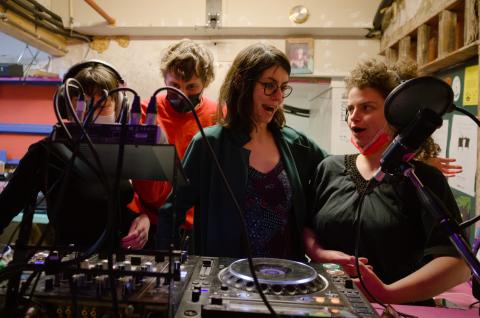 Ash Kilmartin is an artist from Aotearoa New Zealand, who lives in Rotterdam. Her recent work is concerned with the speaking voice as a tool for finding and making public space, as the hinge between the physical material of the body, and the social fabric of language. She is interested in historical characterizations of the speaking body; in non-linguistic vocalizations as communication; and in how the voice can be translated into orthography, texture, or space. She works in performance, sculpture, sound, and text. With Linus Bonduelle she is co-host of Ever Widening Circles, a weekly hour of music, field recordings, and other fragments of the audible world on Radio WORM.
ashkilmartin.net
ashopcalled.life
Florian Cramer (1969), reader in 21st Century Visual Culture/Autonomous Practices at Willem de Kooning Academy, Rotterdam, Netherlands.
Lukas Simonis (1961) plays guitar, organizes radio & residencies at Worm. Made lots of records.
Tisa N. Herlec (Rotterdam/Ljubljana) communicates, organizes, writes, performs, and creates imaginaries (with sound, voice, in texts, and images). Collaboration, processuality, and the friction between structures ignite her inspiration. She thinks and practices improvisation and composition, exploring its emancipatory and interactive potentials, in her own musical practice and her weekly radio show The Side Entrance at Radio Worm where she conducts interviews with performers and composers, digging deeper into frictions and modes and reasons that enable creation. She performs, exhibits, organizes, and publishes around Europe, promiscuously, spontaneously, and with great joy.
tisa.world
instagram.com/_tisa_world_
Anne Kolbe is a visual artist with (MA in Fine Art) with an object and performance based practice. Her radio show at radio Worm, DE ACHTERGROND (translation: SOUNDS FROM THE BACKGROUND) is dedicated to the genre of background music, muzak, incidental, furniture music, sound architecture, etc. While DJ Buxusbitch provides you with the necessary background info, you can enjoy the most atmospheric and tasteful tunes. Result: a blend of sound, from which nothing stands out.
annekolbe.com
pod.thing.org/people
Henrietta Muller works for Worm, making program for Ubik, is active as sound artist, radiomaker, and in the 'fine'art (how fine is that?). Born in 1992, in Sepsiszentgyörgy, Transylvania, her biggest fascination was to wonder in nature and cruise with her horses. As a teenager for five years played in a theatre group 'Osonó', participated in several international theatre festivals: in Vienna, Belgrade, Budapest, Thailand. She actively took part in SlamPoetry championships in Hungary and Romania, finished her BA in pedagogy in 2014, and organized contemporary art camps 'KreaTúra' for six editions.