Saturday 27 August
from 14:00 CEST until 12:00 noon on Sunday 28 August
Oda Projesi
Radio Within A Radio
If Oda Projesi makes a radio within a radio only for 22 hours, what would it sound like? What sounds can this radio carry? In 2005 for a local radio channel in Istanbul Oda Projesi did a programme that was called "radio within a radio 101.7EFEM". There we "acted" as if a radio channel; with news, interviews, advertisements, but also parasites interfering with and within the radio channel. (The programme originated from a pirate radio station we have organized with Matthieu Prat in the neighbourhood of Oda Projesi in 2005 for one month; just before leaving our project space.) Now if we have 22 hours then we plan to have 22 people, 22 places, 22 acts, 22 strategies, 22 incidents in this 22 hours of broadcasting. The main concern will be (can be) on motherhood (as this is a theme we are currently working on). The members of the collective, who have focused their research on "motherhood and production" since 2013, have had a series of conversations with groups of mothers who are not limited to their own experiences. During these meetings, "How were our daily life and art practices shaped after becoming a mother? How did maternal states affect our production? "What does it mean to be a mother and an artist at the same time?" were some of the questions.
Radio within a Radio
Through motherhood and production
14:00 Live Session
15:00 Host: Güneş Savaş
Guests:
An audio work produced from sound recordings of an unfinished film by the film director Melisa Önel
Güneş asked questions in the context of Ana Project.
Respondents: Beyhan Gültaşlar, Seda Yıldız, Sevgin Akış Roney
Music by Pipilotti Rist - "Victim of this song"
Güneş cooked and listened to music by humming songs, she watched TV (Netflix- "Working Moms") she ate dinner and did housework.
Songs by the street musicians Siyasiyabend
(Oda Projesi 101.7 EFEM archives), 2005
Quotations from Anne(x) no: 7:
(Published in the context of Anne(x) newspaper No: 7 for 17th İstanbul Biennale, 2022)
Chain from a woman to another: Aslı Kıyak İngin and Aylin Önel, voice Aylin Önel
The Pandemic Notes
"I said, she said, we said"
"How many different types of motherhood exist in the world?"
News from Anne(x) 7,  read by Aylin Önel
"International Mother Tongue Day"
"A Passage Through", by Güneş Savaş, voice: Hande Nur Yazıcı Engin
The Adventures of Venusian Women by Sevgi Soysal, ed. İpek Şahbenderoğlu (Istanbul: İletişim Press, 2017). Voice: Hande Nur Yazıcı Engin
Oda Projesi, Two Manifestoes 2013/2022, voice: Aylin Önel. 
Voices from Galata Şahkulu neighbourhood: Yaşar, Emine, Fatma Nur, Nurşen, Fatma, Burcu, Aysun, Alpay (Oda Projesi Sound Archive 2005)
News:  "Anti-war Russian journalist Marina Ovsyannikova convicted again"
An audiowork about being interrupted by Nadin Reschke
Güneş's sister Gözde answers the question "What does 'sisterhood' mean"?
A conversation between Esra Sarıgedik Öktem and her daughter Defne.
Readings:
Women Who Run with the Wolves by Clarissa P. Estés
Motherhood by Sheila Heti
Sounds from:
Oda Projesi 101.7 Efem Radio Archive, 2005
Oda Projesi "Radio Within a Radio" archives, Açık Radyo, İstanbul 2006
Oda Projesi&Nadin Reschke, Hamburg 2007 as part of 15 x 75 m. HINGUCKEN – WEGGUCKEN project
Oda Projesi, Radio Corax, Halle 2008
21:30 Host: Özge Açıkkol
Guests:
Sound piece by Ece Eldek & Çağla Köseoğulları answering the question: "Does gossip make invisible visible?", 2022
"I love my voice radio" jngle by Lala Raščić (Oda Projesi 101.7 EFEM archives 2005)
Anitha Silvia reads a quote from Why Loiter? Women and Risk on Mumbai Streets by Shilpa Phadke, Sameera Khan, Shilpa Ranade, Penguin Books, 2011
From a conversation between Özge and Anitha, July 2022
Talking about the meaning of the word "Meydan" with Anitha Silvia.
From a conversation between Özge and Anitha, July 2022
A Dictionary of Sensitive Sounds by Evrim Kavcar & Elif Öner, 2019 - work in progress
Voice: Ferzan Yenal, 2022
Sound pieces from the conversation between Oda Projesi, Kija Benford, Libia Pérez de Siles de Castro, Deirdre Donoghue, Asako Iwama and Nadin Reschke, June 7 2021.
Invitation by Selim Birsel & Replikas  (Oda Projesi archives, June, 2000)
Music /// "Seni Gördüm Canevimden Vuruldum", Saadet Hanım
Played by Mustafa Kaplan on 101.7 EFEM, 2005, Galata, İstanbul
(Oda Projesi 101.7 EFEM archives)
Anitha Silvia spent one hour at Bik Samona's stall at Pasar Tembok Lor, Surabaya, Indonesia. Bik Samona is a Madurese woman peddler and her stall is the baskets right on the pavement and she sits down on the very short chair. She is non-stop calling people non-stop to buy. Pasar Tembok Lor is an open-air non-government market, run by its people from 6AM until 10AM daily. Recorded May 12th 2020 by Anitha Silvia
Music /// "Yes Singing"
Ursurla K. Leguin & Todd Barton
Album: Music and Poetry of the Kesh, 1985
Music /// "Oh My Goodness, Look At This Mess!"
Sweet Honey in the Rock
Album: Still The Same Me, 2000
A conversation between Oda Projesi, Kija Benford, Libia Pérez de Siles de Castro, Deirdre M. Donoghue, Asako Iwama and Nadin Reschke, June 7 2021 via Zoom.
"Ağladım Acı Çektim" - Küçük Nezihe Hanım & Şükrü Tunar
Sung by Mustafa Kaplan on 101.7 EFEM, 2005, Galata, İstanbul
(Oda Projesi 101.7 EFEM archives)
The women of Kokopelli (Kokopelli Şehirde is a space for learning and experiencing sustainable living and ecology for children and adults.) from Istanbul answer the question: "Is it possible to make a revolution in the kitchen? And if it is possible, what kind of a revolution would it be?" 2022.
Music /// "Karaköy"
Brazilian Girls
Album: Let's Make Love, 2018
Not-wasted sounds from the conversation with artist mothers: "Oda Projesi, Kija Benford, Libia Pérez de Siles de Castro, Deirdre M. Donoghue, Asako Iwama and Nadin Reschke, June 7 2021 via Zoom.
Sound piece by Ece Eldek & Çağla Köseoğulları, 2022
"Afternoon sleep and dream" by Alexandra Karyn
This is the sound of an afternoon sleep and everything else that passes [...] and above all the sound of soft silence (with Karyn's words) 2022.
3:45 Host: Oda Projesi at Radyo Bienal
Guests:
In this 45-minutes sound piece Oda Projesi has guests answering questions on invisible labor, motherhood and radio. This is a continuation of Oda Projesi's "Radio Within a Radio'' that was a contribution for Radyo Bienal previously broadcasted at Açık Radyo. Oda Projesi's work on motherhood will also be shared as Anne(x) newspaper during the 17th Istanbul Biennale. The piece will be hearable soon through the biennale podcast series. Güneş Savaş invited four female artists Myriam Varela, María Gimeno, Karen Raicher and Aylin Önel. They answer the questions: What does it mean to feel like you belong somewhere? What kind of labour action takes place inside the house for a sense of belonging? Özge Açıkkol invited Elin Strand Ruin and Biray Kolluoğu. The artist/architect Elin Strand Ruin answered the question: Is it possible to make a revolution in the kitchen and if it is possible, what kind of revolution would it be? Biray Kolluoğlu is a professor of sociolgy and she reflects on the "invisible labour of the egg". Seçil Yersel invited Kija Benford, the founder of Vrouwenmantel Art Research Group and Kija invited mother and artist Eefje Wijnings, Danni van Amstel and Chloë Marsden who answered the questions: Is there a connection between invisible domestic labor and the invisibility of the radio? How can invisible labor have visibility within the invisible radio field? Does gossip make the invisible, visible? What kind of labor action takes place inside the home when you think of the feeling "belonging"?
6:30 Host: Seçil Yersel
Guests:
Seçil listens to Sheila Heti on her Motherhood book in a podcast and contemplates on it while cooking
Found Istanbul sounds possibly from a workshop in 2005, Oda Projesi archive.
Current Condition (2019) and the Wall (2022) text written and read by Seçil.
A voice sounds the text Burcu Yanmaz has written for a video work she did for Til Vaegs 2021, exhibition. Burcu was one of the kids we met in 1997 from the Galata neighbourhood and now she is a mother.
Radio within a Radio 101.7EFEM programme Oda Projesi did for Açık Radyo 2005
Seçil reflecting on her mother Demet Yersel with Canvas Mother text.
Men and Motherhood sound piece by Ayşe Orhon with Gabriel Smeets, İbrahim Quraishi, Johnny, Jurij Konjar, Maurizio and Matthias Stief.
We can Dance sound piece by Ula Woźniak
Sound piece by Kija Benford and her two years old son in a her diary space
Asako Iwama is together with her mother Sachiko Iwama and son Oto Iwama. Her mom tells a Grimm story about rice soup, Oto tells and sings about Ogomago and Asako reads a good night picture book on food traveling inside our body.
Motherhood as a spam piece taken from a radio interview done with the invitation of minusSPAMminus. It is a work for radio made of spam facts, + and – regarding spam, personal stories triggered by spam in a material, non-material, historical and emotional manner, all assembled by Jasmina Al-Qaisi and Ralf Wendt.
MA students on Women's and Gender Studies; Gülsüm Aküzüm, Asmin Ayçe İdil Kaya and Paula Nimbriotis Manzur thinking on what Mother is.
Readings from her library by Banu Cennetoğlu and a Wanderin mother talk by Alice Pedroletti
Word to a Word sound piece originates from a game in words raising up from Mother issues by Ayşe Orhon and Seçil Yersel that appears in various ways through the broadcast
Laundry notes from Seçil when she visits the laundry thinking that it is better to wash the things outside the house and be in the laundry space for reading and dreaming.
11:25
Live Session
A Never Ending Story of Motherhood  
We thank a lot to the listeners, to our guests and to Radio Art Zone for making this whole process possible…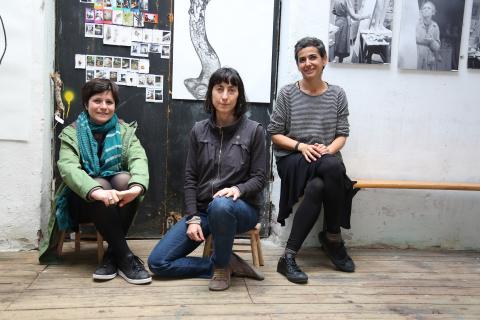 Oda Projesi is an artist collective based in Istanbul; composed of Özge Açıkkol, Güneş Savaş and Seçil Yersel who turned their collaboration into a project in 2000. From January 2000, their space in Galata functioned as a non-profit independent project space, hosting gatherings, exhibitions and acts up until march 16th2005, when Oda Projesi was evicted from the apartment due to the process of gentrification. Since then Oda Projesi has a mobile status and not any more a physical space based; continues to raise questions on space and place in projects by creating relationship models using different mediums like radio stations, books, postcards, newspapers or giving form to different meeting points; depending on and not forgetting the creativity of Istanbul and her citizens.