Saturday 6 August
from 14:00 CEST until 12:00 noon on Sunday 7 August
Mega Mingiedi & Jaguar Ntumi
Radio Bala-Bala
Il y a des moments si on n'est pas meilleur, il faut lâcher l'affaire et suivre son instinct, écouter son intérieur profond. Il y a des moments il faut sortir du cadre réel, voir autre chose, une autre direction, réinventer des histoires qui questionnent à travers nos traits qui suivent souvent nos pensées. Deux artistes MEGA MINGIEDI et JAGUAR NTUMI, unis pour avancer.
Radio Bala-Bala : Stéréo et vidéo, retour d'information sur le point focus des mouvements d'images, l'espace à l'abbaye kinoise sur Kinshasa utopique.
Une radio vue par deux artistes avec un regard particulier, celle d'utiliser ou transformer les narrations sonores comme un art à part entière.
Idée : Les expressions contenues des interviews pass-pass nous amènent sur plusieurs modules en mode série stéréo et série vidéo, entretenir les compétences à travers les sons et images comme élément artistique. Art comme média et média comme art pour mettre en avant l'option éducative : Informer, partager, échanger c'est se projeter sur l'horizon en collaboration avec tous les partenaires directs ou indirects qui soutiennent cette création en l'occurrence la ville de ESCH-SUR-ALZETTE au Luxembourg ainsi que toutes les Radios communautaires qui vont diffuser ce travail.
CRITICAL BALA-BALA
Ne laisse jamais le monde dire à ton âme que tu ne peux pas devenir celui qui veut : A travers le son et image, les Kinois et Kinoise ainsi que tous les participants au projet parlent de la ville, de leur vécu et de leur vie. Ces gestes appuient l'idée d'être libre. L'ensemble de tous les éléments stéréo et vidéo nous a permis de présenter la ville de Kinshasa sous différents types de regards, une sorte de carte postale, géographie radicale et du prometazi pensif
Écouter ton intérieur et voir l'horizon !
22 Heures de sons divisé en 11 séries de 2 heures d'émission radio et 2 Heures de vidéo divisé en 22 séries de vidéos de 6 minutes.
Bon voyage à vous !
There are times in life, if you are not better, you have to let go and follow your instincts, listen to your inner self. There are times when you have to get out of the realm of reality, to see something else, another direction, to reinvent stories that question through our features that often follow our thoughts. Two artists MEGA MINGIEDI and JAGUAR NTUMI, united to move forward.
Radio Bala-Bala: Stereo and video, feedback about the focus point of image movements, the space at the Kinshasa Abbey on utopian Kinshasa.
A radio seen by two artists with a particular look, to use or transform sound narratives as an art form in its own right.
Idea: The expressions contained in the pass-pass interviews lead us over several modules in stereo and video series mode, maintaining skills through sounds and images as an artistic element. Art as media and media as art to put forward the educational option: Inform, share, exchange is to project ourselves on the horizon in collaboration with all the direct or indirect partners who support this creation in this case the city of ESCH-SUR-ALZETTE in Luxembourg as well as all the community radios that will broadcast this work.
CRITICAL BALA-BALA
Never let the world tell your soul that you cannot become whoever you want: Through sound and image, the people of Kinshasa and all the participants in the project talk about the city, their experiences and their lives. These gestures support the idea of being free. The combination of all the stereo and video elements allowed us to present the city of Kinshasa from different perspectives, a kind of postcard, radical geography and pensive prometazi.
Listen to your inner voice and see the horizon!
22 hours of sound divided into 11 series of 2 hours of radio broadcast and 2 Hours of video divided into 22 series of 6 minutes videos.
Have a good trip!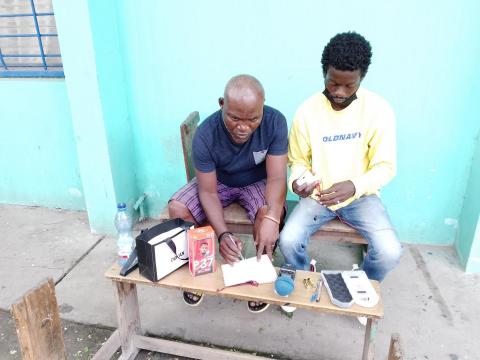 Mega Mingiedi, plasticien de formation, est animé par une liberté d'esprit dans ses créations. Né à Kinshasa, une ville caractérisée par une sorte d'instinct de survie au quotidien, et d'une imagination accentuée unique dans sa manière de voir la vie, la ville et le monde.
Ses dessins, collages, graff, installation et tant d'autres expressions, l'engagent, lui permettent d'avoir un langage et une position dans le monde de l'art.
Né en 1976 à Kinshasa, Mega Mingiedi termine l'école de beaux-arts de Kinshasa, puis la haute école des arts du RHIN, jumelée entre Strasbourg et Mulhouse. Mega Mingiedi instaure dans son travail le concept des résidences artistiques comme un mode de création qui lui permet de s'isoler, de créer et d'observer avec recul les histoires et les faits de la société.
Co-fondateur du collectif EZA POSSIBLES de Kinshasa, il participe à de nombreuses expositions et résidences dans plusieurs pays du monde.
Cette ouverture – et cette capacité à dialoguer sont le fait d'études approfondies en arts plastiques, d'abord à l'Académie des beaux-arts de Kinshasa, ou l'artiste a acquis la rigueur qui caractérise son trait, puis à l'école supérieur des arts décoratifs de Strasbourg, où il a été exposé à toute une gamme d'approche – scénographique, performatives, de cartographies – qui lui ont apporté une base conceptuelle à la fois solide et complexe. C'est à partir de ce double socle et d'une réelle réflexion personnelle, engagée, qu'il a développé le vocabulaire innovant qui caractérise son travail.
Mega Mingiedi, a visual artist, is animated by a freedom of spirit in his creations. Born in Kinshasa, a city characterized by a kind of survival instinct in daily life, and a unique accentuated imagination in his way of seeing life, the city and the world.
His drawings, collages, graffiti, installations and many other expressions engage him and give him a language and a position in the art world.
Born in 1976 in Kinshasa, Mega Mingiedi graduated from the Kinshasa School of Fine Arts, then from the Haute Ecole des Arts du RHIN, twinned between Strasbourg and Mulhouse. Mega Mingiedi has introduced the concept of artistic residences into his work as a mode of creation that allows him to isolate himself, to create and to observe with hindsight the stories and facts of society.
Co-founder of the EZA POSSIBLES collective in Kinshasa, he has participated in numerous exhibitions and residencies in several countries around the world.
This openness - and capacity for dialogue - is the result of extensive studies in the plastic arts, first at the Academy of Fine Arts in Kinshasa, where the artist acquired the rigour that characterises his style, and then at the Higher School of Decorative Arts in Strasbourg, where he was exposed to a whole range of approaches - scenographic, performative, cartographic - which provided him with a conceptual basis that was both solid and complex. It is from this double base and a real personal, committed reflection that he has developed the innovative vocabulary that characterises his work.
Jaguar Ntumi