Sunday 10 July
from 14:00 CEST until 12:00 noon on Monday 11 July
"Spare compared to Poème Symphonique, and, as a consequence, more dynamic. Anomalous bells and dings make guest appearances and ring over the usual ticking suspects: the rhythmic foundation: the thuds in the wood. Spring-loaded fever with disco sensibility. Polyrhythmic paradise. The resort is captivating, in spite of its must, like an esoteric library or a dime museum. One could stay in this showroom forever, zoning out on the fathers of time, occasionally catching a glimpse at an endangered species." *
There is something uniquely hypnotic about the constantly shifting polyrhythmic ticking of a room full of clocks. I first became aware of this when I randomly encountered my first clock workshop in Derry, Northern Ireland. As someone who finds the sound of a single clock ticking in a room unbearable I was surprised at how, en masse, a collection of clocks ticking together was both oddly restful and intensely engaging. After much intense listening, I am still unsure if I am perceiving micro-shifts in the timings between clock mechanisms that make them slip in and out of phase with one another or if this is entirely a phenomenon of my fluctuating focus and attention.
Keeping Time is a meditative radio work that focuses on our perception of the passage of time and how time is measured. The piece is comprised of three different elements that alternate throughout the piece.
The main component is a series of durational field recordings made in several different clock repair workshops or clock showrooms around the UK and beyond. Some are unattended overnight recordings with no human presence, others have been captured whilst the shops are open and include the sound of any of the daily activities that entails.
The second element is a kind of 'radio clock' painstakingly made from 3,600 individual percussive sound samples recorded by myself to create every tick of the second hand in an hour-long period. These percussive sounds were made using a vast assortment of improvised beaters, surfaces, everyday objects, and instruments, and each sound is unique. Additionally, home-made chimes and strikes played on pots and pans sound on the hour and quarter hour.
The final component is a series of short, semi-documentary, radio pieces featuring close-up recordings of individual clocks from various workshops, winding, repairs, clock demonstrations, and conversations with some of the many horologists who generously gave up their time for this project, beginning with one simple question – "How does your occupation affect your perception of time?"
All of these segments are punctuated by recordings of hourly chimes from public clocks in towns and cities around the world drawn from my personal archive of field recordings played back on a Dictaphone.
Recordings were made with the following Horologists in their workshops:
Tony Nuttall, Cumbria Clock Restoration, England.
Kenneth Chapelle, Antique Clock Restorer, Glasgow, Scotland.
Unknown clock workshop, Derry-Londonderry, Northern Ireland.
Dalibor Lebarović, Urar Dalibor Lebarović, Zagreb, Croatia.
Brian Cathcart, Clyde Clocks, Clydebank, Scotland.
Lucas Marijnissen, Lucas Clocks, Edinburgh, Scotland. 
Jon Reglinski, James Ritchie Clockmakers, Edinburgh, Scotland. 
Uhren Museum, Vienna, Austria.
* Rick Weaver on 'The Clock Showroom' – an earlier incarnation of 'Keeping Time'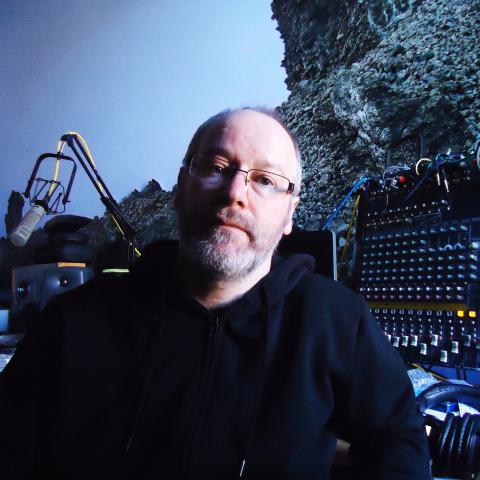 Mark Vernon is a Glasgow-based artist who explores concepts of audio archaeology, magnetic memory, and nostalgia through his sound works. At the core of his practice lies a fascination with the intimacy of the radio voice, environmental sound, obsolete media, and the reappropriation of found sounds. A rich collection of domestic tape recordings; audio letters, dictated notes, answer-phone messages and other lost voices often find their way into his unorthodox soundworlds. These diverse elements are distilled into radiophonic compositions for broadcast, fixed media, installations, and live performances.
A keen advocate of radio as an art form, he co-runs and curates Glasgow's art radio festival, Radiophrenia. He has produced award-winning programs for stations including Resonance FM, VPRO, Sound Art Radio, Radio Revolten, Deutschland Radio Kultur, Radio Cona, Kunstradio, Wavefarm, RADIA, and the BBC. His solo music projects have been published through labels including Kye, Glistening Examples, Canti Magnetici, Flaming Pines, Misanthropic Agenda, Entr'acte, Gagarin Records, Psyché Tropes, and his own meagre resource imprint.