Sunday 11 September
from 14:00 CEST until 12:00 noon on Monday 12 September
LokaalRaadio
The Dreamer Falls Asleep
LokaalRaadio (LR) as the team of Katrin Essenson, Hello Upan and Raul Keller are presenting a radio piece that sets up a generative sound machine, based on a modular synthesizer, which acts as a counterpart to their creativity, synthesizing a long meditative dreamscape with a duration of 22 hours. In their vision, the modular system, which is called The Dreamer is stimulated by the team with snippets of text and sound, not unlike a person is stimulated by reality which he or she synthesizes into a dreamscape while asleep. So in a way this is assisted dreaming, but one that is not entirely controllable by neither party. LR monitors the sleep and in turn is stimulated by the sonic output of The Dreamer to fall into and out of dreamlike states themselves during the generative phase of the piece.
LR based the concept here on the sleep cycle of the Australian Koala, which takes up to 22 hours in a day to sleep and digest the toxins within the leaves of the Eucalypt tree which make up its diet. Futhermore as we culturally travelled into the faraway (from us) territory - we are making a connection to the complex and fascinating concept of The Dreaming - a force of creation and relationship to Earth and the Universe by the Aboriginal people of Australia. The Dreamer will be a longstanding creative partner of LokaalRaadio after the inaugural radio piece.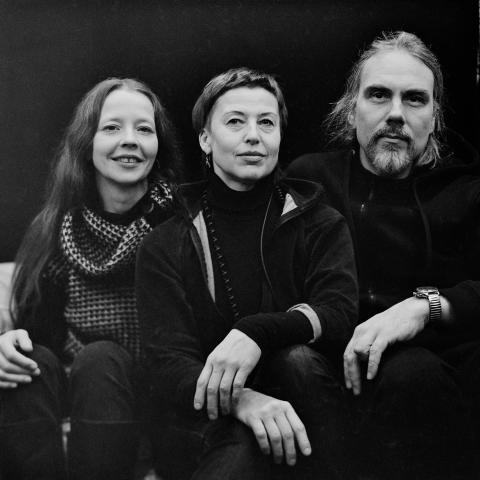 Katrin Essenson (1973) works in he field of performing arts. Her works have been focused on observing and modyfing the body phenomena as the experience of being human. Being continually interested in fine line of perception between autobiographical and fictional. She is also working with other mediums like sound and moving images. Katrin Essenson is living and working in Tallinn and has been creating performances since 1998. Educated in Tallinn University choreography department (BA) and studied Interdisciplinary Arts (MA) in the Estonian Academy of Arts. Focused in the field of inter- and transdisciplinary arts or in other words research based art, she is initiator and active member of LokaalRaadio and NGO Kirbutsirkus.
Raul Keller (1973) is an Estonian contemporary artist with a career spanning more than 20 years with focus on site-specific sound installation and performances, free impro and radiophonic art along with visual media such as photography, film and video. His activities are heavily influenced by conceptual and processual framework, location specific sound, performances and support for DIY-practises and critique of institutional power structures. He has been involved in a small experimantal record label MKDK records since 1998 and has given performances and experimental shows with LokaalRaadio since 2007 (with Katrin Essenson, Hello Upan), as noise duo Post Horn (with Hello Upan) as an alter ego Paul Cole and moondur. His works and performances have been exhibited in countries throughout Europe, Iceland, UK, Brazil, India. Keller lives and works in Tallinn, Estonia.
Hello Upan (1977) has since the 2000s been involved in experimental sound improvisation in numerous music projects, groups and contemporary dance and theatre performances. In recent years her main sonic output has been tied to her project Heliokuup, with free noise impro group Post Horn (with Raul Keller) and lo-fi experimental rock duo Hello Killu (with Killu Sukmit). She is a member of LokaalRaadio with Katrin Essenson and Raul Keller and has participated in the groups activities both locally and abroad with radiophonic pieces and live performances.