Sunday 14 August
from 14:00 CEST until 12:00 noon on Monday 15 August
Jogi Hofmüller
Satellite Concert
---
LIVE PERFORMANCE
You are invited to visit the Apdikt, behind the Bridderhaus, 1 Rue Léon Metz, 4238 Esch-sur-Alzette, to experience this live show between 14:00 - 16:00 and 20:00 - 22:00. Free entry.
---
Since the days of Sputnik we have been accompanied by artificial satellites. For various purposes small and larges machines silently circle the earth in their orbits, performing the assigned task until one day the batteries run out, the reactor stops working or everybody loses interest in what ever they are doing. Nevertheless they still stay on their assigned path and the higher they started the longer they will take until they finally reach the denser part of earth's atmosphere where they mostly evaporate.
Satellite Concert is a live sonification of every satellite whose radio signal could theoretically be received from Esch during the 22 hour period of the show. Together all the satellites form an invisible orchestra, each playing their part for the few minutes it takes them to cross the sky above us before fading away again.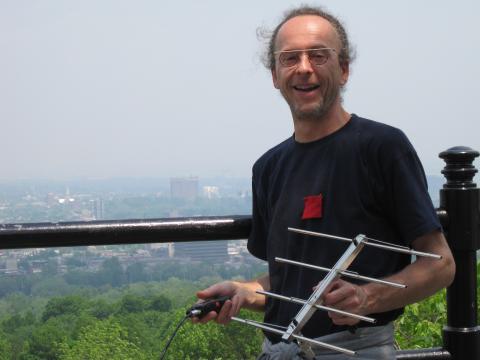 Jogi Hofmüller
Computer scientist, political activist, artist. Lives and works in Graz/Austria. Currently working for Graz University of Technology. Running plagi.at and hofos.at together with Reni Hofmüller. Artistic work in different media. Cofounder of Radio Helsinki. Cofounder and President of mur.at.