Sunday 17 July
from 14:00 CEST until 12:00 noon on Monday 18 July
Leandro Nerefuh & Caetano & Libidiunga
CLÓVIS HORIZON - buraco da minhoca
---
LIVE PERFORMANCE
You are invited to visit the Bridderhaus, 1 Rue Léon Metz, 4238 Esch-sur-Alzette, to experience this live show. Free entry.
---
CLÓVIS HORIZON explained through an interpreter: in mainstream US-centric archeology, the CLOVIS have been (wrongly) identified as an ancient hunter-gatherer society that roamed the territories currently known as the Americas. The "Clovis First" theory sustained that a group of sapiens denominated "Clovis" crossed the bering strait (beringia) following mammoth game, accidentally becoming the first inhabitants of the continent. Those archeologists claimed that all indigenous peoples of the territories now known as the continental America (from south to north) find a single descendant in the Clovis Culture. Their theory was backed up by uncalibrated radiocarbon tests, dna tests, and types of spear points officially dubbed "Clovis technology", found in archeological sites close to present day New Mexico. But we know better. The "Clovis first" is an absurd theory. LOLing! The peopling of the territories so- called `Americas`` did not occur in one single spatial-temporal flow. Multitudinous living beings, including humans, have been coming and going to those territories through different dwelling paths by land, river flows, airstreams, seaways and portals. Far from being the primeval "Americans" (Amaru-Kans), the CLOVIS are interstellar personalities who ride on Astral-Causal energy. They are entities of a cosmic nature. The CLOVIS are Solar Worshippers, and Guardians of the Sun. They travel far and wide across the universe, including the earth, which they have been visiting for millenia. Thus, inapt and confused western archaeologists have considered them to be the first inhabitants, the anthropocentric horizon of the Americas. The CLOVIS are among the first great astronomers, astrologues and cosmic poets. They move on the solar fluids and electromagnetic waves of the earth-Sun axis and beyond. That said, they will be all too glad to join Radio Art Zone and tune into frequencies, modulations, waves, and vibrations among all thinking spirits. In this grandiose rotation without beginning and end, universal matter communicate by any means necessary.
CLÓVIS HORIZON - buraco da minhoca, will take place in real time; open and free to all curious dwellers, and broadcast live via radio waves.
The CLÓVIS would like to thank their member Cecilia Lisa Eliceche, and young members Luan Nima Raio and Toya.
Artists in residence at Kunstenwerkplaats Pianofabriek, Brussels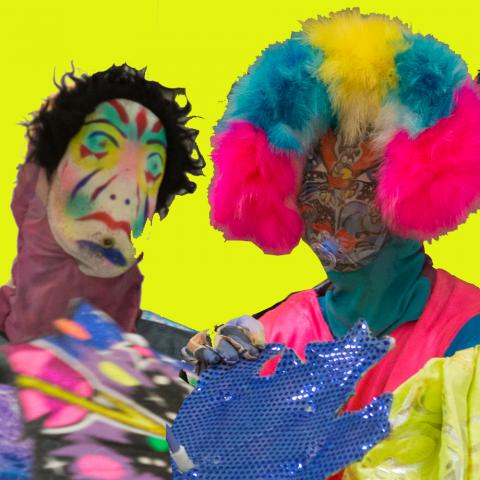 Leandro Nerefuh é perambulero, costureiro, poeta e construtivista tabaréu. Nerefuh is a visual artist/researcher who has had some chance encounters with Radio Art, with special mention to a collaboration with Mobile Radio BSP, for the 30th Sao Paulo Biennial. He feels fortunate to be a serviteur (to be at the service) of the CLOVIS Culture.
Diving in from a pan dimensional shutter through Caetano's body will be the energy of chaotic experimentation with no ties to logic. Their physical body was born on Waning Gibbous Moon in 1980 and has been involved with physical computing, developing Radical Software for people's body awareness.
Libidiunga is an originary member of the Clovis Culture.