Sunday 18 September
from 14:00 CEST until 12:00 noon on Monday 19 September
Glossolalia or "speaking in tongues", is a practice in which someone utters words or speech-like sounds, in languages which are unknown to him or her. In linguistics or psychiatry it means the fluid vocalizing of speech-like syllables that lack for the listener a comprehended meaning. Some religious practices, as Pentecostal or Charismatic Christianity use so-called "divine" language in rituals and "speaking in tongues" is common in Buddhism, Christianity Haitian Vodou, Hinduism, Islam, Wicca, or Southeast Asian, African, and Native American traditions. It is a vocal associated behavior connected to an altered state of consciousness, caused by the control of a human body and mind by spirits, ghosts, or demons.
The project consists of approximately 19 chapters about voice, language, biodiversity, disappearing languages, and the ongoing process of vanishing (or transformation) of complex human and animal realities and feelings we are currently witnessing. There is an Inuit word Iktsuarpok, for the feeling of anticipation when you're expecting someone that leads you to constantly check to see if they've arrived, while hiraeth is a Welsh word that reflects a type of longing for the homeland or the romanticized past. The Japanese word komorebi refers to the sunlight that filters through the leaves of trees, while the Yaghan word mamihlapinatapai describes the wordless, meaningful look shared by two people who both want to initiate something, but are reluctant to do so. In the last part you can hear a phrase of a modern artificial language. It was devised in 1887 as a tool for increasing mutual understanding and peace within western civilisation. The structure of Esperanto was based on the chief European languages, and structured in a way it follows the logic, grammatical regularity and ease of pronunciation.
I tried to collect a flow of available voice recordings, which show the musical richness of human voices, languages and dialects. Some of those languages still live, most are already absorbed by English, many exist only as historical records. The sound collage includes vocalisations of animals, which have been a natural part of human soundscapes since the beginning of mankind. The main resource was The Rosetta Project, provided as open source by the Internet Archive and by Long Now Foundation. Rosetta Project  is a global collaboration of language specialists and native speakers working to build a publicly accessible digital library of human languages. An online database of language recordings assembled by the ethnomusicologist Alan Lomax (1915 –  2002), encompasses approximately 600 recordings of languages from around the world. The recordings were made primarily in the 60's and 70's by Lomax and by different linguists around the world. It should serve as raw material in Lomax's Parlametrics project, a "comparative study of conversational style" which is today in the collection of the Library of Congress. The sonic environment of this radio piece is composed from different items stored in my sound archive of soundscapes and events I have been recording since 2002. I included fragments of the latest talk with my father, field recordings by Felix Blume, Michal Kindernay, Jaroslav Kořán, and recordings from radio aporee.
 
During the night as a bonus feature, you can hear a few hours of In the Air We Share, a radio installation by Sarah Washington at the Roter Turm in Halle (Salle) for Radio Revolten in 2016. It is a chance-based piece composed of multilingual words and phrases which recall profound transcendental experiences.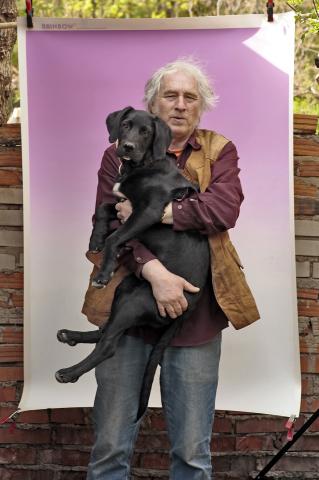 photo credit: Jiří Thýn