Sunday 24 July
from 14:00 CEST until 12:00 noon on Monday 25 July
Echo Roe
Sounds Like Teen Spirit Radio
​​​​​​Sounds Like Teen Spirit Radio is a conceptual time capsule of American teenage life in the present day, with an emphasis on the number 22.
Using the American Top 40 list of most popular songs as a reference, Roe selects 22 songs from February 2022, and transforms the content by extending each to one-hour in duration in order to create an unrecognizable, yet strangely familiar soundbed for this durational radio artwork.
Layered on top, and throughout Sounds Like Teen Spirit Radio, are field recordings from the daily life of an American teenager.
Songs slowed: 

 

Need To Know, Doja Cat 

Heat Waves, Glass Animals 

Easy On Me, Adele 

STAY, The Kid LAROI, Justin Bieber 

THATS WHAT I WANT, Lil Nas X 

Ghost, Justin Bieber 

Shivers, Ed Sheeran 

abcdefu, Gayle 

Better Days, NEIKED, Mae Muller, Polo G 

INDUSTRY BABY, Lil Nas X & Jack Harlow  

One Right Now, Post Malone & The Weeknd  

Oh My God, Adele  

Meet Me At Our Spot, THE ANXIETY feat. WILLOW & TYLER COLE  

Cold Heart, Elton John & Dua Lipa  

Smokin Out The Window, Bruno Mars, Anderson .Paak, Silk Sonic  

Message In A Bottle (Taylor's Version), Taylor Swift  

Do It To It, ACRAZE feat. Cherish 

Woman, Doja Cat  

Sacrifice, The Weeknd  

Happier Than Ever, Billie Eilish 

For Tonight, Giveon 

Bad Habits, Ed Sheeran 
Field recordings: 
Restaurant sounds from The Standard (Albany, NY) 
Bans Off Our Bodies Rally at the Upper Hudson Valley Planned Parenthood (Hudson, NY) 
10th Grade Global Presentation at Cairo-Durham High School (Durham, NY) 
Nail appointment at Tranquility Nails (Kingston, NY) 
Tutoring session at Greater Hudson Promise Neighborhoods (Hudson, NY) 
Academic Award Ceremony at Cairo-Durham High School (Durham, NY) 
Ambience, Billie Eilish concert at Madison Square Garden (New York, NY)
Reveil 2022 organized by Soundcamp, the sounds of daybreak at Wave Farm (Acra, NY) 
Pond Station by Zach Poff, transmissions from inside a Wave Farm pond  (Acra, NY) 
Weather Warlock by Quintron, live stream of an analog drone synthesizer played by the weather at Wave Farm (Acra, NY) 
Traffic Saxx by Quintron transforms the white noise of passing tire traffic on NY Route 23 at Wave Farm (Acra, NY)  
Here GOES Radiotelescope by Heidi Neilson and Harry Dove-Robinson an audio imagining of space weather data in real-time from the NOAA satellite GOES-16 hosted at Wave Farm (Acra, NY)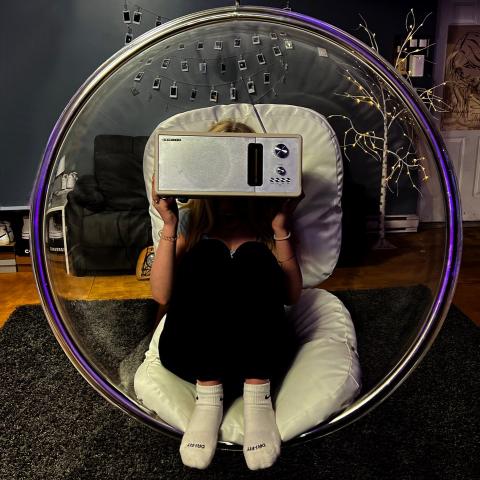 Echo Roe is a student at Cairo-Durham High School in upstate New York, class of 2024. She has been immersed in experimental radio environments since birth. (Her parents founded Wave Farm in New York's Upper Hudson Valley.) As an elementary and middle-schooler, Roe hosted two different recurring half-hour radio shows on Wave Farm's WGXC 90.7-FM. "Radio Camp" (2014-2016) was a weekly youth radio program focused on the act of radio making and experimenting with sound. "EchoSystem" (2017-2018) was a weekly live broadcast where friends came together to talk, learn, and experiment with sound, music, and radio live from the Wave Farm studio in Acra, NY.