Sunday 24 July
from 14:00 CEST until 12:00 noon on Monday 25 July
Echo Roe
Sounds Like Teen Spirit Radio
​​​​​​Sounds Like Teen Spirit Radio is a conceptual time capsule of American teenage life in the present day, with an emphasis on the number 22.
Using the American Top 40 list of most popular songs as a reference, Roe selects 22 songs from February 2022, and transforms the content by extending each to one-hour in duration in order to create an unrecognizable, yet strangely familiar soundbed for this durational radio artwork.
Layered on top, and throughout Sounds Like Teen Spirit Radio, are field recordings from the daily life of an American teenager.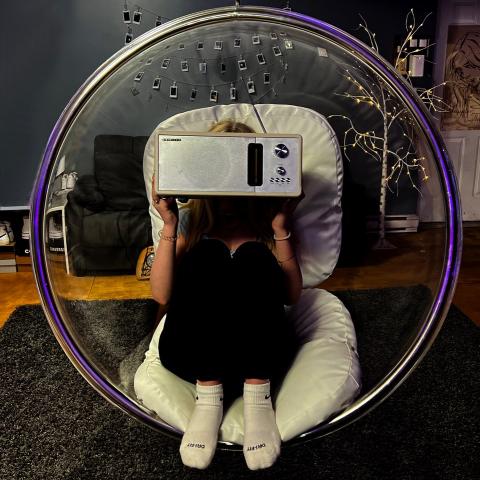 Echo Roe is a student at Cairo-Durham High School in upstate New York, class of 2024. She has been immersed in experimental radio environments since birth. (Her parents founded Wave Farm in New York's Upper Hudson Valley.) As an elementary and middle-schooler, Roe hosted two different recurring half-hour radio shows on Wave Farm's WGXC 90.7-FM. "Radio Camp" (2014-2016) was a weekly youth radio program focused on the act of radio making and experimenting with sound. "EchoSystem" (2017-2018) was a weekly live broadcast where friends came together to talk, learn, and experiment with sound, music, and radio live from the Wave Farm studio in Acra, NY.