Sunday 26 June
from 14:00 CEST until 12:00 noon on Monday 27 June
Handa Gote
Control Room 69
Is a remix of several pre-recorded programs and sonic realities: mainly musique concréte, drone and post-industrial soundscapes, outsider music jam sessions, field recordings, and electronic manipulation with various obsolete media.
Members of Handa Gote group inspect their physical and virtual archives and look for the inspiration in their storage place, called Control Room 69 (Velín 69 in Czech language).
It is filled with various items related to media archeology and a huge collection of obsolete media.
They inspect and record vinyls, audio cassettes, magnetic tapes, wax cylinders, and various kinds of old digital media, sound objects, and machines.
They use lo-fi equipment, like a crystal or coal microphones and multitrack tape machines, as well as modern digital technology. 
Handa Gote remixes their archives, virtual and physical ones.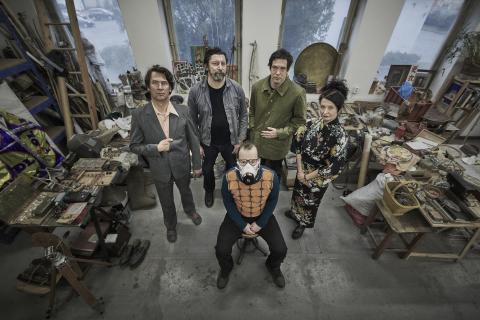 Handa Gote research & development
The group was founded in 2005 in Prague as a conceptual post-dramatic theatre, working with object theatre, sound installations, physical and dance theatre, live music, visual art and media archaeology.
The group's work is influenced by minimalism, Eastern philosophy and the DIY movement. It mixes Czech unique tradition of DIY, recycling of objects and technologies and inspiration from the aesthetic categories of Wabi/Sabi and Mono no aware. Their inspiration is often found beyond the theatre and leads to the world of science and technology. The documentary aspect of their performances is often the starting point for contemplative stage images. The group is often inspired by the culture of pre-technical civilization and nature. This does not create a contradiction for their artistic use of any kind of modern or outdated technologies.
Handa Gote is the Japanese term for soldering gun.
 
Handa Gote 2022:
Veronika Švábová
Jan Dörner
Jakub Hybler
Tomáš Procházka
Jonáš Svatoš
+ friends:
Jára Tarnovski
Ken Ganfield
Georgij Bagdasarov
Michal Cáb
Pasi Mäkela
Michal Zbořil
Vojtěch Procházka
David Freudl