Sunday 3 July
from 14:00 CEST until 12:00 noon on Monday 4 July
Buried Salt proposes to the listener a shifting palimpsest, hovering landscapes, subterrânean sonorous itineraries with or rather against histórical and personal narratives intertwined with radio randomness.
It builds collectively on a contiguity between dissolving and reconfiguring maps, bringing unresolved  "Perec" rabbit holes within spaces, memories, and spirals from unpredictable winds which whisper among stones.
Sebald said, "We learn from history as much as a rabbit learns from an experiment that's performed upon it."
Combining and assembling numerous and fragmented audio practices, experimental sonic flows, personal archives, collaborations, aphorisms, field recordings, astray frequencies, and voices, maybe it sketches to attempt tangibly a crossover through the disorder of history, deterritorialized landscapes, and architectural stuttering vocabularies, always unfixed, lapsed,  intersecting multiple spatial and locative awareness.
The randomness of spaces invites a  discontinuity of geographies, disconnected or juxtaposed movements dissoluted voices, bring together not only fragmented or interrupted epiphanies, as a miasma of shadows, a "history of countless places and objects which themselves have no power or memory" and dive into dissolution, erasure, disappearance.
A drowning, a falling bridge, a fire in the forest, deathly torture of an immigrant.  Never explicit, as if captured a few seconds after, melted with a background history of colonialism and deaf, unspoken repression, silencing.
Collaboration and participation by
Marco Scarassatti, André avelãs, Virgílio Oliveira, Itamar Alves, Paulo Chagas, Skavek Kwi, João Callixto, Alexandre Ovídio, Silvia Coelho, Jaime Leal, Philip Petit, Virgílio Oliveira, Joana de Sá, Steve Peters, Paula Neves, Emanuel Mielville, Philip Petit, Beatriz Sampaio, Fernando Fadigas, Patricia de Andrade, JL Maire, Skavek Kwi, Line Horneland, Yannick Dauby, Rodrigo Gobbet, Darius Ciuta and others.
Title picture by jgrzinich.
Others by Silvia Coelho, Radio Revolten, and gentle Anonymous.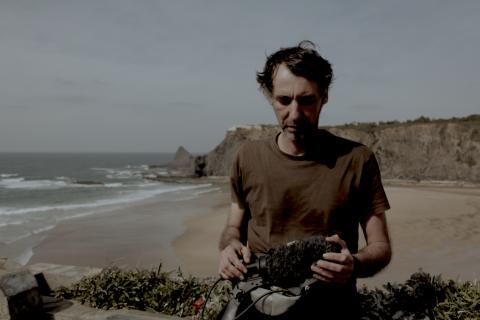 Paulo Raposo is a sound artist, curator, radio producer and occasionally film-maker based in Lisbon, Portugal. He started working on the early nineties in the medium of live electronics, computer music, field recordings, code writing, and exploring intersections of different media, performing, recording and exhibiting works in Europe, Middle East and United States.
His work spans across different sound investigations including intertwining public and private spaces, natural soundscapes, audio-visual environments and radio works that explore multiple relationships and displacements between digital process and architectural spaces, using custom-built software to create abstract and delicate sound works.
As co-director of RadiaLx – International radio festival in Lisbon, he commissioned thousands of hours of radio art from around the globe, and w Sirr  promoted challenging experimental sound art, publishing and bringing forward more than one hundred challenging sound artists.