Sunday 4 September
from 14:00 CEST until 12:00 noon on Monday 5 September
Martha Regueiro
Tree of lifes / L'Arbre de vies
Tree of lifes
For this radio creation, I wanted to work on the symbolism of the number 22. Twenty-two, it is not only the duration in hours imposed for the realization of this work. To give it life, or rather meaning, I was inspired by Kabbalah. Indeed, according to the esoteric and symbolic Jewish interpretation of the Bible, there are 22 paths that lead to the Tree of Life.
So I imagined the Tree of Life as the finality of our existence, that is to say, in my opinion, the acquisition of certain wisdom through the understanding of the world around us. To achieve this, we all choose a different path, hence my desire to offer 22 portraits of different ages, 22 life instincts, 22 different perceptions.
Illustration / artwork: Alexia Bertholet
Musique originale / Original music : Nicolas Grombeer
L'Arbre de vies
Pour cette création radiophonique, j'avais envie de travailler sur la symbolique du chiffre 22. Vingt-deux, ce n'est donc pas seulement la durée en heures imposées pour la réalisation de cette œuvre. Pour lui donner vie, ou plutôt sens, je me suis donc inspirée de la Kabbale. En effet, selon l'interprétation juive ésotérique et symbolique de la Bible, il existe 22 chemins qui mènent à l'Arbre de vie.
J'ai donc imaginé l'Arbre de vie comme la finalité de notre existence, c'est-à-dire selon moi, l'acquisition d'une certaine sagesse à travers la compréhension du monde qui nous entoure. Pour y parvenir, nous choisissons tous.tes une voie différente, d'où mon envie de proposer 22 portraits à des âges divers, 22 instincts de vie, 22 perceptions différentes.
Illustration / artwork: Alexia Bertholet
Musique originale / Original music : Nicolas Grombeer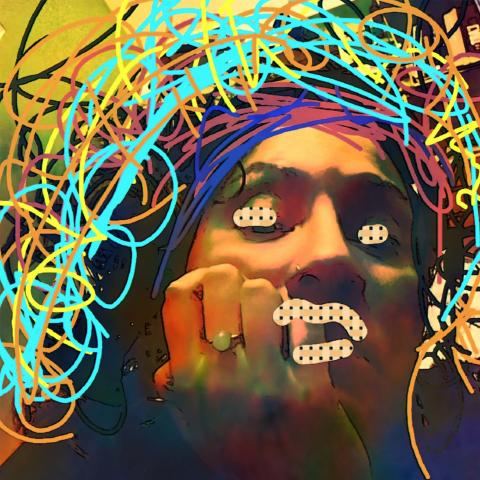 Specialized in the written press, Martha Regueiro worked on various publications before being hired by 48FM. Within this university and associative radio station, she develops various projects. This new function especially allows her to discover a real passion for sound creation. An artistic field with multiple possibilities, she has since continued to explore them one by one. In 2016, she co-directed with Gaëtan Lino, the documentary "Boom bap sur Meuse. History(ies) of hip hop in Liège from 93 to 2016" for which they received the SudFo prize. She then embarked on more personal projects that combine creation, storytelling and journalistic tools. She thus plays with the form and different levels of reading offered by the work of sound, as in her "Sound Visions". 2021 marks an important turning point in her artistic career as she joins the Radio Art Network of the Greater Region. A decisive turning point which allows her to meet incredible artists, but also to create and perform with them. A real creative breath, between learning and surpassing oneself, which makes her want to explore other forms and musicalities as for "The Tree of Lifes" proposed for the Art Zone project (Esch 2022, European Capital of Culture). For this work, she is also surrounded by the beatmaker Nicolas Grombeer.
Nicolas Grombeer is a producer, composer and has been performing as a DJ on the Belgian scene for ten years. Self-taught, he has refined his knowledge of sound over time, following various training courses in the field of production and digital audio. His career is punctuated by very diverse artistic projects ranging from hip-hop to house, through the sound design of audio-visual productions. He held the position of keyboardist in the pop band La Plage (2012-2018). He continues his work as a sound engineer and producer with various groups and artists such as Les Anonymes, Indocile, Kaer & Akro (Starflam) Illbe or Mini Sultan. In 2021, he decides to focus on writing and composing his first solo album under the name Nicola Debahia which should be released at the end of 2022.
Spécialisée en presse écrite, Martha Regueiro collabore à différentes publications avant d'être engagée par 48FM. Au sein de cette radio universitaire et associative, elle développe différents projets. Cette nouvelle fonction lui permet surtout de se découvrir une véritable passion pour la création sonore. Un champ artistique aux multiples possibilités, elle ne cesse depuis de les explorer une à une. En 2016, elle co-réalise avec Gaëtan Lino, le documentaire "Boom bap sur Meuse. Histoire(s) du hip-hop à Liège de 93 à 2016" pour lequel ils reçoivent le prix SudFo. Elle se lance ensuite dans des projets plus personnels qui mêlent création, récit et outils journalistiques. Elle s'amuse ainsi avec la forme et les différents niveaux de lecture qu'offre le travail du son comme dans ses "Visions sonores". 2021 marque un tournant important dans son parcours artistique puisqu'elle intègre le Réseau d'art radiophonique de la Grande Région. Un tournant décisif qui lui permet de rencontrer des artistes incroyables, mais également de créer et de performer avec eux. Un véritable souffle créatif, entre apprentissage et dépassement de soi, qui lui donne envie d'explorer d'autres formes et musicalités comme pour "L'Arbre de vies" proposée pour le projet Art Zone (Esch 2022, Capitale européenne de la culture). Pour cette œuvre, elle s'est d'ailleurs entourée du beatmaker Nicolas Grombeer.
Nicolas Grombeer est producteur, compositeur et se produit comme Dj sur la scène belge depuis une dizaine d'années. Autodidacte, il a affiné ses connaissances du son au fil du temps, en suivant divers formations dans le domaine de la production et de l'audio numérique. Son parcours est jalonné par des projets artistiques très divers qui vont du hip-hop à la house, en passant par le sound design de productions audio-visuelles. Il occupait la place de claviériste au sein de la formation pop La Plage (2012-2018). Il poursuit son travail d'ingénieur du son et de producteur avec différents groupes et artistes tel que Les Anonymes, Indocile, Kaer & Akro (Starflam) Illbe ou encore Mini Sultan. En 2021, il décide de se concentrer sur l'écriture et la composition de son premier album solo sous le nom Nicola Debahia qui devrait paraître fin 2022.