Thursday 1 September
from 14:00 CEST until 12:00 noon on Friday 2 September
Marie Gavois & Michel Klöfkorn
Do you hear this picture¿
---
LIVE PERFORMANCE
You are invited to visit the Apdikt, behind the Bridderhaus, 1 Rue Léon Metz, 4238 Esch-sur-Alzette, to experience this live show on Thursday from 16:00-19:00 and on Friday from 10:00-12:00. Free entry.
---
If you are into fragmented sounds, unfinished pieces of music, musicians tuning their instruments, adapting their style to a room (tone), preparing themselves to face another audience , sometimes nervous and tense or excited, funny or drunk, playful and highly concentrated, who are all great artists, and you consider sound checks themselves musical works…
Then you are going to love: Gavois Klöfkorn's presentation of a musical radio piece made from soundchecks;
an intimate glance behind the scenes, another angle on music-making and concerts from over 70 soundchecks by bands, ensembles, musicians, artists, and composers.
Making use of the microphones like others would use video cameras; Gavois and Klöfkorn carefully choose what to record, and time when and how they change the angles and physical perspectives of their recordings. Picking up details like fingers drumming on the keyboard of an organ, or the sound of a pick flicking across the strings of an un-plugged electric guitar, seagulls attacking trombones, and other ambient sounds merging and complimenting the acoustic environment beyond the instruments and musicians.
The recordings were made at more than 70 soundchecks by bands of all kind, in venues from; open air festivals, pedestrian tunnels, boats, punk clubs and concert halls. Across Europe in D, B, NL, SE.
Broadcast timetable
September 1, CET
14:00 Blanco Teta
14:16 Schlammpeitziger
14:20 Sascha Brosamer
14:45 De Stoeltjes
14:56 Stina Fors
15:10 Moral Bombing — Cryptborn Horror
15:27 Tintin Patrone
15:33 Converge
16:13 Leslie Graves — Toby Goodshank — Ben James — Wood Boo Hoo
16:33 Sofia Jernberg & Resonanz Ensemble
17:17 Mouse on Mars
18:06 Rotterdam Presenta
18:36 Les Marquises
19:00 Lightning Bolt
19:30 Laila Sakini
19:53 The Bat Effect Rym Nouioua & Sascha Brosamer
20:11 Moor Mother Olof Melander
20:31 Nuances d'engrais SexToysNoise
20:43 Fatigue Suspecte
21:00 Horse Lords
21:21 Das Kinn Hildegard von Binge Drinking
22:23 J. Zunz
23:04 Dezeffe — Moineau Ecarlate — Somaticae — Stakattak
September 2 CET
00:01 Begayér — Sourdure
01:02 Rosa Vertov
01:35 Zbigniew Chojnacki
01:53 Nika Son
02:17 Tolouse Lowtrax
02:36 Deutzer Brücke
0301 Julia Bünnagel
03:37 Bloedneus & de Snuitkever
03:45 There Are No More Four Seasons
03:57 Marc Alberto — João Orecchia
04:19 Planet Maus
05:10 Hard Rock Festival
05:56 Wedding Party
06:30 Panda Fort
06:23 Daniel Voigt
06:54 Echo Ho
07:01 Senyawa
07:22 Arrington d'Dionyso
07:44 Quartabé
08:13 Achim Zepezauer
08:22 Maria Portugal —Udo Moll — Luis Negron
09:05 Hard Boiled Wonderland
09:32 Midi
09:45 Nina de Heney — Isidora Edwards — Frauke Berg — Timo Hein
10:09 RE Loré Lixenberg, George Kentros, Mattias Petersson
10:21 Tintin Patrone
10:28 Joss Turnbull — Sharif Sehnaoui
10:43 Seppe Gebroeurs
11:00 Ståle Storløkken
11:23 Duma
°°°°° Thank you, all artists, organizers, bookers; Intonal Malmö, Roberto N' Peyre Fylkingen Stockholm, Tommy De Nys Kultur-A Liége, Joe Hatt Qu Junktions, Gavin Maycroft Fasching Stockholm, Schumannhalle Düsseldorf, Wolfgang van Ackeren Lokal Harmonie Duisburg, Bla Bonn, Sebastian Schwenk Moers Festival, Casper Munk Engelund MS Stubnitz Hamburg, Tinnitus Fastival, az Mülheim an der Ruhr, Torsten Kauke/ Georg Klein Waggon Offenbach am Main, Soundtripps NR, Salon des Amateurs, Achim Zepezauer Mex Appeal Dortmund, LOCH Wuppertal, Resonanz Ensemble Resonanzraum Hamburg, Monheim Triennale, Philharmonie Harleen, the crew at OCCII Amsterdam, Peter Daems Het Bos Antwerpen, Pavilion for Unheard Music Eindhoven, Yvonne McLean, Dock Zuid Tilburg, Musikgebouw, Amsterdam, Thea of Gifgrond Tilburg, Reiner Komers, Johanna Yasirra-Kluhs, Meryem Erkus Ebertplatzkonsert Cologne, Dennis Tyfus Bruismelk Festival De Nor Antwerpen, Halffloor, Volker Zander Brückenmusik Köln, Stefan Schneider Kunsthalle Düsseldorf, ∏Node.
°°The project is partly funded by Ministeriums für Kultur und Wissenschaft des Landes Nordrhein-Westfalen and Stiftung Kunstfonds.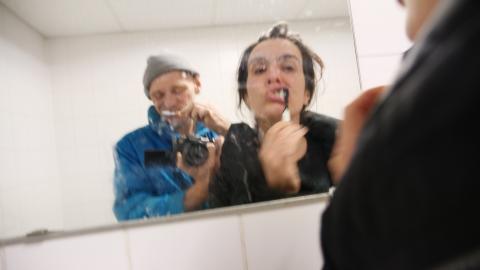 Marie Gavois and Michel Klöfkorn have been collaborating as a duo for the past 7 years. Gavois is a performance artist and producer, Klöfkorn a filmmaker and sound recordist. They have stayed in Stockholm, Gothenburg, Frankfurt, Gießen, Dortmund, Duisburg, Lagos, New York, and Cairo as artists in residency. Producing films, exhibitions, performances, lectures, and interventions.