Thursday 1 September
from 14:00 CEST until 12:00 noon on Friday 2 September
Marie Gavois & Michel Klöfkorn
Do you hear this picture¿
Gavois and Klöfkorn are two artists with a visual approach to sound and radio. Walking in sound.
We try to schedule our slot for Radio Art Zone according to local time zones around the world, CET, AST, AEST, FET...
Wake up in New York at 2 pm Esch time, to go to sleep an hour later in Jakarta. We have conversations around the world about passport stories together with a shark-watching drone pilot in Australia, a dancer in Belarus, and a transgender studies lecturer in Stockholm just to mention some. We speak German, Swedish, English, and French. Our mindsets are like strollers in endless suburbia. Our eyes are woke and we try to be alert. A supermarket fridge buzzing like locusts, or a tram in a traffic jam slowly crawling over a harbor bridge, the sound of industry zippers, 67 meters, interrupting a speech on the economy, squeaking car tires meet an opera singer, spoken word,  every day we are brushing teeth against fascism, sounds of  wet newspaper spread out on the pavement. Do you hear this picture¿
Effortlessly we move between wildsounds, dialogues, and musical compositions.
We start in our studio at the end of the new Silk Road.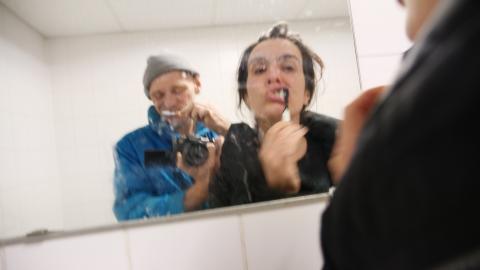 Marie Gavois and Michel Klöfkorn have been collaborating as a duo for the past 7 years. Gavois is a performance artist and producer, Klöfkorn a filmmaker and sound recordist. They have stayed in Stockholm, Gothenburg, Frankfurt, Gießen, Dortmund, Duisburg, Lagos, New York, and Cairo as artists in residency. Producing films, exhibitions, performances, lectures, and interventions.