Thursday 14 July
from 14:00 CEST until 12:00 noon on Friday 15 July
---
LIVE PERFORMANCE
You are invited to visit our studio in the Apdikt, behind the Bridderhaus, 1 Rue Léon Metz, 4238 Esch-sur-Alzette, to experience this live show between 14:00 and midnight. Free entry.
---
"A fog, massive, sumptuous, is stronger than the passage of a thousand angels. Recurring."

Etel Adnan, Sea and Fog (2012)
A radiophonic day and night composed live from listening and responding to signals within the long slender fog zone between Santa Cruz and Jenner on the northern California coast. Existence here is shaped deeply by the marine layers and tule fogs that water the land and flow over and into its contours. Ancient coastal Redwood trees grow only as as far as the fog rolls ashore, and in the absence of rain for many months of the year the fog is the only source of water. Particularly during the summer months, the coast is deeply buried in daily fog. Yet as the climate crisis brings drought and wildfire to this area, the fog is also receding. Without the fog, the land will be transformed to a more sere, harsh place. As Etel Adnan also writes: "We believe in the uniqueness of these times as in the originality of this sky."
The fog is no more a container than radio is a cup to be filled with programming. A medium is not merely a conduit for moving content; a medium might be understood in the multiple senses of conveyance, expression and cultivation. Land, sea and air combine as fog. Similarly, tune in to listen to the radio as it carries across from the Pacific coast to inland Esch and beyond, bringing all manner of signal activity from foghorns, raven calls, coyotes, pedestrian signals, harbour communications, redwood forest and chaparral, sounds from the burn scar of summer fire, air-to-ground chatter, owl calls and the dry continuous flirtations of spring insects.
Like refrains through these field recordings are stories and live performed compositions based on a 'score' crafted from forces observed at key points where fog and infrastractures meet, such as the narrows where the Pacific Ocean enters the San Francisco Bay. Based on cycling over the Golden Gate Bridge, I have assembled a list of forces characteristic of the bridge, such as the fog moving over and under the deck, the rhythms of car traffic, the intense buffeting wind that one leans hard into while cycling, pelicans surfing air currents overhead, railings that sing, and fog beacons and horns sounding on the nearby headlands. Throughout the 22 hour program, I will be live in studio in Esch, intertwining field recordings with performances of such observation-based scores in response to the real-time movement of the fog along the north coast based on satellite information, using my assembled instrumentation of electronics, voice, lung-powered boat horns and radio instruments.
Live performance by Anna Friz. All field recordings by Anna Friz together with associate recordists Gonzalo Galetto, Gabriel Saloman Mindel, and Abram Stern.
Gonzalo Galetto is an Argentine-born artist currently based in Santa Cruz, California, where he is pursuing a Ph.D. in Film and Digital Media at the University of California, Santa Cruz. His work explores listening practices, modes of attention, and the blurring of boundaries between human and more-than-human worlds through field recordings and multichannel sound and moving image installations.
Gabriel Saloman Mindel is a multidisciplinary artist who works in sound, text, visual mediums and socially collaborative forms. He is currently pursuing a Ph.D. in the History of Consciousness at UC Santa Cruz where he is researching the relationships between noise, protest and power.
Abram Stern (aphid) is an artist and scholar whose work operates on collections of government-produced media and metadata related to surveillance and its oversight, analyzing material produced by public bureaucracies while implicating the apparatuses of sense-making that makes this analysis possible. Abram is a Ph.D. candidate in Film and Digital Media at UC Santa Cruz.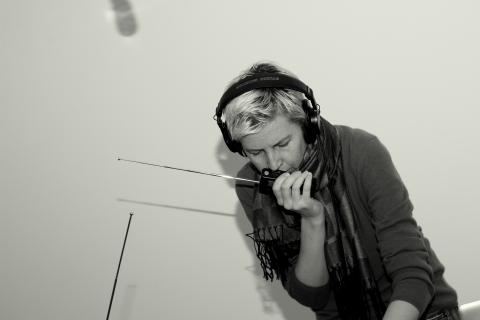 Anna Friz is a media artist and scholar, whose works often reflect upon media ecologies, land use, infrastructures, time perception, radio and transmission art histories, and critical fictions. Anna began making radio on CiTR FM Vancouver in 1993, and since then has created radiophonic works for extensive international broadcast, installation, or performance in more than 25 countries, where radio is the source, subject, and medium of the work. She is currently collecting her writings on radio and transmission art into a book, and will be installing "Solar Radio Wavefarm" (2022), a permanent site-specific installation created in collaboration with Peter Courtemanche, at Wave Farm transmission arts center in Upper Hudson Valley, New York. Anna is currently Associate Professor in Film and Digital Media at the University of California, Santa Cruz.