Thursday 15 September
from 14:00 CEST until 12:00 noon on Friday 16 September
Barbara Kaiser
Transitions - Stationen einer Klassenreise
Wechseln Menschen im Laufe ihres Lebens die Klasse oder Schicht, so fühlen sie sich meist weder in der einen noch in der anderen Welt zuhause.
Die Eindrücke und Erfahrungen dieser Klassenreisenden bestimmen die Klangkomposition dieses Beitrages.
Die Basis bilden field recordings von zahlreichen Zugreisen, die Raum für die vorbeiziehenden inneren Bilder schaffen. Damit verwoben werden Sprachaufnahmen, die sich mal mehr und mal weniger konkret aus der Klangkulisse hervorheben bzw. mit dieser verschmelzen.
Alle dafür verwendeten Texte stammen aus dem Buch "Klassenreise" von Brigitte Theissl und Betina Aumair erschienen im ÖGB Verlag. Die Auswahl besteht aus Auszügen aus Gesprächen mit Klassenreisenden und aus Zitaten von Texten von Spezialist*innen, die sich mit diesem Thema beschäftigt haben. Die eingesprochenen Passagen knüpfen zum Teil an persönliche Erfahrungen der Radiomacherin an. Punktuell sind Auszüge eines Radioexperimentes zu hören, das Ende Mai 2022 auf o94,00 erfolgte.
Die Übergänge von Sound zu Sprache und umgekehrt bilden den Bogen dieses Beitrages.
Danke an: Betina Aumair, Klemens Koscher, Karl und Maria Schönswetter, Fiona Steinert, Brigitte Theissl.
Ich widme diese Sendung meiner Mutter und meiner Nichte Evelyn.
When people change social class in the course of their lives, they usually feel neither in one world nor in the other at home.
The impressions and experiences of these class travelers determine the sound composition of this contribution.
The basis is formed by field recordings of numerous train journeys, which make room for the inner images that pass by. Interwoven with these are voice recordings, which sometimes are more and sometimes less isolated from the soundscape or merge with it.
All the texts used for this come from the book "Klassenreise" by Brigitte Theissl and Betina Aumair, published by ÖGB Verlag. The selection excerpts from conversations with class travelers and quotes from texts by specialists who have dealt with this topic. The recorded passages are partly based on the radio producer's personal experiences. Excerpts of a radio experiment that took place at the end of May 2022 at o94.00 can be heard selectively.
The transitions from sound to speech and vice versa form the arc of this contribution.
Thanks to: Betina Aumair, Klemens Koscher, Karl and Maria Schönswetter, Fiona Steinert, Brigitte Theissl.
I dedicate this programme to my mother and my niece Evelyn.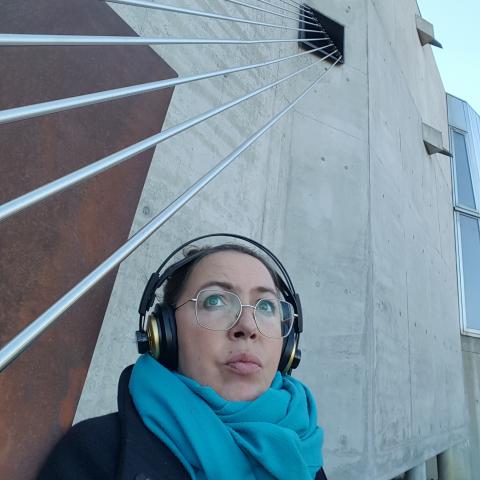 Beschäftigt sich in ihrer künstlerischen Tätigkeit mit dem Dekonstruieren von klassischen Erzählformen, mit experimentellen Zugängen zu Musik und Radiokunst und mit kreativen kollaborativen Prozessen. Sie studierte "Transmediale Kunst" an der Uni für Angewandte Kunst in Wien. Sie ist Gründungsmitglied des Vegetable Orchestra und seit 1998 mit diesem basisdemokratisch organisierten Ensemble auf zahlreichen Konzertreisen im In-und Ausland unterwegs. Seit 2007 ist sie Teil des Wiener Redaktionsteams radia auf Radio Orange. 2003 gründetesie gemeinsam mit Ingrid Schlögl und Tamara Wilhelm die Formation z.b.: ... . Von 2001 bis 2012 war sie als Workshop-Leiterin für Trickfilm- und Sound-Workshops im ZOOM Trickfilmstudio tätig, seit2012 leitet und kuratiert sie diesen Bereich im MuseumsQuartier in Wien.
In her artistic work, Barbara Kaiser deals with the deconstruction of classical narrative forms, with experimental approaches to music and radio art, and with creative collaborative processes. She studied "Transmedial Art" at the University of Applied Arts in Vienna. She is a founding member of the Vegetable Orchestra and has been touring with this grassroots-organized ensemble on numerous concert tours at home and abroad since 1998. Since 2007 she has been part of the Viennese editorial team radia on Radio Orange. In 2003, together with Ingrid Schlögl and Tamara Wilhelm, she founded the formation z.b.: ... . From 2001 to 2012 she worked as a workshop leader for animated film and sound workshops at the ZOOM animation studio, and since2012 she has been leading and curating this area at the MuseumsQuartier in Vienna.