Thursday 21 July
from 14:00 CEST until 12:00 noon on Friday 22 July
Claire Serres
The Waves Choir
"We are the waves choir, we reenchant the world".
(ritornello 1/ The Waves Choir)
At the origin of this piece, there is the desire to sing together. To create choralité* in the living sense of the term, with our electric bodies and our energies in the center of the circle. A practice without repertoire or vocal hierarchy, but through improvised singing, in relation to breath and gesture, listening to others and to ourselves. The Waves Choir makes this process heard, through its vocal, social and emotional dimensions. A first group was organised in December 2021 at the KulturFabrik in Esch in collaboration with radio Ara, and a second at La Générale in Paris, in February 2022, in collaboration with radio p-node.
How are our voices woven? For which relationships, which organizations? What sound environment emerges from our exchanges? How do we transform ourselves together?
These are all questions that have crossed my work in groups in contact with various contexts and audiences (groups of teenagers, students, women's group in non-mixed chosen, group with isolated minors, group of confirmed artists ...). I see the radio as my best ally, my privileged interlocutor, a unique memory of this gushing orality. The radio activates an almost magical energy, it brings us back to the present.
We sang in the toilets, on a footbridge above the rails, in a tunnel, on a bus, eyes open, mouths closed, close to the microphones, far from the city, on the stairs, at night, in winter and soon in summer.
With the voices of Sandra, Romy, Necef, Natalie, Ester, Carlos, Laura, Daniel, Rebecca, Sarah, Odile, Dinah, Anne, Cécile, Valérie, Victoire, Elisabeth, Ivanne.
*Plurality and collective understanding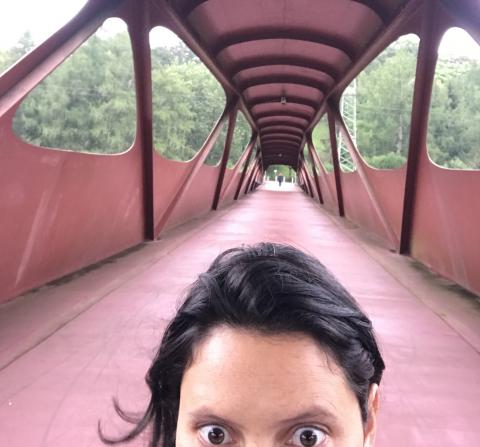 Claire Serres is performer, composer and vocalist, she's working and living in the Paris suburbs, France. Most of her practice is about transformation, gesture and improvised voice. She composes ballads, performances and sound installations for public spaces, art centers, museums and international radio stations. Since 2020, she organises and composes with experimentals choirs. She has a duo with the musician Delphine Dora, the Anima-Animus project. She's a member of radio P-Node and Fair-Play network.