Thursday 22 September
from 14:00 CEST until 12:00 noon on Friday 23 September
Michal Kindernay & Magdaléna Manderlová
Kozmic Sounds
Ceaseless change (Kozmic sounds) is an investigative walk through a transformed and revitalized sonic landscape of Kozmic meadows, a gathering of field recordings, conversations, and music.
Kozmic meadows—a system of floodplain meadows situated in the Opava region, northeast of the Czech Republic.
This area was formerly intended for gravel mining and experienced difficult times of amelioration, water drainage, aggressive terrain destructions, extraction of resources, and other crimes which caused disruption of the natural balance, loss of biodiversity, and environmental burden.
Kozmic meadows are now, thanks to the long-term commitment and dedicated work and care of many, full of life, and accommodate hundreds of species of birds and plants, amphibians, Exmoor ponies, and an ornithological observation station.
Kindernay & Manderlová walk, talk, and listen together with local experts, ornithologists, musicians, artists, friends, wanderers, birds, animals, insects, and other sensitive beings.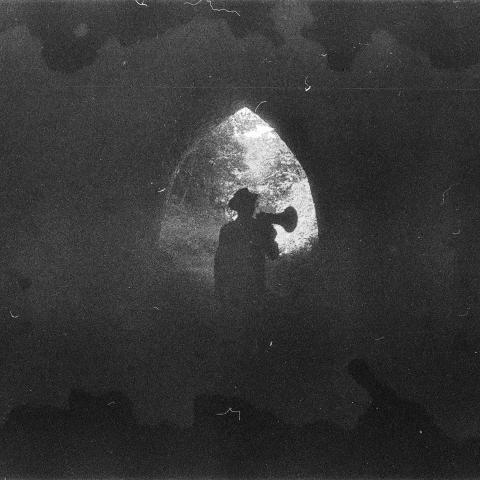 Michal Kindernay is an intermedia artist, curator, and performer. His audiovisual installations connect the areas and tools of art, technologies, and science. He often brings about the topic of ecology and through the application of the technological attitudes to nature he reflects the environmental issues. His works involve video performances, documentary and interactive installations, intermedia and documentary projects as well as musical compositions. He is one of the founders of the artistic non-profitable organization yo-yo, the initiator of the project RurArtmap. He acts as an external educator in the Centre of Audio-visual Studies at FAMU in Prague and at Prague City University.
Magdaléna Manderlová is an artist, musician, and composer based in Trondheim, Norway. She works primarily with sound, field recording, and composition. Her works take the form of assemblage sonic essays, compositions, and hörspiels, site-specific sound installations, performances, artist books, and writings. In her artistic practice, Manderlová likes to think, feel and dream through sound and explores listening as a tool to engage with the world. She investigates field recording as a way not only of listening, and of conceiving listening, but also of reading and writing. She seeks ways of relating that are reciprocal and often engages with places and environments by walking and spending time with them. Manderlová is educated in the art academies in Ostrava, Czech Republic, and Trondheim, Norway. Between 2012-18, she performed as a singer-songwriter moin moin and was part of the Czech independent music scene. In recent years, she has been performing in the context of experimental music.