Thursday 28 July
from 14:00 CEST until 12:00 noon on Friday 29 July
Saša Spačal
Anatomy of a Symbiosis
"Life is a symbiotic and cooperative union that allows the success of those who associate." - Lynn Margulis
Anatomy of a Symbiosis is a sonic exploration of fragility and vulnerability symbiotic bond between soil bacteria Rhizobium trifolii and red clover Trifolium pratense encounters within industrial food production. Composition is a 22-hour sonic close-up sonifying the disentanglement of an union that not only sustains lives of the physically connected plant and bacteria, but also enriches the soil that sustains a plethora of beings on this planet, including humans.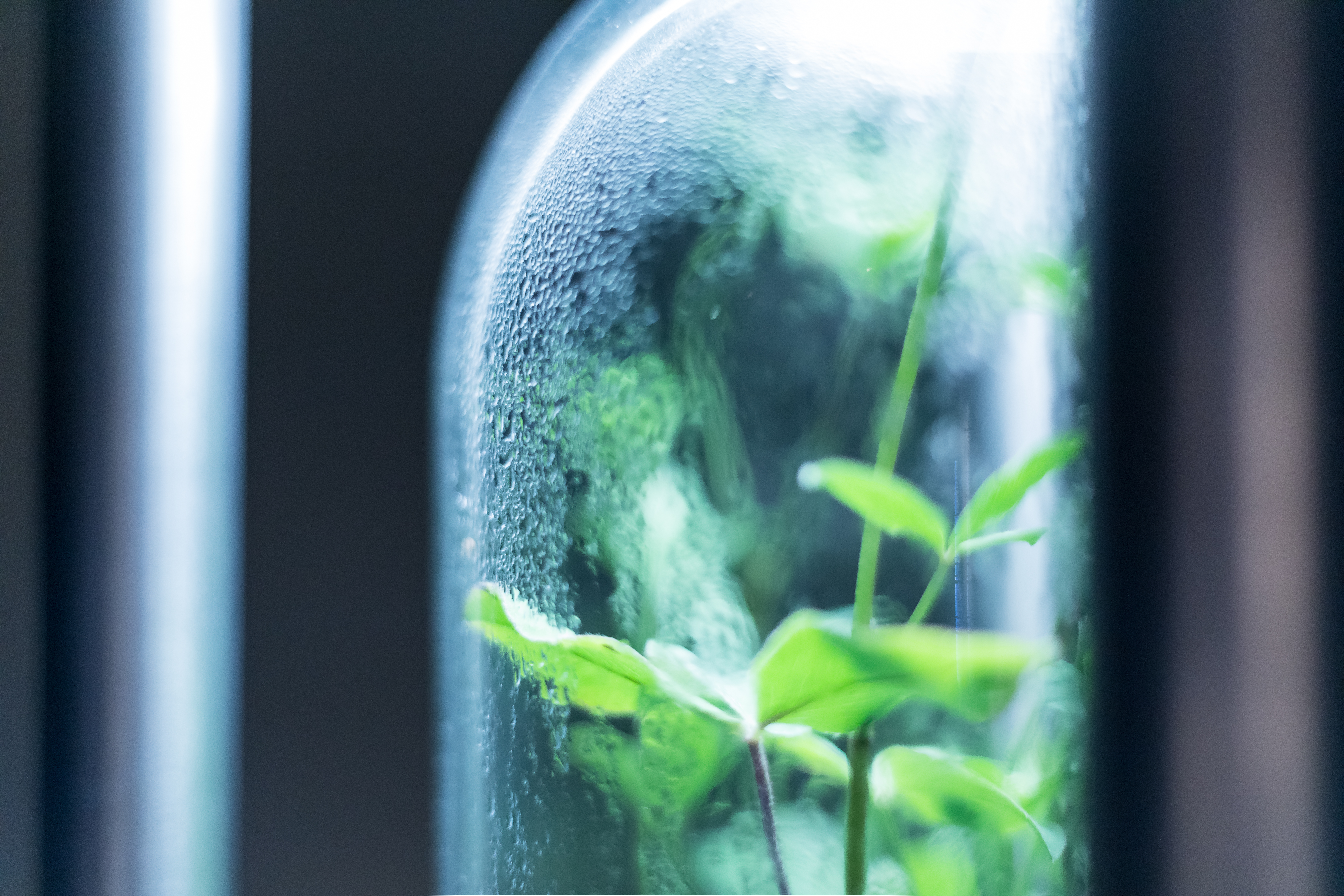 Red clover
Symbiosis
Symbiosis is considered as any type of close and long-term biological interaction between two organisms, on the spectrum between mutualism, commensalism, or parasitism. Initially, Rhizobium trifolii enter the plant as parasites, but due to the mutual benefits that arise between the species this relationship then transforms into a mutualistic one. Nodules develop on the clover root system, which the rhizobia colonise. The clover thus provides good conditions for the survival of the bacteria – giving them a home and carbon in exchange for nitrogen. However, once nitrogen fertiliser used for food production becomes available in the vicinity of plant roots, red clover abandons the symbiotic bond and root nodules disappear.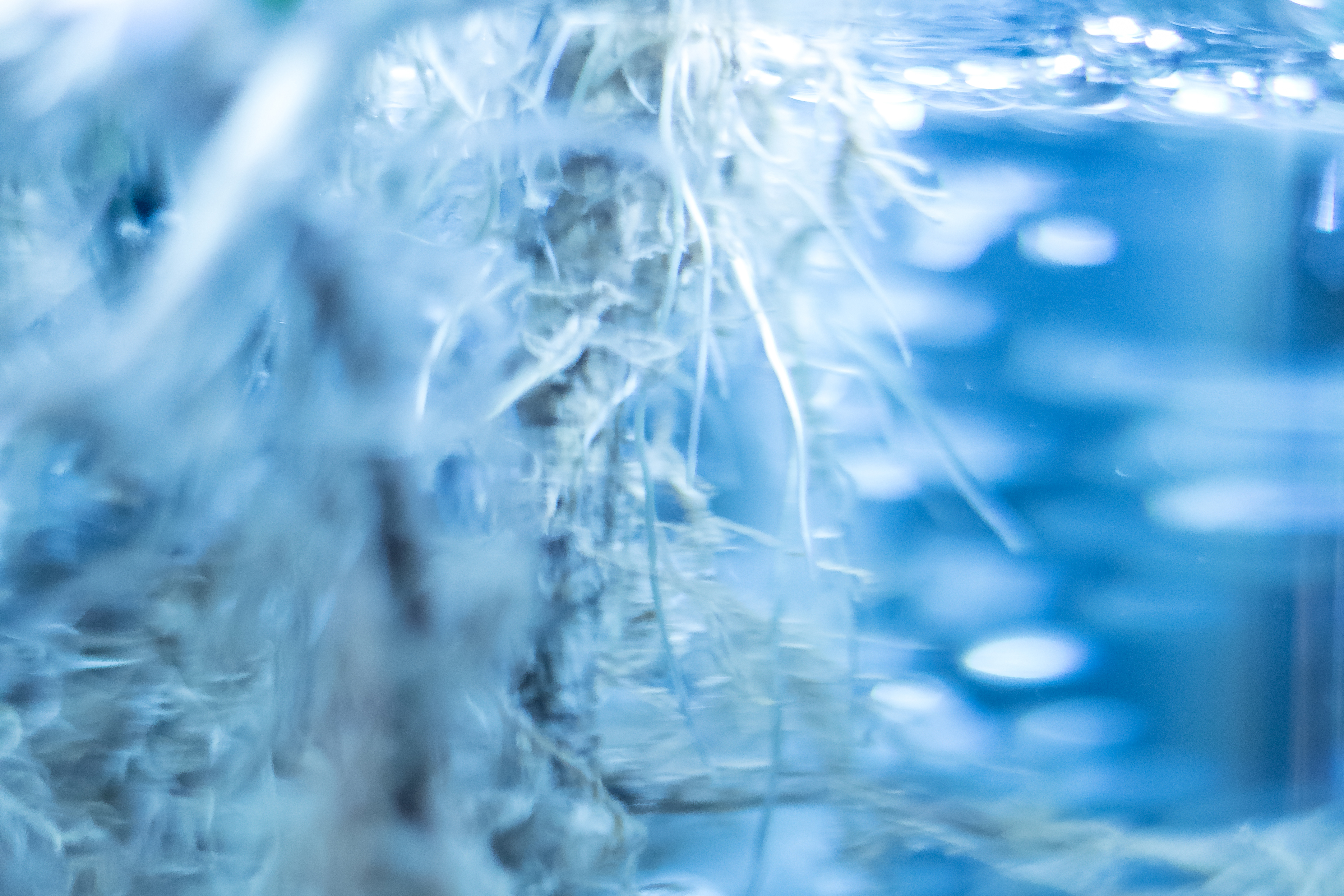 Roots of red clover with nodules
Industrial Food Production
Due to fertiliser application in the agricultural industry symbiotic relationships that fix nitrogen into the soil, such as the relationship between red clover and rhizobia, are less needed and in decline. Fertiliser production consumes approximately 1.2% of the world's total energy on an annual basis. Ammonia production accounts for the bulk, or approximately 90% of the industry's total, with approximately 166 million tonnes produced annually. Synthetic fertiliser thus becomes responsible for the larger displacement of such symbiotic relationships as red clover and rhizobia bacteria share.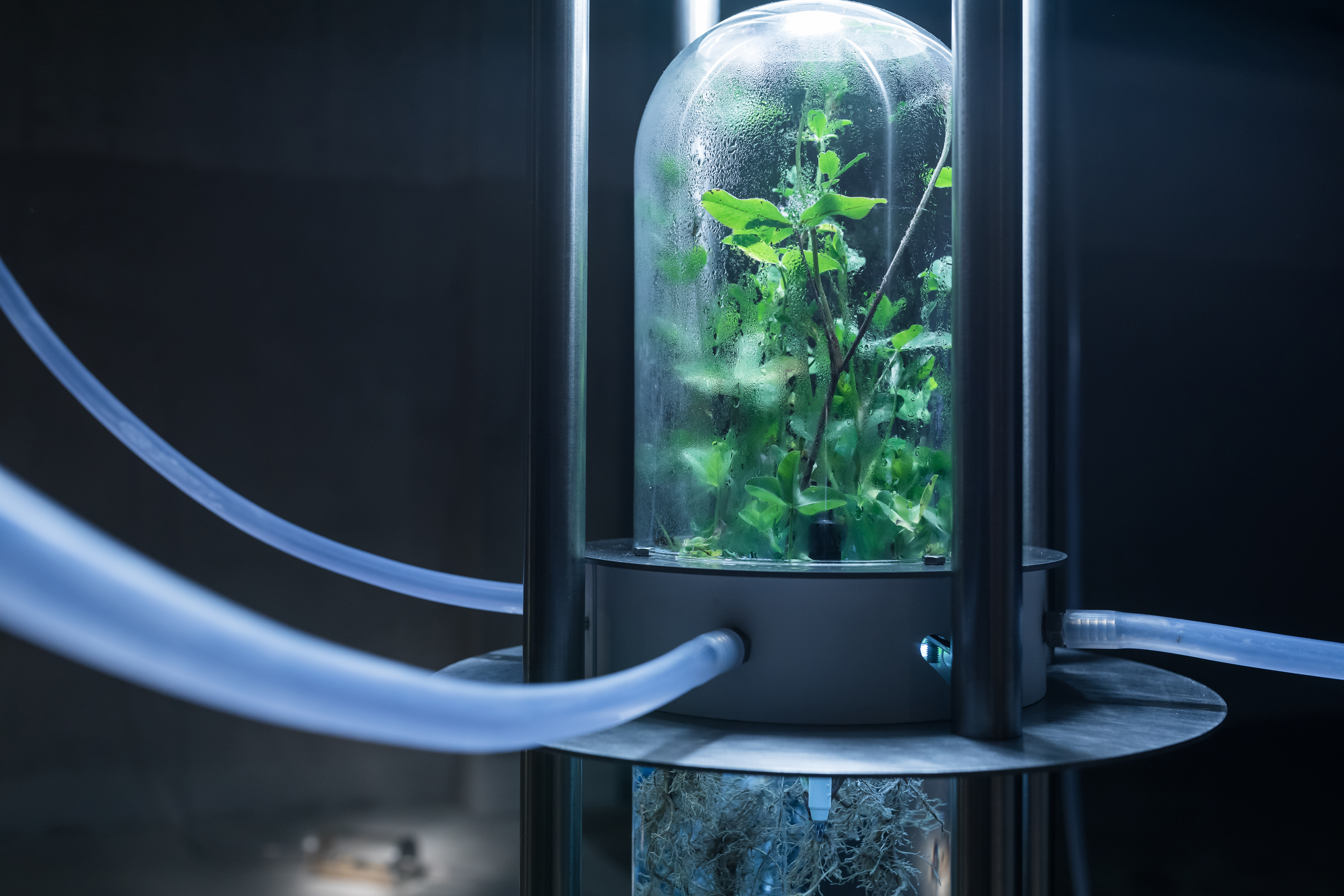 Installation Symbiome - Economy of Symbiosis by Saša Spačal and Mirjan Švagelj. Photo by Miha Godec.
Data Collection Process
Data for sonification of Anatomy of a Symbiosis was sourced in a hydroponic chamber of a biotechnological installation Symbiome - Economy of Symbiosis by Saša Spačal and Mirjan Švagelj, where favourable environmental conditions for symbiotic bonds were created.
Miniature ecosystem was inhabited by red clover and rhizobia, where the pH levels and light conditions were being recorded in the span of 22 hours. Data for sonification was recorded from 14 o'clock to 12 o'clock next day thus matching the Radio Art Zone transmission timeslot. Gradually nitrogen fertiliser was introduced to the hydroponic liquid, which caused a drop in pH levels and the disentanglement of the symbiotic bonds. Recorded data was used in the real-time sonication process and in post-production.
As a time document Anatomy of a Symbiosis records relational transitions and progressive loss of connections caused by agricultural practices for a random 22 hours in controlled experiment, while bearing witness to a precious processes buried deep in the grounds that support and sustain us.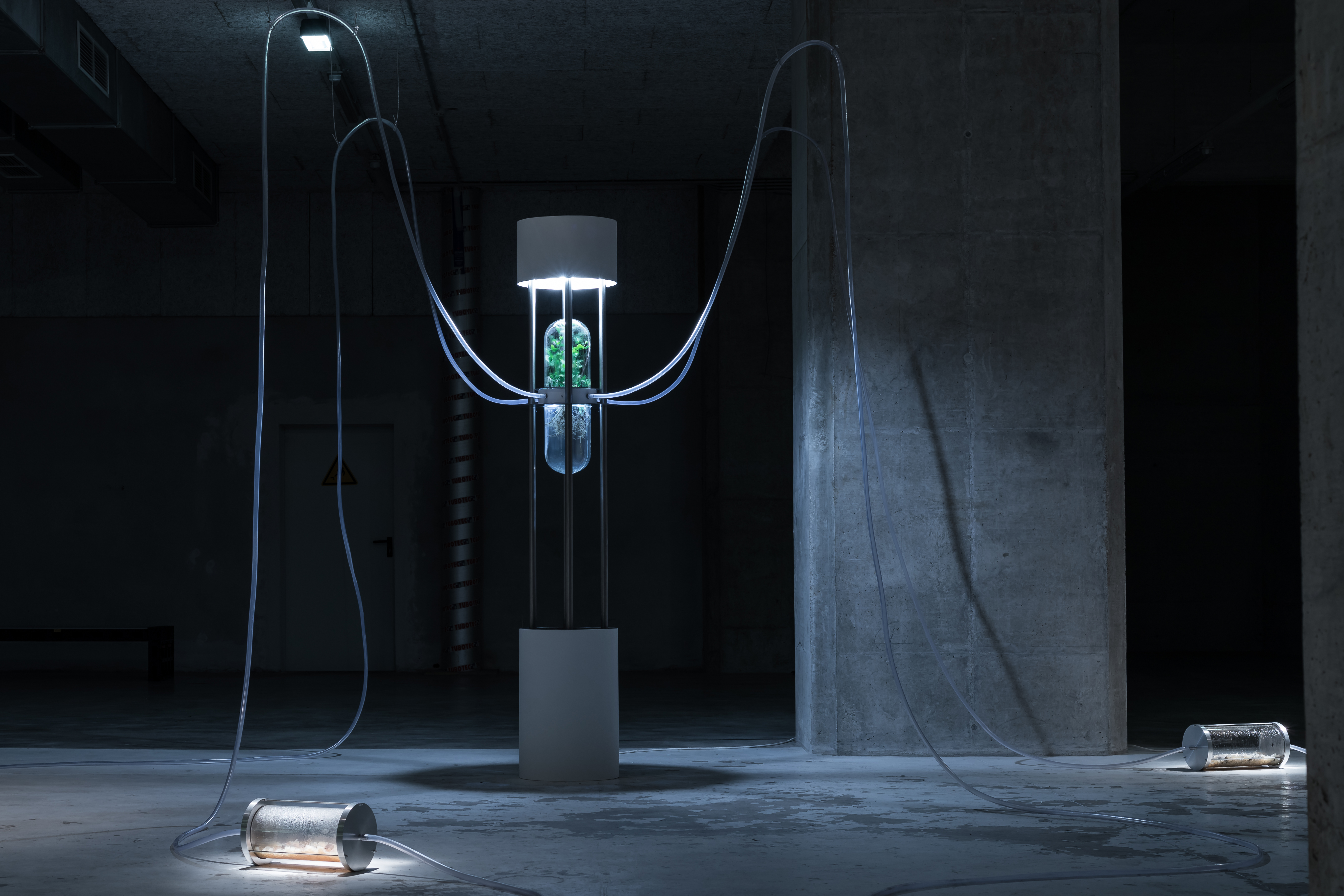 Installation Symbiome - Economy of Symbiosis by Saša Spačal and Mirjan Švagelj. Photo by Miha Godec.
The Collaborators
Pim Boreel is an artist and curator who works at the intersection of sound art, composition, and experience design. In his work, he explores other-than-human narratives by translating living systems into imaginative sonic landscapes and experiences. He pushes the possibilities of multi-sensory storytelling by sonifying and specializing creative concepts for a diverse spectrum of contexts such as performances, virtual reality, art installations, films, and music productions.
His work and collaborations were exhibited at festivals such as Ars Electronica (AT), STRP festival (NL), Dutch Design Week (NL), NTU (SG), GHMP Prague City Gallery (CZ), Cultural Centre Tobačna 001 (SI), Multimedia Center Kibla (SI), murmur (NL), Oerol (NL) and Uncloud (NL). His works and collaborations received awards and nominations at Ars Electronica Starts Priz and NTU Global Digital Art Award.
Mirjan Švagelj, PhD is working in the field of biotechnology and has published several patents. Currently, he is working as head of bioprocess development and is actively researching technologies for a sustainable future. In the context of art practice, he collaborated on numerous projects with Saša Spačal internationally.
Saša Spačal is a post-media artist working at the intersection of living systems research and contemporary art, focusing on entanglements of the environment-culture continuum and planetary metabolisms. By developing interfaces and relations with soil agents, she addresses the vulnerabilities of the posthuman condition which involve the entanglement of mechanical, digital, and organic logic within contemporary biopolitics and necropolitics.
Her works were presented at venues such as Ars Electronica (AT), Centre de Cultura Contemporània Barcelona (ES), Laboratoria Art & Science Foundation / New Tretyakov Gallery (RUS), National Art Museum of China (CHN), Onassis Cultural Centre Athens (GR), Transmediale Festival (DE), GHMP Prague City Gallery (CZ), Cultural Centre Tobačna 001 (SI), Museum of Contemporary Art Metelkova (SI), Perm Museum of Contemporary Art (RUS), Prix Cube Exhibition (FR), Chronos Art Centre (CHN), Lisboa Soa Festival (PT), Sonica Festival (SI), Device_art (CRO), Art Laboratory Berlin (DE), Museum of Contemporary Art Vojvodina (SRB). She received awards and nominations at Ars Electronica Starts Prize (2021), Japan Media Art Award (2020), New Technological Art Award (2019), New Aesthetica Prize (2020), Prix Cube (2015), and Prix Ars Electronica (2015).
Photo by Tadej Čaušević.