Thursday 30 June
from 14:00 CEST until 12:00 noon on Friday 1 July
martiensgohome
Je crois qu'il y a un malentendu
The project « Je crois qu'il y a un malentendu » is twofold, and contradictory. On one side is our desire to escape interpretation, to avoid conceptual framing, and keep our work abstract, concrete and savage. On the other side is the idea of trying, and usually failing, to describe sound with words, to replace sound with language. It is often the case when trying to describe our own music or to classify our sounds, but it is also a valid failure in a more general context. Authors Salome Voegelin and Daniela Cascella, separately and collaboratively, have showed how language clashes with sound, how literature and words struggle with soundscapes.
("Beyond these lifeless sounds the world was silent — silent! 
It would be hard to convey to you the stillness of it." HG Wells)
There are very few literary works, for instance, where the author is able to deal fluently with the sound realm. It is as though authors were physically constrained to only use their eyes and brain, and never their sense of hearing, of touch, of smell. In the great majority of cases, sound is only considered in novels when it stops: "a deep silence felt", "suddenly the noise disappeared", "Then all was quiet". It is almost only evoked when it is of human origin, and intentional, footsteps, knocks on a door, and of course, speech. Most of the times, moreover, literature hears only when it is dark, when everything else is asleep, when all other senses are obscured.
In a very limited amount of novels, a special attention is given to sound. It is very marginal and mostly intentionally used for a precise purpose. The sound becomes a character in the novel, it has a special place, very different from its place in the real world, and most of the time it is a recollection. All descriptions are based on memory, after the event. It is especially real for sound. You can't comment a sound in realtime. You either announce it beforehand, speculating on the future effect of a cause, or mention the cause afterward when you know the effect.
Then again, to be fair, how could music and sound really be described in words? Pierre Schaeffer has famously attempted to classify, weigh and name sound-objects, all sound-objects if possible, and admitted the limits of his endeavour. Sounds can be interpreted, translated, compared with other events, aligned with emotions, but can't be described without cheating. Any sound can be given meaning, according to the Rorschach Audio principle developed by Joe Banks, who showed that the human mind cannot avoid to find signification in random events, human words in white noise, or animal forms in the clouds.
Our project takes these reflections as a starting point and is organised around both music and words, separate but related, opposite but joined. Each of the sixty 20 minutes long music sequences of the project is combined with a spoken text, either written by us, or extracted from a literary work, which attempts to comment or describe the sequence. Sometimes it deals with the sounds themselves, sometimes it gives them a fictional context, and alternatively it complements them (or else conflicts with them). Some work very well, some fail better than others.
PS - The french title plays on the double meaning of "malentendu", both literally mis-hearing and misunderstanding, and could be translated as "I believe you heard wrong".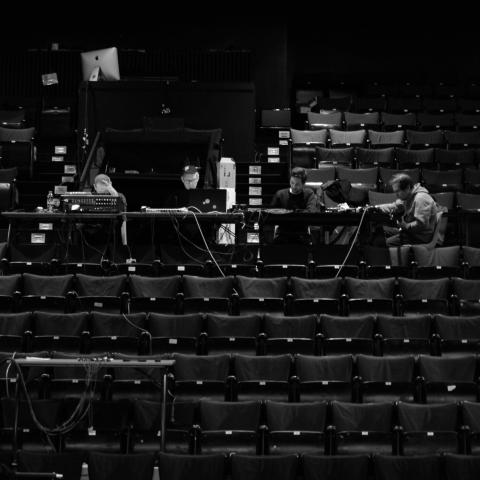 martiensgohome is a sound collective operating every thursday 9:30pm on radio campus 92.1 FM, in Brussels, since 1996. Each programme consist of one hour-long improvisation using field-recordings, guitar, laptops and broken everyday electronics to compose some kind of anti-ambient soundscape. martiensgohome is also performing live whenever possible, preferably in special settings, composing site-specific interventions or playing unconventional venues. For this project, the line-up of the martiensgohome collective was Benoit Deuxant, Grégory Duby, Jonathan Poliart and Roland Wouters, with the participation of special guest Diana Duta.