Tuesday 13 September
from 14:00 CEST until 12:00 noon on Wednesday 14 September
Meira Asher
Sonic Voyage of Resistance
Decades-long forced and illegal displacement. Daily lives are defined by Palestinians' refusal to abandon their land in the face of enormous Israeli pressure.
Ethnic cleansing… The abuse of Palestinian communities is beyond the comprehension of those who have not witnessed it. Daily physical or psychological violence from the Jewish settlers, under the protection of the occupation forces.
The Israeli Civil Administration systematically demolishes schools, houses, tents, animal shelters, water sources... a constant land theft... the military conducts live-fire artillery and armor training directly beside Palestinian communities.
This is a sonic voyage of Palestinian popular resistance. Documented at some of the many locations where it has frequently manifested since the beginning of the occupation, 74 years ago. The recordings were made between January and July 2022. Most of them during the period of Ramadan. Dates, locations and names of some narrators are announced before each segment of this voyage.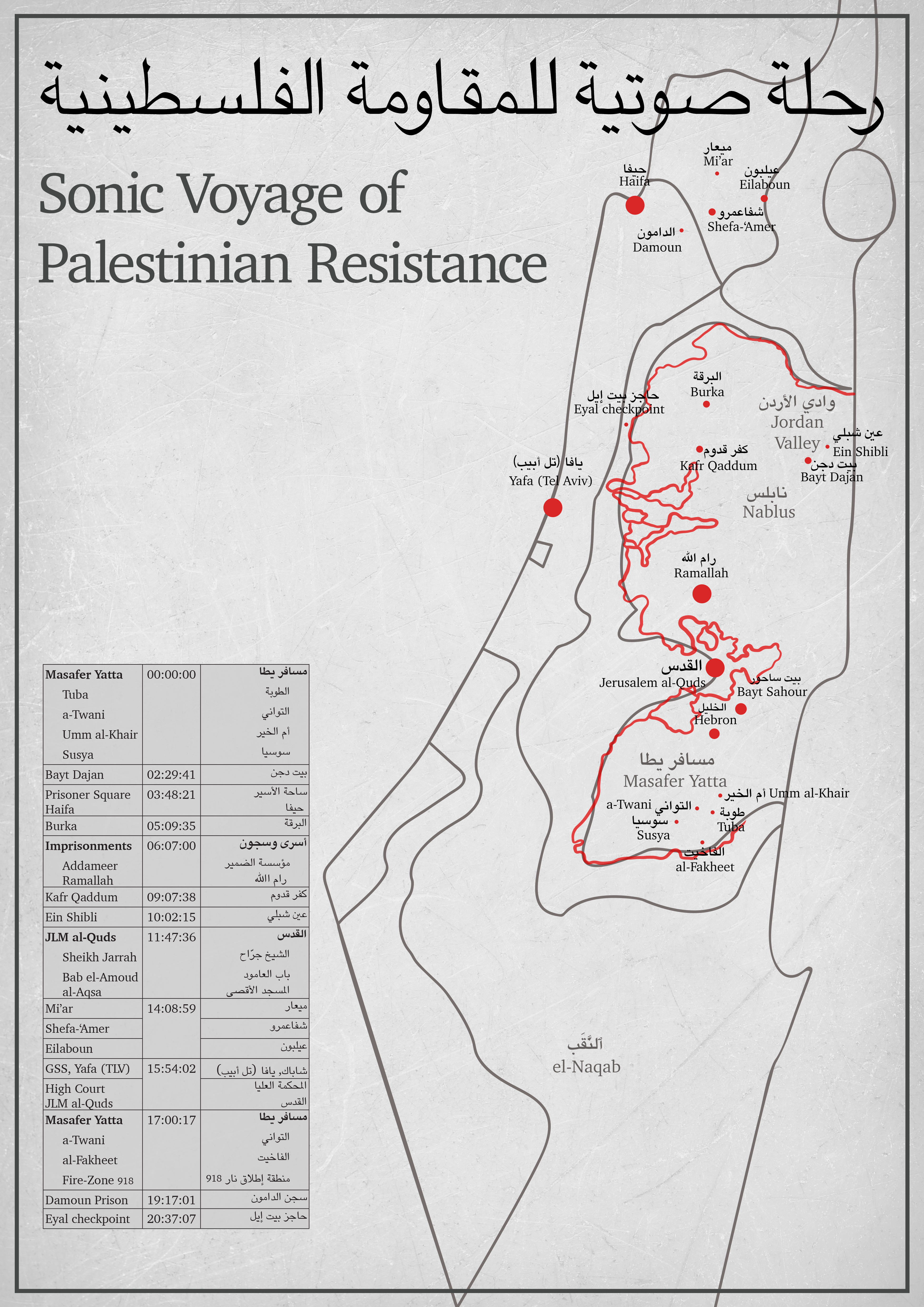 Masafer Yatta, January 14, 2022
Ahmad Jandiah - Tuba village, Basel al-Adaraa - a-Twani, Eid al-Hathaleen - Umm al-Kheir, Hamdan Mohamad Hureni - Susya village.
+ 'demolitions', Meira Asher
Bayt Dajan, Nablus district, April 15, 2022
w/ the people of Bayt Dajan and activists Guy Hamershlag, Jude Liemburg, Ben Z. Eshel.
+ Grunewald, Finkelstein, Zupraner - HEB3.01 Feat. sounds from the HEB2 sound banks, field recordings taken in occupied Hebron for the HEB2 community TV project. Recorded live at the Zimmer-TLV.
Prisoner square, Haifa April 17, 2022
Hirak Haifa - Protest against the occupation's army and police brutality at al-Aqsa mosque, during Ramadan.
Shadi Abu Saleh.
+ 'Music in Dark Times - Protocol 11', Dror Feiler
Burka, Nablus district, April 19, 2022
Abdallah Abu Rahmah, Non-Violence resistance leader, Ibrahim Douglas.
+ Grunewald, Finkelstein, Zupraner - HEB3.02
Imprisonments
Sahar Frances, Human Rights Lawyer, director of Addameer association, Ramallah.
Maher al-Akhras, from the show "Hunger for Justice" produced for Radia.fm
Voiceover, assistance: Liam Evans
Interpreter: Samia Nasser
Translation: Dareen Tatour, Samia Nasser
Female prisoners' letters
Compiled and edited by Dareen Tatour
Deema al-Wawi - read by Laila Abd Elrazaq
Lina Jarbouni - read by Antye Greie
Isra'a Ja'abis - read by Meira Asher
Dareen Tatour - read by Einat Weitzman
Music:
'Oh mountain climbers', Rim Banna
'RESISTSISTER', Isa Stragliati, from the #poemontrial campaign for and w/ Dareen Tatour.
'From inside the cell, I heard you mother, calling me', Mais Shalash.
+ 'Refuge in Ramallah w/Ashraf' by Lefteris Krysalis
Kafr Qaddum, Nablus district, April 22, 2022
Saqer Obeed, Murad Shtaiwi, coordinator of the Popular Resistance Committee in Kafr Qaddoum.
+ 'Minaret Speaker', 'Yasser Arafat's Radio' by Muslimgauze
The Shepherds community of Ein Shibli, Jordan Valley
w/ Jordan Valley Activists Gilles Alexander, Meira Asher.
+ 'Dawn Chorus Farsiya Jordan Valley 2019', Meira Asher.
Sheikh Jarrah, Bab el-Amoud, al-Aqsa, East Jerusalem, April 29, 2022
Hashem Bader, Saleh Diab, 'Policewoman' Az-Ulai from the HeartPolice.
Prof. Ilan Pappé, Director of the European Center of Palestine Studies at the University of Exeter, Britain.
+ voices from Al-Aqsa by Alyateema AlqsaLion
March of Return, Mi'ar, Akka district, May 5, 2022
Musa Segher, Association for the Rights of Internal Refugees, Shefa-'Amer.
+ 'Dina Awwad-Srour. Bayt Sahour-Eilaboun' feat. Hanna Srour and Reut Gat.
'No Human Rights For Arabs in Israel' by Muslimgauze
GSS Headquarters, Yafa (Tel Aviv), May 7, 2022
Neta Golan, Israelis Against Apartheid.
The High Court of Justice, Jerusalem al-Quds, May 9, 2022
Maher Hanna, defense lawyer of Mohammad al-Halabi - former head of the US based charity World Vision in Gaza.
+ 'Birds of Gaza'
A sonic lament in memory of the Palestinian children that were killed by the occupation forces in Gaza and the West Bank during May 2021. The eighty two names and ages of the children were collected by the Palestine ministry of Health and activists in Gaza. Narrated by poet Dareen Tatour. Introductory text based on "Israel chooses violence" by Haggai Matar for +972 magazine. Materialised by Meira Asher and Dareen Tatour at radioart106 for radia.fm.
Field recordings - people of Gaza
"Heart, No Crossing, Breaths" - Meira Asher
Mba ferigneso Baras - Madagascar: Pays Bara
Dikoboda Sombe II - Aka Pygmies
Masafer Yatta, South Harbor Hills, June 13, 2022
Sulaeman Salem Al-Adaraa - a-Twani, Wad'ha Ayub Abu Sabha - al-Fakheet, Kefah Al-Adaraa - a-Twani.
+ 'Army Invasions to Palestinian Homes at Night', Meira Asher feat. Shambhu Asher-Evans and 'bad toys' by Guy Harries and Meira Asher.
+ 6north.finaltunnel, Meira Asher
Damoun Prison, Carmel forests, Haifa, July 2, 2022
Thaira Zoabi, Activists for the Female Prisoners of Damoun.
+ 'Palestine Mothers Day at Damoun prison', organised by the Palestinian Prisoners Solidarity Campaign.
Eyal Checkpoint, the north of the West Bank, 4AM, July 31st 2022
- - - - - - - - - - - - - - - -
Conceptualised and produced by Meira Asher for RadioArtZone 2022.
Developed with the assistance of Dareen Tatour.
Interpretation and production assistance in Masafer Yatta - Hamdan Mohamad Hureni.
Translations - Liam Evans, Dareen Tatour, Samia Nasser.
Map design - Litel Shine Studio.
Photos by Oren Ziv unless otherwise indicated.
Thanks: Dareen Tatour [mind-mate], Bat-El Gal-Or [compass], B'tselem-The Israeli Information Center for Human Rights in the Occupied Territories, Zochrot-from Nakba to Return, Rachel Beitarie, Basel Al-Adaraa, Nasser Nawajah, Gil Hamershlag, Jude Liemburg, Tagreedd al-Akhras, Ahlam Haddad, Eyal Raz, Badee Dwaik, Ada Bilu, Guy Hirschfeld, Tal Berglas, Yoav Hifawi, Iris Bar, Anat Matar and all the admireable activists who work for the liberation of Palestine.
More information: