Tuesday 16 August
from 14:00 CEST until 12:00 noon on Wednesday 17 August
Felix Kubin
The Speaking Clock
Mein ganzes Leben lang habe ich mit der Zeit gekämpft. Abgabefristen und pedantische Pünktlichkeit sind mir ein Gräuel. Also beschloss ich, in diesem Hörstück einmal selbst zur Uhr zur werden, zu einer lebenden Zeitansage mit allen Lücken und Tücken. Um die stumpfe Arbeitsverrichtung etwas abwechslungsreicher zu gestalten, nahm ich mir vor, die Zeitansage in normale Tagesabläufe zu integrieren und durch ein paar Aktionen und Besuche bei Freunden aufzupeppen. Ich mache Kaffee, singe unter der Dusche, empfange Besuch, fahre mit der Achterbahn, erklimme den Hamburger Michel, koche einen Fisch, besuche einen Arzt, trinke Whiskey, spiele stundenlang auf meinen Synthesizern und kommentiere die Welt um mich herum.
Die Dokumentation dieser Vorgänge entstand an verschiedenen Tagen und setzt sich aus mehrstündigen, zusammenhängenden Aufnahmen zusammen, die ich später zeitgerecht zusammenmontiert habe. Dadurch kommt es manchmal zu überraschenden Schnitten und Sprüngen. Aber keine Sorge: wir sind immer pünktlich!
Für die meisten Aufnahmen verwendete ich ein binaurales Mikrofon, dessen Kapseln man direkt in die Ohren setzen kann. Der dadurch entstehende Höreindruck ist besonders dreidimensional und realistisch, vor allem bei Benutzung eines Kopfhörers (meine Empfehlung).
Die Intervalle der Zeitansagen verändern sich im Laufe des Tages:
14 – 15 h Zeitansage jede Minute
15 – 17 h alle 2 Minuten
17 – 20 h alle 3 Minuten
20 – 00 h alle 4 Minuten
00 – 05 h alle 5 Minuten
05 – 12 h alle 6 Minuten
Manchmal haben sich hier und da kleine Fehler eingeschlichen, dem analogen Charakter der Uhr geschuldet. Mitunter entscheide ich mich auch spontan zu einer Veränderung des Intervalls. Sollten Sie also vorhaben, Ihre Uhr nach meiner Ansage zu stellen, gebe ich keine Gewähr, dass Sie Ihren Zug bekommen.
Hier ist eine Trackliste, falls Sie sich für einen speziellen Abschnitt interessieren:
14:00 Einführung
14:02 Ankunft von Freund Olsen
15:40 Verlassen des Studios
16:20 Wir steigen die Stufen des Michels hinauf
17:15 Besuch des Hamburger Doms (Jahrmarkt)
17:30 Im "Sky Dance"-Karussel (53m hoch)
18:15 Eine Fahrt mit der "Wilden Maus" (Achterbahn)
18:37 Beim "Zardoz" Plattenladen
19:10 Im "Café unter den Linden"
19:55 Rasieren im Badezimmer
20:22 Taxifahrt mit einem Fisch
20:35 Besuch bei Helena Hauff und ihrem Mann Gregg
21:20 Kochen und Musik hören
22:47 Zwischenspiel: S. Snørrensønsøn und P. Bipolar kommentieren eine polnische Hochzeit
00:04 Besuch bei Helena (Forts.)
00:53 Nach Hause im Regen
01:45 Wir suchen Klangschnipsel im Studio
02:58 Von Kurzwelle bis Mittelwelle
03:20 Eine lange elektronische Nachtsession (Pulsar23, Subharmonicon, Hordijk & Tanzbär)
08:26 Traum vom HNO-Arzt
09:00 Wach auf!
09:20 Internes Feedback mit Kopfhörer und Ohrmikros
09:40 Kaffee, Cerealien, Anruf
10:17 Vorlesen aus Büchern ("Archäologie der Medien" und "Caravanserail")
10:34 Covid-19 Antigen-Test
11:02 Dusche, Zähne, Orgel
11:30 Fahrradfahrt zum HNO-Arzt (sehr windig)
11:57 Die letzten Enten
12:00 Ende
All my life I had difficulties with deadlines and punctuality. So, I decided that in this radio piece I will turn into a clock myself, a human "Zeitansage". While doing this, I follow daily routines like making coffee, singing under the shower, going on a roller coaster, climbing up a church tower, cooking with friends, visiting a doctor, recording a long night session in my electronic studio, drinking whiskey and babbling along about whatever crosses my mind.
The recordings were done at different days and occasions, albeit in large coherent sections. Sometimes there are unexpected jumps from one scene to another and the listener will be pushed into a parallel reality. But don't worry: we will always be in time.
For most of the sessions I used a binaural microphone which gives the listener a three-dimensional, subjective impression of the goings-on, especially when using a headphone.
The rhythm of my announcements changes during the course of the day. Here is a list with the precise intervals:
14 – 15 h time announcements every minute
15 – 17 h every 2 minutes
17 – 20 h every 3 minutes
20 – 00 h every 4 minutes
00 – 05 h every 5 minutes
05 – 12 h every 6 minutes
Of course, due to the imperfect nature of the human clock, some errors occur. I also sometimes decided to change the intervals, just for fun. So, I do not recommend to set your watch to it, in case you need to catch a train. But most of the time, I am pretty precise.
Below you find a track list, in case you are interested in a special section.
14:00 Introduction
14:02 Arrival of friend Olsen
15:40 Leaving home
16:20 Visit of the "Michel" church tower
17:15 Visit of the funfair "Hamburger Dom"
17:30 "Sky Dance" ride (53m high carousel)
18:15 "Wild Mouse" ride (roller coaster)
18:37 At "Zardoz" record shop
19:10 At "Café unter den Linden"
19:55 Shaving in my bathroom
20:22 Taxi ride with a fish
20:35 Visiting Helena Hauff and her husband Gregg
21:20 Cooking and listening to music
22:47 Intermission: Mr. Snørrensønsøn and Ms. Bipolar comment on a Polish wedding video
00:04 At Helena's again (cont.)
00:53 Walking home in the rain
01:45 Looking for sound files in my studio
02:58 From short wave to medium wave
03:20 A long electronic music night session
08:26 Dream of a doctor's visit
09:00 Wake up!
09:20 Experiment with headphones and mics (internal feedback)
09:40 Coffee, cereals, phone call
10:17 Reading aloud ("Archäologie der Medien" and "Caravanserail")
10:34 Covid-19 antigen self-test
11:02 Shower, teeth, organ
11:30 Bike ride to the otolaryngologist (very windy)
11:57 The final ducks
12:00 The End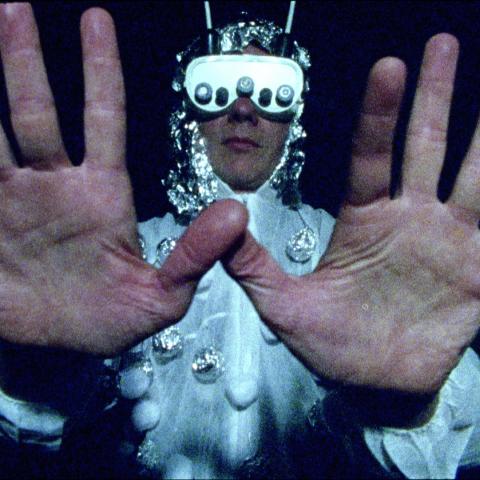 Felix Kubin, funkensprühender Spannungs- und Weltenwandler aus Hamburg, macht Hörspiele, Sci-Fi Pop, Lecture Performances, und schreibt Stücke für Orchester und Elektronik. 2019 drehte die französische Filmemacherin Marie Losier mit ihm das Doku-Phantasma "Felix in Wonderland". Er betreibt das Plattenlabel Gagarin Records und ist Mitgründer des Festivals "papiripar" für Pop | Kunst | Rotation in Hamburg.
Felix Kubin is a Hamburg-based artist, whose various experiments and epithets include radio art, composer of futurist experimental pop as well as chamber orchestra music, incendiary performer, record label owner, lecturer, and curator. He began recording and performing electronic music at the age of 12 and was soon discovered by Alfred Hilsberg, founder of the seminal German punk/electronic label Zickzack. In 2019, the French filmmaker Marie Losier has shot an award-winning film portrait about him called "Felix in Wonderland".