Tuesday 2 August
from 14:00 CEST until 12:00 noon on Wednesday 3 August
---
Ralf Wendt will walk 22 hours meeting people and ideas surrounding surprising ways to understand the term of nature.
Therefore he speaks with people he meets on his long walk through a night and a day and a small country, he will speak and listen to animals and plants, extraordinary and invented beings and landscapes. And probably he will invite people from other places to imagine what's there around Esch.
---
It all started at the age of 9.
In mornings before school, Ralf Wendt destroyed the neatly arranged tablecloth with wax and a knife. He burned small, dainty house models for the model railway on the oven tray. Years later he fled the clean apartment to the outskirts of town to go birdwatching in the reeds and forest.
A peculiar, unnatural behavior, according to the teachers at school.
Since then, this word "natural" has haunted Ralf Wendt and he has followed it no less intensely.
"Nature" and "natural" as a given order or as a chaotic antithesis to human activities -
This was the charisma of natural history museums with their dusty showcases full of wood grouse in painted mountain scenery and than there were Wendt's art lessons at school - this gloomy shudder when looking at Caspar David Friedrich's chalk cliffs, later Nazi kitsch and local history, the pride of hunters posing infront of hundreds of dead woodcocks, boring Aquarell paintings of the Baltic Sea coast in a room next to the Baltic Sea coast. Nature, the great unmoved, divine - disturbed only by human intervention and protected only by -um, nature conservation, protection association, rifle club, homeland protection, homeland association, men's association, people's association, people without space, German forest, Volk, völkisch, Blut und Boden.
Wendt fled into the empty spaces in the modern new cities- searching the rainplover and the crested lark which liked these men made deserts, then to the Black Sea, where there were still unregulated rivers and vultures circling over free-roaming cattle.
Caught in the same thought circus "seeking the good original nature".
And then Wendt ended up in paradise - next to the modern Bulgarian metropolis of Burgas, not far from a noisy thoroughfare on the edge of dirty salt pans, on a dike near a dried-up sunflower field.
Actors, artists, biologists and philosophers met here and lived in tents for three months, grilling locusts and peppers by the fire, drinking smelly bosa and cheap wine, in order to be close to one of the greatest natural phenomena in Europe: the annual migration of all large Eastern European birds, their routes to the south intersect at this location.
Thousands of gliding eagles past here in a few days, carried by the thermals of the nearby mountains; Hundreds of pelicans fall to sleep in the man-made shallow water zones, swallows benefit from the mosquito plague, bee-eaters from the nearby beekeepers, thousands of ducks, geese and waders from the man-made "swamp" near the coast.
The artists laid out fruit and seeds on old tractor tires for other bird species weakened by the long migration; a sweet little all European concert - the perfect "nature" between garbage dump, big city and main road was finished.
At night the human animals talked about Franz Kafka, Margeret Atwood, Borges and Stanislaw Lem, always looking for the errors in order, close to chaos, strict form, perforated reality.
Today, the friends from back then occasionally write to each other - out of the tormenting reality of social and scientific projects - sometimes out of the fascination of having got to know primary "nature" in the Amazon or the Brahmaputra. What has remained with everyone is the experience that the happiness and sense of freedom of those days had nothing to do with an ideal world and an untouched, romantically transfigured nature, but with the fact that they had brought themselves to the frayed edges of civilization and built their own "nature" there - they populated the universal knowledge of biodiversity and landscape, people and environment around mythical creatures, added poems and secret signs, unknown cross-border paths; They spoke to Siberian hawks in made-up whistled languages and occasionally helped the praying mantis to a colorful dinner. They felt like children and like God, like blasphemers and like birds, like water and mud - at least that evening when everyone was dancing naked in the rain and singing Bandiera Rossa trionferà.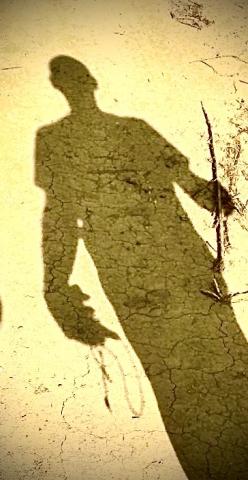 Wendt works for 45 years on the friction between romantic approaches to nature and the deconstruction of our understanding of it.
He works with animal voices and animalic human voices as well as different bodysounds of living beings.
Using Performance art and the radio as a medium and tool for his artwork, he was co-founding the free Radio Corax in Halle/Germany and the international radioartfestival Radio Revolten. He creates mobile radio situations for the last 15 years.