Tuesday 20 September
from 14:00 CEST until 12:00 noon on Wednesday 21 September
Julia Lee Barclay-Morton & Viv Corringham
Shadow/Text or Here Nothing Ends
Viv and Julia will be collaborating by bringing over 20 years of practice together in the 22 hours of Shadow/Text or Here Nothing Ends.  They have experience of each other's work since 1999 when they met in a workshop Julia was leading at FringeNYC in techniques for performing non-linear text and movement while Viv was performing as a vocalist and improviser in another piece. They recognized in their explorations kindred quests and stayed in touch throughout the years, seeing each other's work periodically. They reunited a few years ago when Viv took Julia on a soundwalk in Inwood Hill Park for her series wherein she explores people's sense of place and the link with memory, then transforms these walks into installations and recordings of Shadow-walks.
Julia has been writing and staging experimental theater texts since 1999, constructed from found text and memory and riffs on consciousness, both personal and collective. In the 22 hours, Viv and Julia will be exploring the physical places in New York City and London in which Julia wrote these texts. Both together and apart, they will be riffing off of the texts as palates in response to the words and what they are experiencing in the moment, not performing them but allowing them to inspire and be informed by their walks and collaboration. Beginning with Cut Up created in 1998 for Julia's first experimental theater lab created entirely from found text and memories up to Respairation or You Have to Unmute Yourself, written in 2021 while recovering from long-haul COVID and in the midst of a diagnostic process for autism, these 14 stage texts are a journey through many stages of life, including spiritual quests, philosophical interrogations, creative discoveries, marriage, divorce, miscarriage, terrorist attacks, new love, trauma recovery, and learning how to breathe. 
Shadow/Text or Here Nothing Ends, because Viv and Julia are in process throughout. Instead of a number of discrete performances, these are experiments of ways in and through text, memory, place, and voice, while responding to each other and place with deep listening. They have also included their discussions about how to create this sound-text-scape. Welcome to backstage!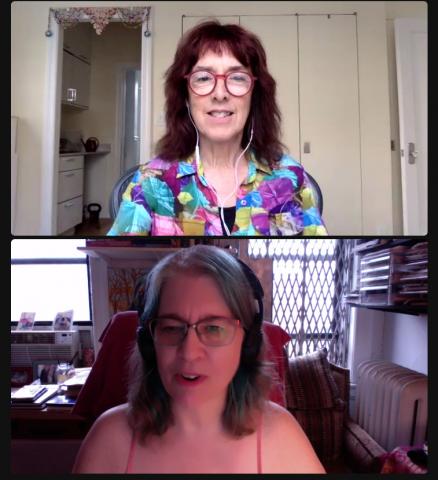 Julia Lee Barclay-Morton, PhD, is an award-winning writer and theater director, produced and published internationally; her newest play Respairation or You Have to Unmute Yourself—written while recovering from long-haul COVID and in the midst of an autism spectrum diagnostic process—was performed as part of IATI's Women's Festival in March 2022; recent stories and essays published in [PANK], Prairie Schooner and Heavy Feather Review, winner of Nomadic Press Bindle Prize for a story published as chapbook, and play On the edge of/a cure was produced by Rogue Players at The Playroom in 2019. Her play Shit was given a staged reading at IATI as part of the Cimientos play development program in 2018, and her plays have been performed in NYC at HERE, The Brick, Red Room, and St. Mark's among others. A Best of the Net nominee, she was also chosen for the Indie Theater Hall of Fame in 2014. She has been in residence at Vermont Studio Center and the Wesleyan Writers Conference. Other publications include Ohio Edit, Prentice-Hall, Stockholm Review, Gertrude, The Other Stories, Burning House Press, and TL; DR. Stage texts have been anthologized by NYTE and Level4 Press. She founded Apocryphal Theatre when in London (2003-11), and was awarded a full fellowship for her practice-as-research PhD by Northampton, UK arguing that theatre can be an act of philosophy; her BA is from Wesleyan University. Now living in NYC, she is writing a hybrid memoir about being diagnosed on the autism spectrum in her late 50s and how an intensive yoga teacher training led her there. Julia also paints, coaches, teaches writing and yoga.
Viv Corringham is a vocalist, composer, and sound artist. She holds an MA Sonic Art from Middlesex University, London, and a Deep Listening teaching certificate. She explores people's sense of place and the link with memory through concerts, soundwalks, installations and listening workshops. She is a 2012 and 2006 McKnight Composer Fellow through American Composers Forum. Other grants and awards have come from the English and Irish Arts Councils, Harvestworks NY, Jerome Foundation, Jazz Services UK, Millennium Funding UK, London Arts Board, Chisenhale Awards, Creative Partnerships, Awards for All and Meet the Composer. Work has been presented in 26 countries in venues including Hong Kong Arts Centre, Fonoteca Nacional de Mexico, Issue Project Room New York, Onassis Centre Athens, Serralves Museum Portugal. Ohrenhoch Sound Gallery Berlin, Taipei University Taiwan, Shantou University China, Institute of Contemporary Art London and universities in Bangalore, Calcutta and Delhi. Invited Artist Residencies include soundpocket Hong Kong; Harvestworks NYC; Srishti Bangalore, Emily Harvey Foundation Venice; Montalvo Art Center CA; Memorial University Newfoundland; Cal State University; Sound Meetings Greece; Cobh Art Centre Ireland; Radio Papesse Florence; Serralves Museum of Contemporary Art Portugal; NAISA Toronto; Soundworks Cork Ireland; Deep Listening  Institute NY and Binaural Media Portugal. Articles about her work have appeared in many publications, including In the Field (UK), Leonardo  Music Journal (US), Art of Immersive Soundscapes (Canada), Organised Sound (UK), Musicworks (Canada), Catskill Made (US), Playing With Words (UK) and For Those Who Have Ears (Ireland).