Tuesday 26 July
from 14:00 CEST until 12:00 noon on Wednesday 27 July
Maia Urstad
TRAIN TABLES AND RADIO WAVES – a 22-hour journey by ear
Sounds in motion, creaking and rattling; blurred sounds and fragmented voices in the passenger compartments, mixed with intermittent garbled train announcements from another country, interlaced with layered real-time messages.
This 22-hour sound piece follows train schedules in «real time» from one destination to another across the globe. Listeners are invited to embark on a journey along the railway line from station to station, country to country, through a sound composition transmitted over the waves from Radio Art Zone radio station in Esch, Luxembourg.
Starting at 14.00, this listening journey follows the train schedule through voice announcements on a selected route until we arrive at the train station's terminus, only to then embark on another train in another country. Until the 22-hour broadcast ride has come to an end, listeners are exposed to a continuous yet imaginary sonic journey around the world through real-time schedules of various train routes. These are simultaneously heard with announcements from train lines and routes from other parts of the world. Cities and sites around the world come together, creating a soundscape inspired by the hypnagogic state between dream and being awake that can occur when spending slow time on the train: what we hear is not necessarily as it is.
An ambient soundscape surrounds the voice announcements, following the «anatomy of the day» from light high-pitched sounds in the morning, more tenacious drone sounds towards the evening and low frequencies in the night. Sound textures of varying duration merge at different times, creating a range of slowly developing sound qualities. At the same time, the reassuring voice of the announcements acts as a kind of messenger, letting us know about any delays, departures, arrivals, exits to the left and exits to the right, about gaps and glitches of passed and upcoming events, and, ultimately about arriving at our final destination.
Distance is an imaginary notion on the train. Far-away places are imprinted on the body and mind as memories and through the palpable world of the senses. 
To enter a train station already entails contact with the world, for the railway tracks have the possibility to take us far away: south on the continent, east, north and onwards, out into the world ... The next station is a stop someplace on the globe: Copenhagen, Kumamoto, Cape Town, Krakow… Taking the platform as a starting point, the conductor's blown whistle signals an opportunity, a kickoff: slow time, 22 hours at a window, moving scenery, streams of thought; passport, visa, language, escape, future, hope.
VOICE ANNOUNCERS:
Danae Stefanou (GR), Gert Poulsen (DK), Cape Town railway station announcers (SA), announcers in Japan, and all other, unknown voices that share information on trains and stations around the world
THANKS TO colleagues and friends who have shared train recordings and other sounds, and for invaluable support and inspirations of various kinds, including:
Lisa and Harald Alvavoll, Tom Erik Brudvik, Luke Drozd, Ida Lykken Ghosh, Mahlet Ogbe Habte, AnaRosa Ibanez, Christian Skovbjerg Jensen, Jacob Kreutzfelt, Sissel Lillebostad, Peter Meanwell, Michel Mutambayi, Anna Papeti, Eva Rowson , Carsten Seiffarth, Bonn Hoeren, Lars Ove Toft,  Andrea U. Toft, Brita UT, Struer Tracks, James Webb, Robert Worby, and more..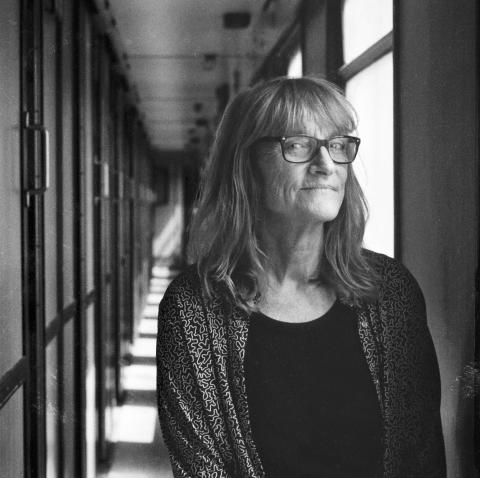 Maia Urstad works at the intersection of audio and visual arts, primarily with site-specific and spatial sound installations. Technological development and communication technology are recurring themes in many of her works, often with the use of radio as a central auditory, visual, and conceptual element. These problematize the volatility of today's technology and what traces and stories we leave behind when new inventions enter our everyday lives. Her work also tends to focus on flops, lost causes, and developments that are on the border of obsoletion.  
Many of her projects also derive from the interest in sonic characteristics of the various forms of communication; i.e. the human voice, with brief public information or instructions, such as numbers, train announcements, directions (north, south, west, east), news, or time and place oriented information. Also important is the surrounding soundscape of this information, like ethereal waves, interference, machine noise, railway tracks, hiss, wind or silence, and "just" a spatial presence. Many of the works are multi-channel, which helps to shape the experience of the sound sculpturally as a surrounding force of influence.
Portrait photo: Andrea U. Toft