Tuesday 28 June
from 14:00 CEST until 12:00 noon on Wednesday 29 June
Gabi Schaffner
{A Wave Novel}
Chapter 1: For the Love of Captain Nemo

Chapter 2: Airs A-float

Chapter 3: Wet Lands

Chapter 4: A Bird A Ghost

Chapter 5: Tubular Delights

Chapter 6: Cicada-Machines

Chapter 7: Three Islands

Chapter 8: The Slow Marriage of the Kraken

Chapter 9: Whatever They Said (The Air Took It)

Chapter 10 Bell Walks

Chapter 11: Ghost Hour

Chapter 12: La Chute + Elegy for Engines

Chapter 13: Sleepwalk On A Timeline

Chapter 14: Shoreline Ditches/Errant Crowds

Chapter 15: Out Of The Dirt Into The Pocket

Chapter 16: Songs For The Sheepless

Chapter 17: Winter Tales

Chapter 18: Wheels and Wings

Chapter 19: InstruMentalities

Chapter 20: A Garden Patch

Chapter 21: Becoming with Beasts

Chapter 22: Pancakes & Moose
{A Wave Novel}
Thinking of waves, thinking maybe of radio, I imagined a wave… sloshing/rolling on for 22 hours. As in an ocean, a wave does not exist by itself. It moves with others in intricate patterns and feeds on the energies of the wind. Small ones at first, all miracles of physics, they become a 4-dimensional being, rolling over, licking, and spitting.
Here, these waves are all field recordings. Roughly edited, crinkled, rubbed over, and folded over, many untold, scraped out from undated folders. In short, all I could find on my hard drives.
You will hear airwaves, dog waves, train waves, ocean waves, mountain waves, frequencies, giggles, long and shortwaves, smooth ice cream waves, waffle waves, starry waves, market hawkers, singalongs, waves of the same feather, rains, drains, amethyst waves, air ventilation systems, froth, and spit, light and dim waves, shining radio rubies, dissonances, tapestries of noise and rubbish, lonely cricket waves, garden chit chat and bells ringing under the sea.
Each wave field is constituted by sets of mindful-magnetic attachment and randomized choices among recordings of a kind. A balance of order and disorder expressed in paired or mirrored timelines in one piece. There are loops down below the surfaces… some very recognizable, others mimic invisible relations. Some pieces just bob up and down next to interspersed debris and waste. Parallel narratives touch the shoreline at different points.
There are waves and there are in-between-waves, gushing with amoebae, plankton, and micro-plastics.
Planning a wave is near impossible, it is an infidel to the laws of mechanics, and it has its own spell(ing). This was my plan:
A wave builds up, slowly. Maybe unnoticed at first. Maybe it decides not to become a big wave but to disappear among other audio dimensions. At some point in time, it becomes a BIG wave. With a foamy crest fashioned from shortwave fragments.
Air tears at the water. The molecules will rub against each other, will jump up in the air, will be taken up by stormy winds to encounter seeds and scents. A shoreline comes into sight. Bells ring out. All waves finally become awash against a rocky beach.
There are pools in between the stones, blinking hide-aways where marine animals shine their claws and algae dance. The pools are closer to the human world: a singing pool, several ones haunted by ghosts and other stories, puddles of doubt and debris, a garden patch, a basin filled with sounds fallen out of pockets, a culinary night market…
Waves offer no paths. Our mind, in a nutshell, floats on them. I got lost, often – while recording and while listening. Just like it happens with most radio waves.
The seas are open.
Credits
I owe many of these recordings to the kindness of friends, colleagues, hosts... and unknown strangers. Thank you all!
Thanks also to Ernst Markus Stein, who introduced me to the world of copying machines.
Credits (numbers = chapter of appearance):
Anita Hannunen (17; 22), Carla Genchi (19), Charlotte Law (11), Chrisse Candolin (16), Claudio Comandini (19), Dirk Heiden (20), Erkki Pirtola (10), Felix Schroeder (19; 20), Hannes Wienert (20), Hans Kellett (20), Hauyu Yang (18), Jukka Ylisuvanto (11; 12), Kate Donovan (7), Kirsi Poutanen (16), Lilli Moors (17), Lori Huang (19), Chen-Chi Huang (20) Madelynne Cornish (11; 17), Margaret Shiu (20), Mathias Deutsch (2, 20), Mi Duncker (Sea Jump; 1), Mimosa Pale (Muscal Saw), Nathalie Grenzhaueser (1; 14), Niina Lehtonen-Braun (2), Olsen Wolf (Accordion), Papu Pirtola (16), Richard Schaffner (22), Simone of Melbourne (11), Singlust e. V. (21), Stella Braun (19), Susan Beattie (11), Teemu Tuonela (11; 16), Teuri Haarla (9; 11), Tina of Helsinki (16), Tina-Marie Friedrich (6; 7), Tixa Juha (17; 19), Ulrike Stöhring (16; 20), unknown musician (Ukulele!), Mr. Vijay Thiruvady (20), Yrjänä Sauros (19)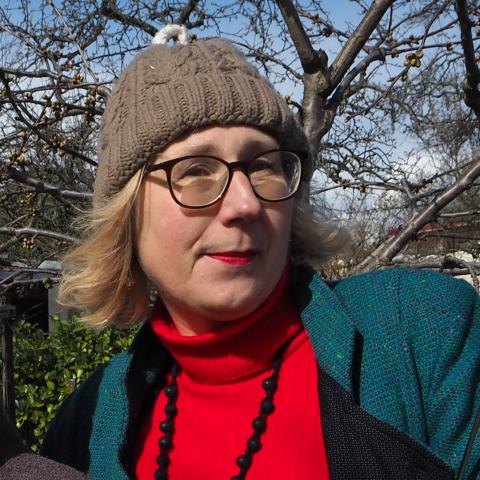 Gabi Schaffner works as a trans-disciplinary artist within the realms of radio art, musique concrète, and performance. Her artistic practice is determined by the methods of poetic ethnography in connection with fluxus-like mise-en-scènes, radio-making, and composition. Much of her work originates from journeys. Next to her radiophonic productions, Schaffner creates speculative musical genres and inserts them into music history in order to raise awareness of cultural, gender-related, and/or geographical conditions.
Schaffner has been realising award-winning productions with Deutschlandfunk Kultur, radia.fm, Hessian Cultural Radio, and ABC Australia. Since 2012, she maintains "Datscha Radio", a nomadic transmission project that links the medium of radio to current ecological issues. As a writer and translator, she has published numerous texts; most recently: "RevoltenDiaries", in: Radio Revolten, 2019. She holds a MA in literature and ethnography and a diploma in visual communication. Gabi Schaffner lives in Berlin.