Tuesday 30 August
from 14:00 CEST until 12:00 noon on Wednesday 31 August
Claire Thill & Catherine Kontz & S.L. Grange
Desire Lines & Wou d'Uelzecht
---
LIVE PERFORMANCE
You are invited to visit the Apdikt, behind the Bridderhaus, 1 Rue Léon Metz, 4238 Esch-sur-Alzette, to experience the show live between 14:00 - 22:00 on Tuesday, and from 9:00 - noon on Wednesday morning. Free entry.
---
paths of (least) resistance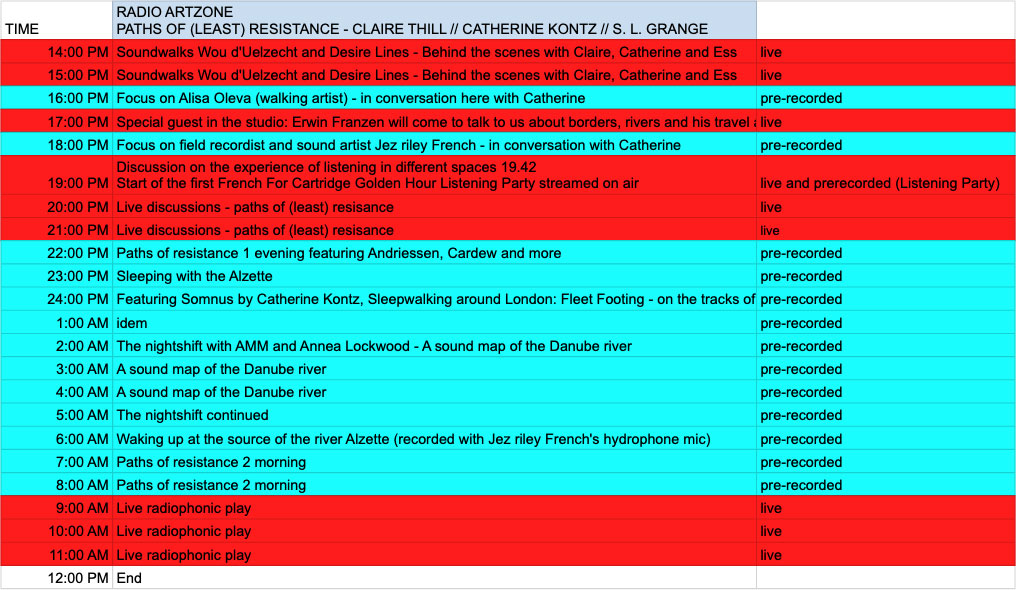 Water takes the path of least resistance. As a river, it shapes the land it runs through, the materials it touches. It pushes through holes, washes over the ground, creates openings, leaves sediments and carries histories. Over time it adapts the lay of the land to its liking. Unless it is diverted and canalised, it will opt for the path of least resistance and attract life around it. Humans settle, build bridges, streets and cities around it. Footpaths are paved, signs are put up, concrete walkways suggested - but are they the route we desire to take? Shortcuts and deviations from the usual path, from the mainstream, lead to creating desire lines - which, in essence, are small acts of resistance in themselves and manifestations of civil disobedience.
Why, when and how do we - or don't we - resist? **- for this 22 hour show _paths of (least) resistance_, **Claire, Catherine and Ess will explore the theme of resistance **from many different angles and in different ways including: a **3 hour radiophonic show created for the occasion live in the studio, conversations and talks relating to** **borders, cross border smuggling, gender fluidity, rivers and migration, musics that resist trends, categorization, political situations, as well as looking at the art of the soundwalk as an immersive and psycho-geographic sound experience. Plus, you will have the opportunity to fall asleep, and wake up, with the Alzette!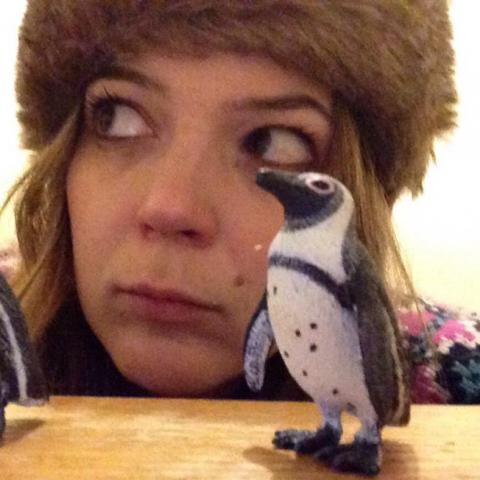 Claire Thill is a multilingual Luxembourg based performer, writer, and theatre-maker interested in exploring transdisciplinary territories of performance and storytelling. Claire trained as a performer at the Royal Central School of Speech and Drama in London, with Philippe Gaulier in Paris and the SITI Company at Skidmore College Saratoga Springs (US). For several years Claire has been integrating her own writing into her performance and audio work. Her work has been shown at the Prager Theaterfestival Deutscher Sprache (CZ), Les Théâtres de la Ville de Luxembourg, Escher Theater, Théâtre du Centaure, MUDAM, Casino- Forum d'art contemporain (LUX), Birmingham Repertory Theatre, Rosemary Branch Theatre (UK), Théâtre des enfants terribles (F), Salzburger Schauspielhaus (AUS), Ruhrfestspiele Recklinghausen (D) etc..
She is a founding member of several collectives such as A Year of Free Homes, a London based collective that creates public actions in the city, as well as of Independent Little Lies and Ampersand Variations from Luxembourg.
She continually seeks original contexts in which to create live and theatrical installations, performance pieces and theatre plays. Her pieces start from concepts and broader themes rather than from a structured idea of plot, and through her creation process she hones in on the story's theme through playful investigation and experimentation. Thus she intertwines different elements such as text and the body in movement with image and audio in order to create a performance structure that is at once multilayered and fragmented. Influenced by live art, pop culture, sound art, and daily life observations, her work deconstructs given structures of the theatrical event, focussing on how certain components – the image, sound, repetition, atmosphere, text – interact in unexpected ways.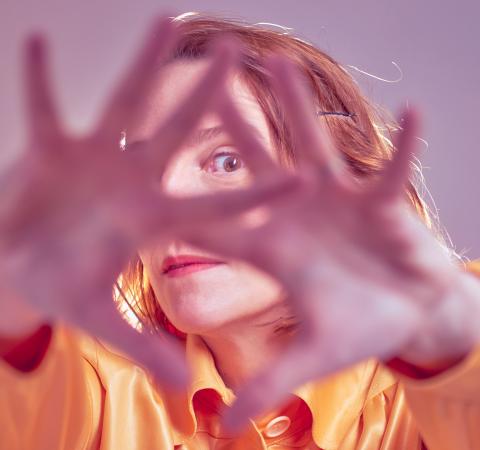 Catherine Kontz is a Luxembourgish composer whose works explore nonlinear form, visual/spatial elements, and musical theatricality. Orchestral works include The Waves (Solistes Européens Luxembourg) and Fruitmarket (BBC Scottish Symphony Orchestra), as well as the forthcoming 53 minute Voix des Terres Rouges for choir and large orchestra, commissioned by the Orchestre national de Metz as part of the European capital of Culture program for Esch2022.
Her work is performed internationally by musicians such as ensemble recherche, Exaudi, Lucilin, Shoal, Arzu & Gamze Kirtil, Monica Germino, Cathy Krier, Naomi Woo, Jenni Hogan and Rhodri Davies, to name a few. The new large-scale live promenade piece, Driwwer Drënner Drop, was recently performed around the bridges of Luxembourg's old city centre by 130 young musicians as part of Rainy Days/Philharmonie Luxembourg 2021.
Catherine Kontz has extensively worked within the world of new opera: notable commissions and multimedia productions include Neige at Grand Théâtre de Luxembourg and The Philosophy Shop at RADA, which she composed and directed, plus regular appearances at the Tête-à-Tête opera festival. Fleet Footing, a psycho-geographical sound-walk and collaboration with S.L. Grange, was shortlisted for the Quattropole Music Prize, as was 12 HOURS, an innovative marathon for voice and electronics, created for mezzo-soprano Rosie Middleton. A free new sound walk available in 8 languages, created in collaboration with S. L. Grange, Wou d'Uelzecht - Esch, has launched as part of Esch22.
Catherine Kontz is professor of Composition at Royal College of London.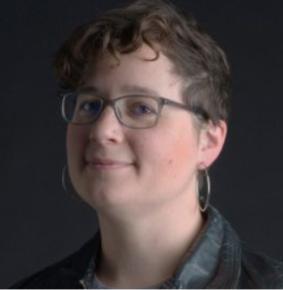 SL Grange is a multi-disciplinary artist and writer working mainly in the performing arts. As well as writing text for performance, they are a poet, performer, deviser, facilitator, audio describer, and currently research associate at Improbable. Recent work includes poetry collection Bodies and Other Haunted Houses, winner of the Poetry Wales pamphlet competition 2021; The History Bois, ONCA Barge for Brighton Fringe, June 2021; Outside the Frame online impro performance project with Improbable and Clerkinworks, May 2021; 'and of his family' commissioned as part of Fly the Flag's 2020 celebration of the UDHR, December 2020; A Note to Mary Frith commissioned by Shakespeare's Globe for Notes to the Forgotten She-Wolves, January 2020.