Tuesday 6 September
from 14:00 CEST until 12:00 noon on Wednesday 7 September
Orbits is framed by the time that a low-orbiting satellite takes to make a complete circuit around our planet.
The 22-hour work is comprised of 15 approximately 90-minute segments, each an imagined orbit, and each beginning and ending in Esch.
Each orbital loop takes a different direction around the world and is inspired by the unique character of the path traveled, from the point of view of an orbiting body which can tune into multiple radio frequencies simultaneously and listen to the sounds of the earth, from the ground and into space.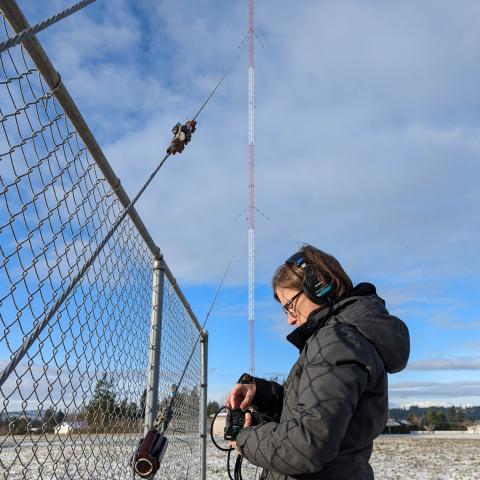 Heidi Neilson is an interdisciplinary artist whose work explores connections between people on the ground and off-planet conditions and infrastructure. She works in multiple mediums including radio transmissions, sound, prints, books, sculpture, electronics, and video. She is currently co-operating HereGOES Radiotelescope, a sculptural receiving station for the GRB transmission from GOES-16, a NOAA weather satellite, and mining the volumes of earth observation and space weather data collected by the station for a variety of projects. Other recent work includes Moon Arrow, a mechanical sculpture which continually points at the moon, and Sonic Planetarium, an immersive sound installation made from recordings of orbiting satellites. Born in Oregon, USA, Heidi Neilson received a BA in biology from Reed College and an MFA in painting from Pratt Institute, and lives and works in New York City. Her ham radiocall sign is KD2ESI.