Tuesday 6 September
from 14:00 CEST until 12:00 noon on Wednesday 7 September
Orbits is framed by the time that a low-orbiting satellite takes to make a complete circuit around our planet. The 22-hour work is comprised of 12 segments, each an imagined orbit, and each beginning and ending in Esch. Each orbital loop takes a different direction around the world and is inspired by the unique character of the path traveled, from the point of view of an orbiting body which can tune into multiple radio frequencies simultaneously and listen to the sounds of the earth, from the ground and into space.
The program begins in Orbit 1 with the past—a tour through the history of the transmission soundscape from satellites in earth's orbit—and then commences with chapters roughly coinciding with circadian rhythms from the point of view of Esch. The orbit that intersects the end of Esch's workday concerns the commute (Orbit 3), followed by an orbit touching on the astronaut's exercise regimen (Orbit 4). Late at night in Esch, we find some sleep in the quiet car (Orbit 9), and in the early morning arise to wake up songs curated by Mission Control-Houston (Orbit 10).
In between are more ambient orbits: 2, 5, 7, and 8 are framed by terrestrial broadcast radio stations, listening to the radio below our orbital path, as if the earth is a giant spherical phonographic record, and we the orbiting body are the needle. Each minute covers about 445 kilometers, and we hear multiple stations at a time, catching regional language and sensibility shifts minute to minute. The vastness of areas uninhabited by people—particularly the oceans and poles—becomes apparent as long stretches of time without radio station programming. In these areas, we tune into field recordings from land and sea.
Orbits 11 and 12 take the points of view of different weather satellites and explore data and the process of the collection as a material and method for audio expression. Orbit 11: GRB-RGB uses image swaths across earth's equator and "reads" them as audio, following the scanning path that the satellite imaging instrument takes as it creates a composite of the Earth's full hemisphere. In Orbit 12: Weather transcription, we hear the audio of a low-earth-orbiting weather satellite's continuous transmission of image data of the earth passing beneath it and hear the transcription of what some of that data conveys.
PROGRAM
Orbit 1: Transmission ghosts
Begins 14:00, 106 minutes
An imagined tour through satellite transmission history from the first solitary beepings of Sputnik to the cacophony of today.
Orbit 2: All those rings around it
Begins 15:46, 90 minutes
Terrestrial radio transmissions as heard by a satellite traveling from Esch through France, Algeria, Mali, and over the Atlantic Ocean, where distant stations along the African and South American coasts can be heard.  The path continues over Antarctica, to New Zealand, up through Fiji, Micronesia, close to Japan and Kamchatka, then over the Arctic pole to Svalbard, Norway, and back to Esch. At about 58 minutes, over islands in the Pacific, we attend an elementary lesson on the solar system.
Orbit 3: Commuting, stay focused
Begins 17:16, 108 minutes
A field recording on a NYC subway ride provides the context for readings of excerpts envisioning off-earth infrastructure and the imagined experience of getting around from place to place on and between other planets. We hear excerpts concerning space elevators and space station docking—potential commutes of the future—from science fiction novels (Kim Stanley Robinson's Red Mars, and Neal Stephenson's Seveneves), while passing through Queens, Manhattan, over the Manhattan Bridge into Brooklyn, and back. The subway conductor, on reporting on slippery conditions on the station subway platform at 49th Street, advises passengers to stay focused.
Orbit 4: Mandatory exercise
Begins 19:04, 95 minutes
Astronauts aboard the International Space Station need to exercise at least a couple of hours a day to mitigate the effect of zero gravity on bones and muscles. Our scenario in this orbit is a treadmill session on the space station, where our astronaut works out and listens, over the continual hum of station machinery, to terrestrial radio as the earth passes beneath, and turns to audiobooks in radio quiet zones over the oceans and poles.
Orbit 5: Glitchy 'Stones at Rapa Nui
Begins 20:39, 93 minutes
Terrestrial radio transmissions as heard by a satellite passing Esch, Netherlands, England, and Ireland, over Newfoundland and Nova Scotia, down the U.S. East Coast, jumping over Florida, over Cuba, Belize, Guatemala, and the Galpagos. The Pacific is heard here as rain from a 1990s Rainstorm Relaxation cassette tape, and Paint it, Black gets hung up at a lone station far off the Chilean coast. The orbit passes New Zealand and Australia, catches some of Indonesia to go through India, up through the Middle East and back into Europe.
Orbit 6: Atmospheric fields
Begins 22:12, 180 minutes
In this orbit our listening perspective begins on the ground, goes up through the atmosphere and does a complete earth orbit, and then back through the atmosphere to the surface. Field recordings sample ambient locations along the orbit, including public parks, science exhibition halls, rain, thunderstorms, and the calls of insects, amphibians and birds. Imagined field recordings are created from space weather data for the part of the orbit which maps outside the actual atmosphere. The sounds also pass through frequencies of hearing beyond our own with adjusted recordings containing natural radio, the low frequency calls of elephants, and echolocating bats.
Orbit 7: Feel the noise
Begins 01:12, 95 minutes
Terrestrial radio transmissions as heard by a satellite traveling from Esch, through England, Iceland, over Greenland, across Hudson Bay, Canada, through the US states Montana, Wyoming, Utah, Nevada, and California. The orbit crosses the Pacific through French Polynesia, New Zealand, and brushes against Antarctica, across to Madagascar, skirts Mozambique, Tanzania, through Kenya, Ethiopia, Sudan, Egypt, Greece, through Europe and back to Esch.
Orbit 8: Stand by me
Begins 02:47, 96 minutes
Terrestrial radio transmissions as heard by a satellite traveling from Esch, through England and Scotland, to Iceland, over Greenland and Canada to the Alaskan panhandle. Passing near Hawaii, the orbit continues between French Polynesia and Samoa, near New Zealand, touches on Antarctica's coastline, arrives in Africa at Mozambique, and continues North through East Africa to Libya, to Europe and back to Esch.
Orbit 9: Quiet car
Begins 4:23, 105 minutes
Orbit 10: Wakeup, chores
Begins 06:08, 77 minutes
Wakeup songs are a tradition on the International Space Station. Since orbiting the earth means a detachment from the diurnal cycle on earth's surface, the time on the ISS is synced with UTC/Greenwich Mean Time. Each "morning" on the station Mission Control transmits a particular song chosen for an astronaut or event taking place that day. This orbit features a selection of past ISS wakeup songs, interspersed with actual ISS maintenance tasks read by an AI from NASA's International Space Station Operations Checklist, ISS-2A.2A & 2A.2B.
Orbit 11: GRB-RGB
Begins 07:25, 180 minutes
The synthesized sound in this orbit is generated entirely by GRB (GOES Rebroadcast) data from GOES-16, a geostationary weather satellite, collected by Here GOES Radiotelescope. GOES-16's main weather observing instrument is a camera which views earth as an entirety—a full hemispheric disk— continually scanning it in wide horizontal lines as if it is reading the earth as a page, from the Arctic to the Antarctic, in 22 passes. This orbit takes an image swath at the equator and converts the dense environmental data into sound; three hours takes us across the Pacific, through South America's cloudcover over land, and across the Atlantic. Wavelength imaging bands are combined as one audio piece, each band a different instrument voice—referencing the way RGB color images are compiled from the satellite's multi-band view.
Orbit 12: Weather transcription
Begins 10:25, 95 minutes
The NOAA-19 weather satellite continually photographs the earth in a wide ribbon as it passes in low orbit, creating a running image containing information monitoring the weather beneath it. The sound heard in this orbit is the continuous transmission stream from the satellite, a weather data summary of the conditions below the satellite voiced once a minute, and the weather summary being typed.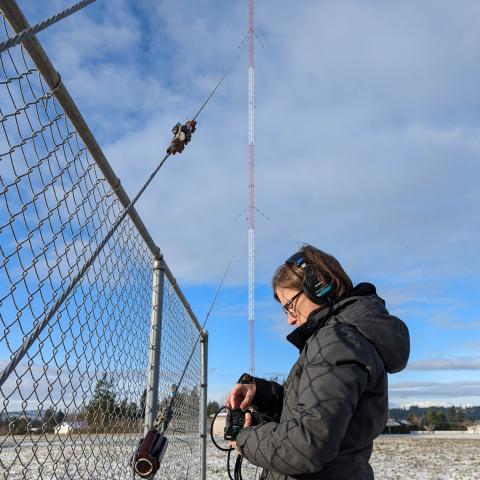 Heidi Neilson is an interdisciplinary artist whose work explores connections between people on the ground and off-planet conditions and infrastructure. She works in multiple mediums including radio transmissions, sound, prints, books, sculpture, electronics, and video. She is currently co-operating HereGOES Radiotelescope, a sculptural receiving station for the GRB transmission from GOES-16, a NOAA weather satellite, and mining the volumes of earth observation and space weather data collected by the station for a variety of projects. Other recent work includes Moon Arrow, a mechanical sculpture which continually points at the moon, and Sonic Planetarium, an immersive sound installation made from recordings of orbiting satellites. Born in Oregon, USA, Heidi Neilson received a BA in biology from Reed College and an MFA in painting from Pratt Institute, and lives and works in New York City. Her ham radiocall sign is KD2ESI.