Tuesday 9 August
from 14:00 CEST until 12:00 noon on Wednesday 10 August
Edyta Jarząb
22 Major Arcana of Fungi
The 22 Major Arcana of Fungi is an action inspired by radical mycology. Here, each Tarot's Major Arcana card is represented by a species of fungi or refers to a phenomenon from the fungi world. I sometimes imagine mushrooms as signs or guideposts, like cards drawn from the pack that can tell us about the transformative power of Death, the Fool's journey of discovery, or the endless potentialities of the Magician. 
''I am here because you are'', the fruiting body appearing above the moss seems to say. ''I am here as a product of the connection and collaboration of many others''. I want to refer to the underground imaginary, to the mycelium as a network of neural connections that create ever-changing, learning membranes. Each card can also be interpreted as an emanation of this great field of interrelations. 
Mycology, as magic and healing, have always been associated with women, so I wanted to invite a maximum number of women artists to collaborate. 
It is time for a feminist reading of the Tarot as a tool for learning and healing our consciousness. It is time for mysticism to return to the ground as we observe the ancient ritual of mycorrhizal symbiosis and interpret signs of the eternal transformation and change around us. Time to restore and reclaim their space in daily life alongside our dreams.
The participating artists were asked to interpret a Tarot card they drew or chose from the pack in sound form. This could be related to the fungal body and/or their personal impression of the given symbol or archetype. They could refer to the EDAPHONE: the sound of life underneath forest litter as it grows fluidifies and decomposes into smaller, essential parts through hyphae, microchannels, and branches. Or they could offer initiation into personal secrets, experiences, or intuitions.
22-hours participation in RadioArt Zone is a given frame to meet by the fire in the forest, for listening, reading cards, singing, and mushroom picking. Radio transmission is live also mixing some pre-recorded pieces. 
There will be a special deck of 22 Major Arcana of Fungi designed in collaboration with an artist Zofia Kuligowska. 
FOQL
Martyna Poznańska
Gosia Wrzosek
Kasia Kałaniuk
Zosia Hołubowska 
Ania Jurkiewicz
ASTMA
Mario de Vega
Marek Głogowski
Joanna Halszka Sokołowska
Mila Nowacka
Milena Soporowska
Ania Kamecka 
Dawid Bargenda 
turn1a
Sara Gutkowska
Wojtek Bernatowicz
Ernesta Malina
Lotus Reaction
Reza Kellner
Marcin Sojka
Deadly Firend
Hortus Conclusus
Anna Kulakowska
Zofia Kuligowska
Paweł Kreis
Anna Szafranowska i grupa śpiewu tradycyjnego z Sejn
Maja Sadel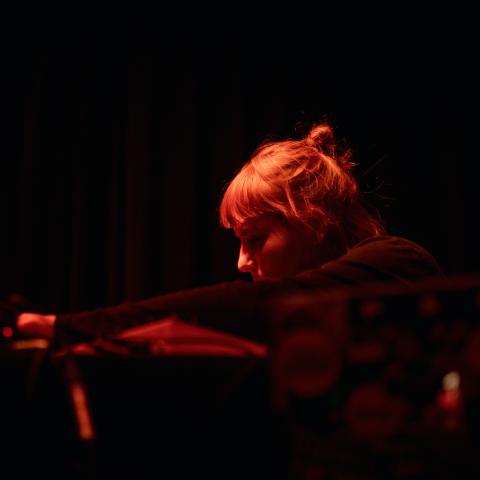 Edyta Jarząb is a sound artist, practices deep listening as a starting point for sound activism.
Studied with Pauline Oliveros and learned Hindustani Raga in Varanasi/India.
Interested in voice as a bridge between the public and private sphere; listening, singing, and improvisation as a practice of social resistance.
She records and analyze the sonosphere of protests as well as organizes sound walks, workshops, and warm-ups before street demonstrations.
Using extended voice techniques, radio waves, field recording, and electronics - she creates an audio sphere for her personal and collaborative performance works, radio plays, and interventions.
She co-creates the Warsaw-based community Radio Kapitał, a member of Radia.fm
From 2020 to 2021 she was a resident of the experimental studio WORM in Rotterdam; and collaborator of the interdisciplinary platform Q-O2 based in Brussels.
Lives in Sokołowsko, a village in the mountains, south of Poland.